Super Bowl Holding Call: Did The 49ers Get Robbed In The Fourth Quarter? [VIDEO]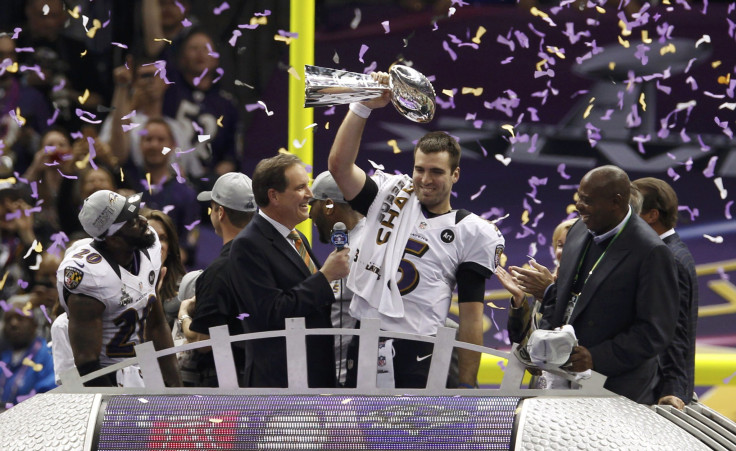 The Baltimore Ravens Super Bowl victory over the San Francisco 49ers didn't come without controversy.
The 2013 Super Bowl champs essentially clinched their win when the 49ers failed to convert a fourth down at the Baltimore five-yard line with 1:46 remaining in the final quarter. The Ravens took over on downs with a five-point lead and didn't allow the 49ers to run another play.
Colin Kaepernick's pass attempt to Michael Crabtree was incomplete, but Baltimore may have gotten away with a penalty. Ravens cornerback Jimmy Smith made contact with Crabtree, and could have been called for pass interference.
San Francisco 49ers head coach Jim Harbaugh thought a flag should have been thrown. He was irate on the sidelines, signaling for the officials to call Jones for holding.
"I realize I'm on the side of the 49ers," said Harbaugh. "I'm the coach of the 49ers. There is some bias there. But I wouldn't be bringing it up unless it was obvious. But that's not the way (the refs) saw it. That's the only reason I bring it up."
Crabtree also felt there was excessive holding on the play.
"When somebody grabs you, you always expect a call," Crabtree told the San Jose Mercury News. "But you can't whine to the refs. It is what it is."
There was clearly a lot of contact on the pass. Kaepernick threw the ball in the end zone soon after the snap, in order to avoid pressure. Smith grabbed Crabtree as he began his route, and the ball landed over his head.
It would have been hard to argue against the call, if a flag had been thrown. However, CBS analyst Phil Simms agreed with the decision to give the Ravens the ball.
"That's a good no call," said Simms on the television broadcast. "I know there's contact, but Crabtree was pushing off just as much."
Did the 49ers get robbed in the fourth quarter of Super Bowl XLVII? Decide for yourself by watching the video below.
FOLLOW MORE IBT NEWS ON THE BELOW CHANNELS