Takeshi Miyakawa Arrested For Allegedly Planting Fake Bombs In 'I Heart NY' Bags In Brooklyn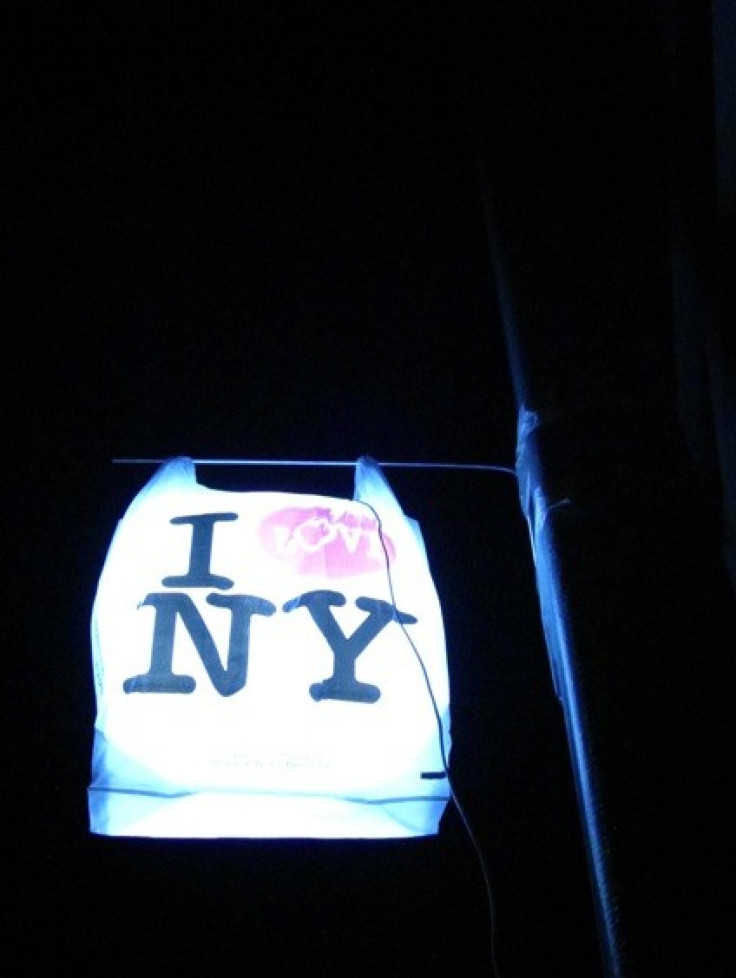 A high-profile designer, Takeshi Miyakawa, has been arrested by New York City police on charges of planting fake bombs in I Heart NY bags in Brooklyn. He is being held for a monthlong evaluation while authorities attempt to determine his mental condition. But his lawyer contends it was a big misunderstanding.
The 50-year-old Miyakawa was taken in after police caught him installing one his fake bombs on a lamppost near McCarren Park in Williamsburg early Sunday. He was charged with reckless endangerment, reported the New York Post.
Miyakawa is a visual artists and furniture designer. Both his lawyer and his employer say the arrest was a misunderstanding and that his artwork contained wires that were not supposed to represent a bomb of any kind.
The designer and four of his colleagues co-operated with the police, repeatedly explaining that the hanging bags were an art installation, and not explosives, according to a press release on Miyakawa's website.
The trouble for Miyakawa started on Friday morning. A concerned resident called the emergency number and informed authorities that a suspicious package was found near the caller's Brooklyn residence. Police discovered a plastic bag with a battery suspended from a metal rod hanging from a tree. The phrase I Heart NY was on the bag that was attached to a wire and to a plastic box that contained more wires, reported the AP.
An NYPD bomb squad quickly arrived on the scene. They evacuated the area until they determined it was safe for residents to return.
Around 2 a.m. Saturday, police discovered Miyakawa and four of his associates placing another device on a lamppost. He was promptly arrested and charged with two counts of first-degree reckless endangerment, two counts of placing a false bomb or hazardous substance in the first degree, two counts of placing a false bomb or hazardous substance in the second degree, two counts of second-degree reckless endangerment and two counts of second-degree criminal nuisance, reported the Associated Press.
Judge Martin Murphy ordered him to be held pending an extensive 30-day psychiatric investigation. His lawyer, Deborah J. Blum, said she plans to file an emergency relief to have Miyakawa released from confinement.
He's still being held, said Blum, on Monday, reported the Associated Press. I believe that it was a gross misunderstanding and other than that I don't have any other comment.
Miyakawa was born in Tokyo and moved to the United States about 23 years ago. He has worked for architect Rafael Vinoly for approximately 20 years and also has is own design business, reported the AP.
Takeshi is a fabulous human being and a person of extraordinary talent, Vinoly said in a statement, reported the AP. We hope this misunderstanding is cleared up as quickly as possible.
New York Civil Liberties Union also reacted to the charges in a statement.
It's hard to understand why a light-up bag in a tree would be treated as an attempted terrorist act unless there's more to the story than has been reported in the press thus far, said Executive Director Donna Lieberman.
© Copyright IBTimes 2023. All rights reserved.
FOLLOW MORE IBT NEWS ON THE BELOW CHANNELS