Thanksgiving 2014: Turkey, Ham And 6 Kinds Of Pie On White House Thanksgiving Day Menu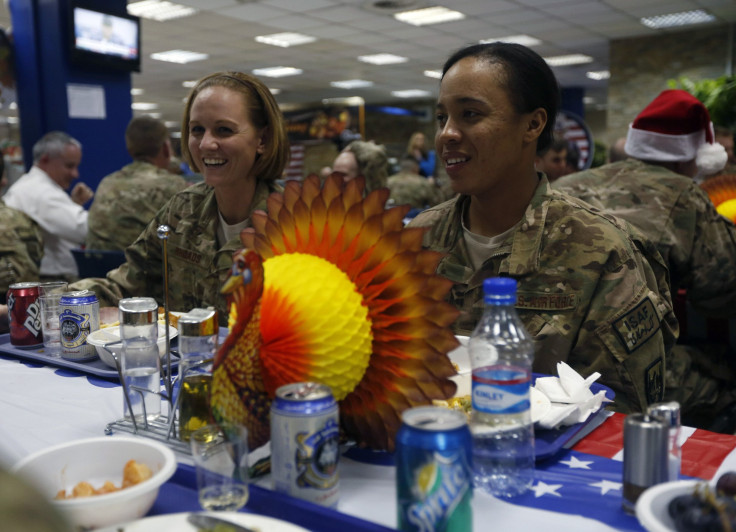 Like most of the rest of the nation, the first family will be feasting on turkey for Thanksgiving -- what President Barack Obama calls his "favorite holiday." The White House dinner menu lists honey-baked ham as an entrée, in addition to thyme-roasted turkey.
Side dishes include two kinds of stuffing (cornbread and oyster), braised winter greens, macaroni and cheese, sweet potato gratin, mashed potatoes, green bean casserole and dinner rolls. Despite first-lady Michelle Obama's push for fitness, there are six kinds of pie for dessert: banana cream, coconut, apple, pecan, cherry and, of course, pumpkin.
Ahead of the feasting, the president's Thanksgiving holiday address was broadcast. In it he celebrated the nation's diversity but left out all mention of the tensions that have been roiling the nation since Monday's St. Louis County grand jury decision against indicting Officer Darren Wilson in the August shooting of unarmed black teenager Michael Brown. And though he praised members of the U.S. military, he made no mention of the situations in Iraq, Syria and Afghanistan.
"Thanksgiving is my favorite holiday because, more than any other, it is uniquely American. Each of us brings our own traditions and cultures and recipes to the table -- but we all share this day, united by the gratitude for the bounty of this nation," Obama said in wishing the nation a happy holiday.
"We are reminded that this creed, and America itself, was never an inevitability, but the result of ordinary people in every generation doing their part to uphold our founding ideals -- by taking the blessings of freedom, and multiplying them for those who would follow."
© Copyright IBTimes 2023. All rights reserved.
FOLLOW MORE IBT NEWS ON THE BELOW CHANNELS