Thompson Gets Maiden Tour Win With Honda Victory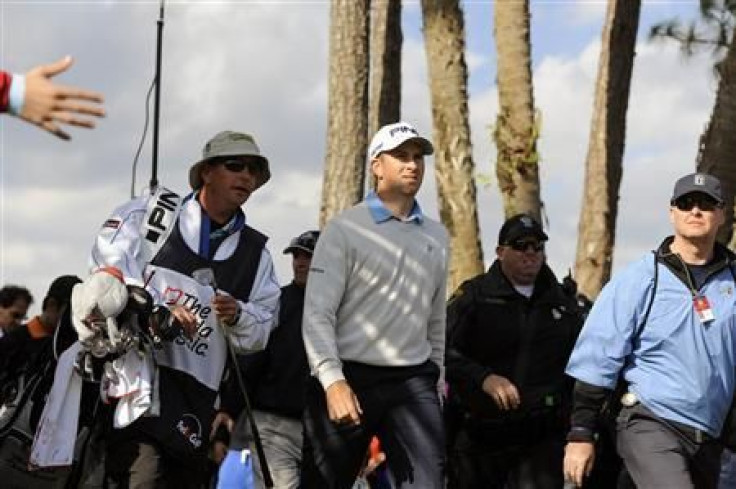 American Michael Thompson kept his head in gusty winds to win the Honda Classic on Sunday by two shots over Australia's Geoff Ogilvy.
In testing conditions, the 27-year-old Thompson, the joint overnight leader, held firm for his first win on the PGA Tour, finishing with a birdie on the 18th for a one-under par 69 which left him nine-under for the tournament.
Thompson, who finished in a second-place tie at last year's U.S. Open, will look back gladly on the eagle he made on the par-five third that gave him some breathing space before the inevitable bogeys came.
The Arizona-born golfer had four bogeys and three birdies in his round but never let the dips disturb him in what was a cool display for a first time winner.
"This is everything, this is a childhood dream come true. I dreamed of playing out here since I was seven years old and to win, it's just unbelievable," said Thompson, who was making his 61st tour start.
He is the first American to win the Honda Classic since Mark Wilson in 2007. Foreign players have won in seven of the last nine editions.
"I just can't put it into words," Thompson said. "The whole day was awesome. My ball‑striking was way better today than it was yesterday. I just enjoyed the ride."
Ogilvy also shot a one-under par 69 to secure a second place that will boost his chances of getting into this year's Masters after missing the cut in his last four tournaments.
The Australian chipped in from 41 feet for a birdie on the 16th that raised the prospect of a late twist in the tale and added a birdie on the 18th.
But after his poor performances before the start of the Florida swing, Ogilvy was delighted to be back in contention with a finish that earns him a spot in next week's WGC-Cadillac Championship.
"It was going pear‑shaped on the West Coast so I kind of had to view this is my first week of the year, it was 'let's just kind of start again'." he said.
Tiger Woods had a disappointing final round, shooting four-over par and making two double bogeys.
Woods lost a ball for the second straight round but remained upbeat about his form.
"I've just got to clean up my rounds," he said after ending the tournament four-over following even-par rounds of 70 in each of the first three rounds.
PGA Tour rookie Luke Guthrie, who had shared the overnight lead with Thompson, finished third after shooting a three-over 73 to finish on five-under.
Erik Compton, who has had two heart transplants, earned his best ever PGA Tour finish with a tie for fourth after shooting an even-par 70.
Americans Lucas Glover and Keegan Bradley were also six shots back along with England's Justin Rose and David Lynn.
England's Lee Westwood, who began the day just two strokes off the lead, shot a four-over to end in a tie for ninth, two-under for the tournament.
After making a promising start with a birdie on the third, Westwood made five bogeys.
American Rickie Fowler, who was also in position for a Sunday charge, struggled to a four-over 74 making bogeys on three of his last five holes.
South Africa's British Open champion Ernie Els ended the tournament two-over after shooting a 72.
(Reuters)
© Copyright IBTimes 2023. All rights reserved.