Top US And Chinese Officials Hold 'Constructive' Talks In Malta Ahead Of A Potential Biden-Xi Meeting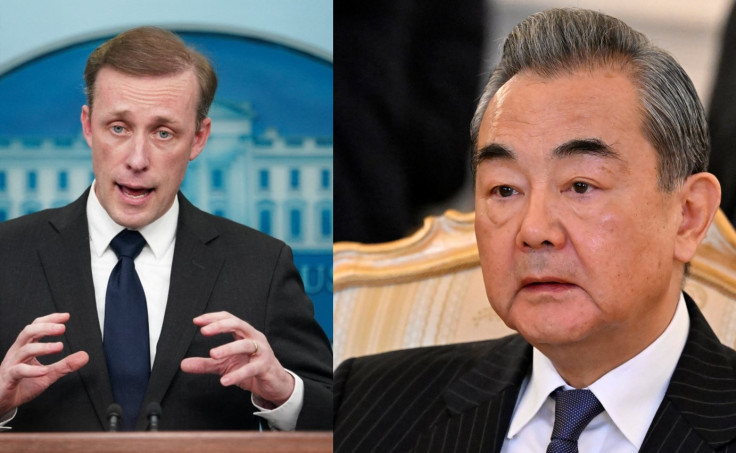 KEY POINTS
The two sides discussed Russia's war against Ukraine and regional security
While Xi skipped the G20 summit in India, he participated in the BRICS summit in Johannesburg
Biden and Xi last held talks in November 2022 on the sidelines of the G20 summit in Bali
U.S. national security adviser Jake Sullivan and China's foreign minister Wang Yi held talks in Malta over the weekend amid the ongoing geopolitical tensions between the world's two leading economies.
The two sides issued separate statements, noting that the meetings were "candid, substantive, and constructive." The White House said that the two governments expressed commitment to pursuing "additional high-level engagement and consultations" in key areas" in the coming months." The Chinese foreign ministry further noted that the two sides agreed on continuing high-level communication on multiple fronts, including foreign policy, maritime affairs and Asia-Pacific issues.
"The two sides discussed key issues in the U.S.-China bilateral relationship, global and regional security issues, Russia's war against Ukraine, and cross-Strait issues, among other topics," the White House said in a statement issued Sunday.
The talks between the top officials come weeks ahead of a possible meeting between President Joe Biden and Chinese Premier Xi Jinping for the Asia-Pacific Economic Cooperation (APEC) summit scheduled to take place in San Francisco in November.
Biden and Xi last held talks in November 2022 on the sidelines of the G20 summit in Bali, Indonesia. Earlier this month, the U.S. president expressed disappointment that his Chinese counterpart skipped the G20 summit held in India.
"I am disappointed... but I am going to get to see him," he told reporters during the G20 meeting.
According to the White House, the meeting between the two officials was held as part of ongoing efforts to maintain open lines of communication between the two sides.
While Xi skipped the G20 summit in India, he participated in the BRICS summit in Johannesburg, South Africa, last month. However, he unexpectedly skipped a planned speech at a business forum on the sidelines of the event.
Washington and Beijing have been taking measures to strengthen communication between the two sides to overcome their differences and conflicting relationships. So far this year, U.S. Secretary of State Antony Blinken, Commerce Secretary Gina Raimondo, and Treasury Secretary Janet Yellen have traveled to China in a bid to soften strained relations between the two sides and ensure continuous communication.
Tensions between Washington and Beijing flared after the U.S. military shot down a Chinese surveillance balloon off the coast of South Carolina. Last August, Beijing and Washington faced unprecedented differences after then-House Speaker Nancy Pelosi visited Taiwan. During the recent meeting, the U.S. underlined the importance of peace and stability across the Taiwan Strait. Wang told Sullivan that "the Taiwan issue is the first insurmountable red line in Sino-US relations," as per the readout by the Chinese Foreign Ministry.
The two sides also discussed Russia's war against Ukraine and issues concerning regional and global security.
© Copyright IBTimes 2023. All rights reserved.