Top US General Defends Military Base Canceling Drag Show; White House Distances Itself From Decision
KEY POINTS
The drag show was scheduled to take place at the Nellis Air Force Base on June 1
Gen. Mark Milley says many of the U.S. military's inclusivity efforts were "mischaracterized"
The White House pointed to the DOD when asked about the drag show's cancelation
Gen. Mark Milley, chairman of the U.S. Joint Chiefs of Staff, has defended the Pentagon's decision to cancel a drag show at a Nevada Air Force base in celebration of Pride Month.
"That I think is the absolute right thing to do," Milley told CNN on Monday. The drag show was scheduled to take place at the Nellis Air Force Base on the first day of Pride Month last Thursday.
Milley further noted that drag shows "were never part of DOD (Department of Defense) policy to begin with and they're certainly not funded by federal funds," adding that he believes many of the U.S. military's inclusivity efforts were "mischaracterized."
"Every soldier, sailor, airman and Marine are out there focused on the mission, and the mission is to defend the United States, its people, our interests, and the constitution," he added.
Milley said he supports U.S. Secretary of Defense Lloyd Austin's decision to cancel the drag show. Austin had previously told lawmakers at a House Armed Services Committee hearing that "drag queen story hours is not something that the department funds" after Rep. Matt Gaetz, R-Fla., questioned such activities in U.S. bases around the world.
About the show's cancelation, Sabrina Singh, a Pentagon spokesperson, said "certain criteria must be met for persons or organizations acting in non-federal capacity to use DoD facilities and equipment," Politico reported. "The DoD will not host drag events at U.S. military installations or facilities. Hosting these types of events in federally funded facilities is not a suitable use of DOD resources."
Austin, in a statement to kick off Pride Month, said the Pentagon honors "the service, commitment, and sacrifice of the LGBTQ+ Service members and personnel who volunteer to defend our country. Their proud service adds to America's strength."
Drag shows on military bases have become a politically contentious issue in recent months, with many conservative activists and politicians arguing that taxpayer money shouldn't be spent on such events.
The White House has distanced itself from the latest decision. Press Secretary Karine Jean-Pierre on Monday pointed to the Defense Department when asked about the drag show ban, The Hill reported.
She noted that the Biden-Harris administration will continue to celebrate LGBTQI+ service members and their contributions "across federal agencies, including at the Department of Defense."
The decision to cancel the drag show came weeks after Rep. Andrew Clyde, R-Ga., along with nine other House representatives, criticized the U.S. Navy's recruitment of an active-duty drag queen as its digital ambassador.
The lawmakers, who were all Navy veterans, said in a letter to U.S. Navy Secretary Carlos Del Toro that the drag queen's inclusion in the digital ambassadors' program was "another radical example of the U.S. Navy advancing woke policies to the detriment of our country's national security."
Del Toro released a memorandum last week, reiterating the Navy's commitment to celebrating its LGBTQI+ service members.
"It is through their efforts that we can further realize a culture across the DON (Department of the Navy) where everyone is treated with dignity, respect, support, and equal opportunity," he said.
Meanwhile, many LGTBQ+ military members who lost jobs due to the 1993 law known as "don't ask, don't tell" — which allowed gay people to serve in the military, so long as they remained closeted — are still fighting to get an honorable discharge, a CBS News investigation revealed in February.
The law has been repealed for over 10 years, but veterans whose careers were cut short by the policy told the outlet that many discharged service members who were qualified to apply for an upgraded discharge were reluctant due to fears of an uphill climb if they tried to apply for benefits.
Amy Lambre, who was kicked out of the Navy with less than honorable discharges due to allegations of homosexual conduct, said she started the application process for an upgraded discharge in 2013 without success.
"It just got stalled and I didn't feel like there was any hope for anything," she said.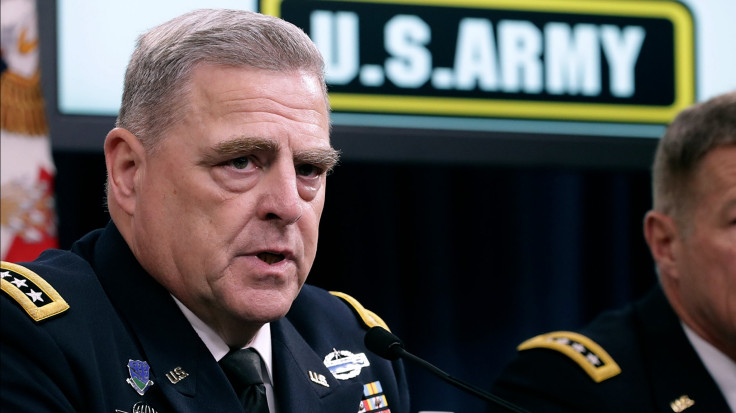 © Copyright IBTimes 2023. All rights reserved.