Tornado Emergency Warning Latest Update: Death Toll Climbs As Unusual Weather Hits Florida, Georgia, Mississippi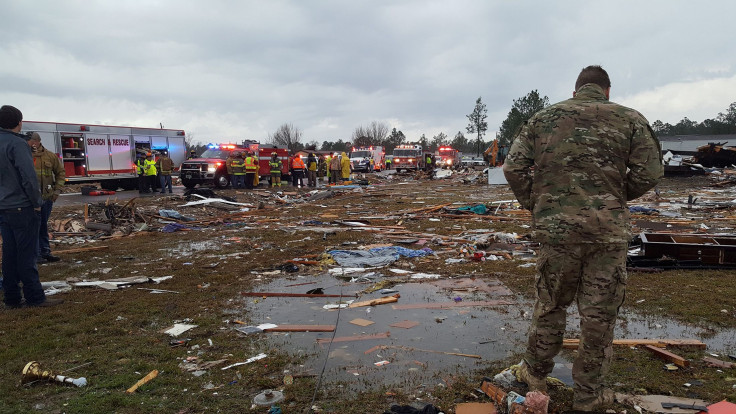 Severe thunderstorms and tornados threatened Florida, Georgia and North Carolina Sunday night as heavy winds, large hail and rains hit the Southeast coast and killed at least 16 people. Residents were urged to seek safe shelter and listen to their radios for any emergency warnings.
"There is a significant risk for large, long-tracked and extremely destructive tornadoes to touch down over parts of central and southern Georgia, northern and central Florida and southern South Carolina into Sunday evening," AccuWeather Senior Meteorologist Kristina Pydynowski said. "However, any of the severe thunderstorms in the Southeast could spawn an isolated tornado. It only takes one tornado to cause damage and loss of life."
The deadly weather raged throughout the weekend and was expected to move this week up to the East Coast toward the Carolinas. New York and Boston could be pummeled next, with winds of 70 miles per hour likely by Monday.
The storm was brutal, killing at least seven people Sunday in a mobile home park in rural Cook County in southern Georgia. In Mississippi, four people were killed by a tornado Saturday, and more tornados were expected to hit the region late Sunday. In Georgia, the National Weather Service issued Sunday a Tornado Emergency for Dougherty County. In Florida, a tornado spun across the Orlando area, while large hail was seen in Lake County, according to the National Weather Service.
Gov. Rick Scott told Floridians to "please remain vigilant and check local news for updates." Central Florida was under a tornado watch until 10 p.m.
The storm was fueled by a subtropical jet stream from the Pacific Ocean carrying moisture and atmospheric instability that can foster tornados in areas where they are normally unheard of this time of year.
"It's very rare," Matt Volkmer, a meteorologist with the weather service, told reporters. "Usually, we don't see systems this strong."
© Copyright IBTimes 2023. All rights reserved.