Tornado Touches Down In Queens, NY, As National Weather Service Issues Severe Weather Warning For Northeast [VIDEOS]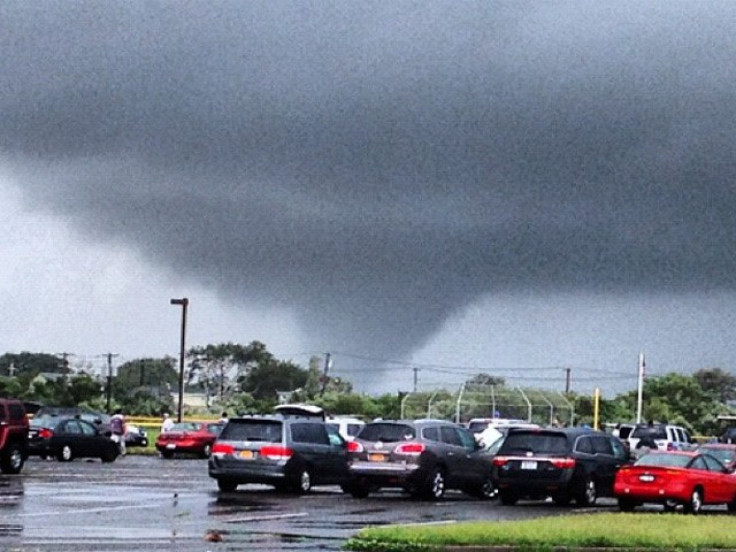 Reports of a tornado touching the ground in New York City surfaced Saturday morning, causing some residents in Queens and Brooklyn to seek safe shelter from the storm in their basements.
A black funnel cloud tore across the Flatbush Avenue area of the Belt Parkway and was reportedly moving eastward at 25 MPH, according to Gothamist. Queens and Brooklyn were placed on tornado alert until 11:30 am Saturday with the Canarsie, Crown Heights, Howard Beach, Ozone Park, Forest Hills, Jamaica, Little Neck, Jackson Heights, Flushing and Bayside neighborhoods considered to be at risk of getting hit by the storm.
Bystanders in the Breezy Point section of Queens videotaped the funnel's touchdown there, according to Fox News. You can find that footage below. One business manager said the tornado threw industrial-size garbage cans into the air. No injuries have yet been reported.
"This is just the beginning of an incredibly active, potentially deadly day," CNN meteorologist Alexandra Steele said.
The New York Daily News reported that the Grand Central Parkway area near 62nd Drive in Forest Hills, Queens, had experienced flooding.
A tornado watch remains in effect for northern New Jersey and Southeast New York until Saturday night. The National Weather Service advised all residents to take shelter on the lowest floor of their building and, just as importantly, to stay away from windows.
"It was very scary," a woman told the Daily News. "People around here are freaked out."
Power lines are down, and there may be damage in the Point Breeze section of Queens' Rockaway peninsula, according to CBS News. The National Weather Service issued a severe weather advisory for much of the Northeast. Some areas were expected to be hit with winds that blew at speeds greater than 70 mph.
Areas thought to be most at risk include: Western and central Connecticut, northern Delaware, western and central Massachusetts, northeastern Maryland, southwestern New Hampshire, all of New Jersey, central and eastern New York, eastern Pennsylvania, and central and southern Vermont.
This story follows the news last month that a tornado had touched down on Long Island, uprooting trees and causing over 1,000 people to go without power. The storm was clocked at a speed of 85 MPH and did the most damage in Bohemia, where uprooted trees fell onto cars, according to the New York Post.
© Copyright IBTimes 2023. All rights reserved.