Trump Calls For Peace But Maintains Fraud Narrative As Rioters Trespass
KEY POINTS
Wednesday's "Stop The Steal" rally devolved into riots as Trump supporters stormed the Capitol Building
Donald Trump called for peace on Twitter after lambasting Mike Pence for approving the electoral college vote
Mitt Romney blamed Trump for the violence, saying, "This is what the president has caused today, this insurrection" as he evacuated
UPDATE: 5:00 p.m. EST — Donald Trump has released a video on Twitter that tells his supporters to vacate the Capitol Building and go home. Most of its runtime, however, is dedicated to reinforcing the meritless accusations of election fraud that sparked the riots.
Twitter restricted the ability of users to like, reply or retweet the video, citing the "risk of violence." It's a substantial step for a platform that has previously been content to simply label his tweets as misleading.
Original story:
After repeatedly tweeting about how Republicans should "stay strong," Donald Trump has released a call for rioters to "support our capitol police and law enforcement" after his own supporters stormed the building. Police put the Capitol Building complex on lockdown and fell back as rioters breached house chambers and injured multiple officers.
Vice President Mike Pence echoed Trump in his own tweet, demanding protestors stop the riot and follow police orders.
Security measures proved woefully inadequate as demonstrators of the "Stop The Steal" rally broke barricades and stormed the steps of the Capitol Building. They marched through halls, armed with fire extinguishers and shouting as they spread throughout the complex.
Trump had appeared to stoke conflict in a speech Wednesday before some supporters stormed the Capitol.
"We're going to walk down to the Capitol. We're going to cheer on our brave senators and Congressmen and women. We're probably not going to be cheering because you'll never take back our country with weakness. You have to show strength and you have to be strong," Trump said in his speech.
Trump had spoken briefly this morning at the protests, attacking the media and reiterating his baseless claims that the election was stolen from him.
As riots broke out in the afternoon, the Capitol police attempted to lock down chambers and skirmished in the building. House Speaker Nancy Pelosi requested assistance from the National Guard, which have made their way to the scene.
Senators and Representatives, along with the Vice President, evacuated the building and are safe. The certification of the votes of the electoral college has been halted, and won't resume until protestors can be cleared or Congress can be reconvened in an alternate location.
"This is what the president has caused today, this insurrection," Sen. Mitt Romney, R-Utah, told the New York Times.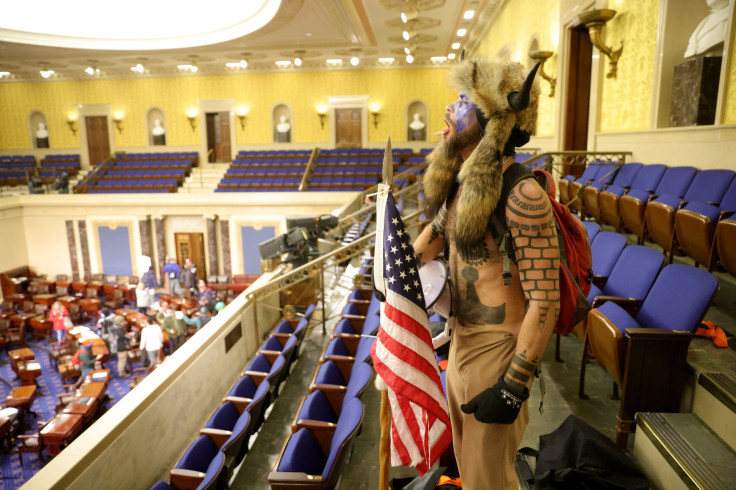 © Copyright IBTimes 2023. All rights reserved.