Trump Claims Elections In US Are 'Fake': 'They Want To Cheat'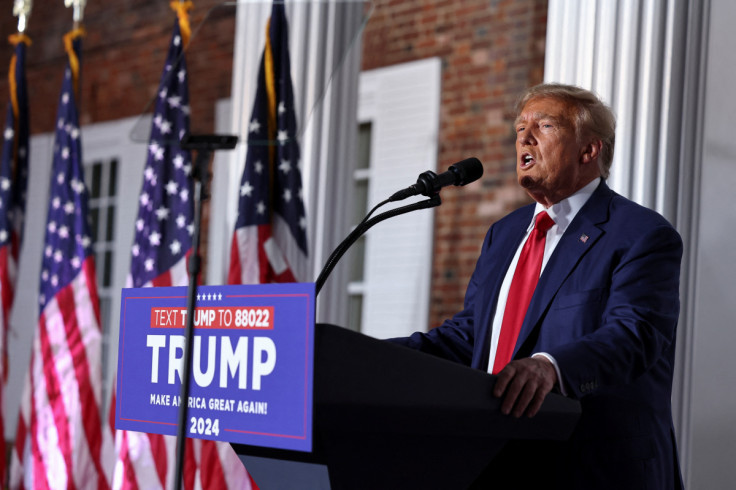 KEY POINTS
Trump's Sunday speech was part of his efforts to win back Michigan
The Oakland County GOP honored Trump as the 'Man of the Decade'
The Sunday event had about 2,500 attendees
Former President Donald Trump called elections in the United States "fake" during a speech he gave in Michigan on Sunday.
As he campaigns for a return to the White House, Trump spoke to a crowd of Oakland County Republicans and made remarks about the U.S. elections while talking about the state's steel industry.
The ex-president claimed that he saved Michigan's steel industry during his presidential tenure by placing "historic tariffs" on foreign aluminum and steel. He also said there would be no country without steel, just like borders and elections, according to The Hill.
"And if you don't have steel, you don't have a country, like borders, like elections, you got to have real elections. We don't have real elections, we have fake elections," he said during his hour-long keynote address at the Oakland County Republican Party's Lincoln Day dinner.
Trump also called for paper ballots and the enforcement of voter ID requirements. But he said these will not happen in the United States because "they want to cheat on elections."
"They also want no voter ID because they want to cheat on elections," the former president said. "They don't want same-day voting. They don't want paper ballots. They never want any of this stuff because they want to cheat on elections, right? It's April Fools."
" ... Even 82% of Democrats want voter ID. They want voter ID," he claimed. "We want voter ID. We want one-day elections. We want all paper ballots. We have to get back to it."
Trump's jibe is the latest in his yearslong tirade about the U.S. election system. He has repeatedly made false claims about the 2020 elections being stolen from him due to voter fraud, despite the lack of evidence.
Currently facing federal indictment for allegedly mishandling classified documents, Trump's Sunday speech was part of his efforts to win back Michigan. He won Michigan in his 2016 presidential bid but lost the state to Biden in the 2020 elections.
The Oakland County GOP honored Trump as the "Man of the Decade" during the Sunday event, which had about 2,500 attendees. Ticket prices for the event started at $250, according to the Detroit News.
© Copyright IBTimes 2023. All rights reserved.