Trump's Approval Rating Hits 36 Percent Low In New Poll Amid Russia Investigation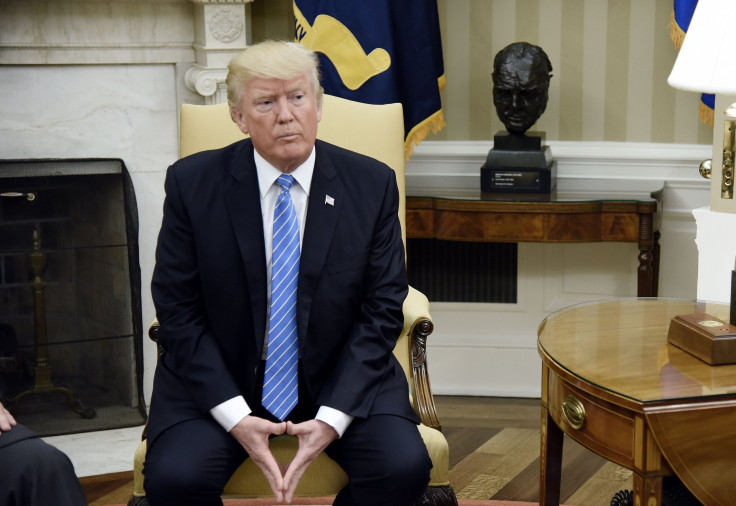 President Donald Trump's approval rating in a new poll by CBS News this week hit 36 percent, an all-time low in CBS' poll. The survey found that the president's approval rating sank amid ongoing investigations into his associates' alleged ties to Russia, with a third of Americans reporting that his approach to the scandal had worsened their opinion of him.
According to the poll published Tuesday, 57 percent of Americans disapproved of the president. The findings differed only slightly from those of Gallup's daily poll, which on Wednesday reported Trump's favorability to be 37 percent and his disapproval rating to be 58 percent.
Read: Most Americans Disapprove Of Trump's Performance As His Approval Rating Hits 35 Percent
While the perception of seriousness about the president's handling of the Russia incident — as well as what exactly happened — varied between Democratic and Republican respondents in the poll, there was bipartisan support for an impartial investigation by Special Counsel Robert Mueller without interference from Trump. According to the poll, 56 percent of respondents believed that Mueller's investigation would be impartial.
Only 28 percent of Americans approved of the president's handling of the Russia, the lowest marks on any topic addressed during CBS' survey — including economy or terrorism — while 63 percent disapproved. The poll did, however, find that most Republicans felt Trump was being unfairly castigated, which reportedly fueled their support of the president even more.
Interestingly, the percentage of Americans who believed that Russia meddled in the 2016 presidential election rose to 65 percent — up 59 percent from CBS' poll in March. According to the poll, the most significant shift occurred among Republicans, as 40 percent admitted it is "at least somewhat likely" that Trump and his associates had inappropriate ties to Russia. Only a quarter reported the same in March, perhaps as a result of Trump's persistence that the Russia issue was "fake news" in spite of all evidence to the contrary.
CBS' data was collected June 15-18 in both cell phone and landline telephone conversations with a random sample of 1,117 adults nationwide. The margin of error for its findings was plus or minus 4 percentage points.
Read: Is Donald Trump A Good Father? Here's What His Children Say
The right-leaning daily poll from Rasmussen Reports continued to skew overall poll figures Wednesday as it reported that 45 percent of "likely U.S. voters" approved of the president's job performance. However, its disapproval rating of 55 percent was closer to other poll results.
RealClearPolitics averaged the latest figures reported by a number of polls that include Gallup, Rasmussen Reports, Reuters and the aforementioned poll from CBS News. The site reported Wednesday that 39.9 percent of Americans approved of the president, while 54.6 percent disapproved.
© Copyright IBTimes 2022. All rights reserved.
FOLLOW MORE IBT NEWS ON THE BELOW CHANNELS