Tulsa Cops Say Suspects Confessed To Shooting 5 Blacks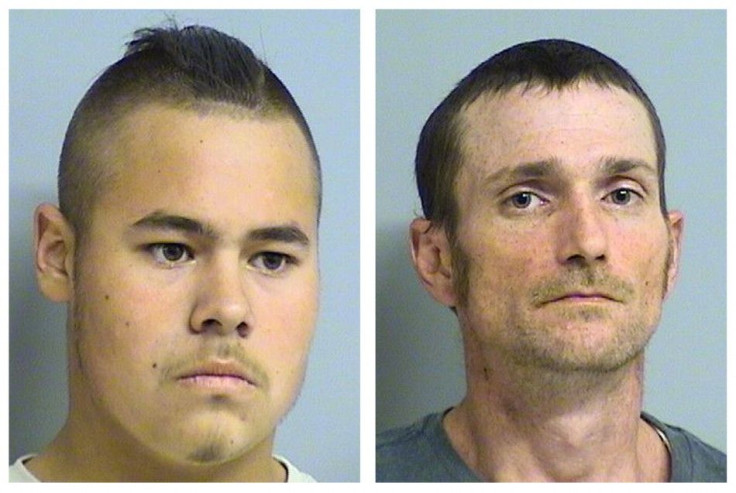 The two suspects in a shooting rampage that terrorized the black community in Tulsa, Okla., over the weekend have confessed, police said Monday.
Tulsa Police Department arrest reports obtained by The Los Angeles Times say 32-year-old Alvin Watts confessed to shooting two people and 19-year-old Jake England confessed to shooting three.
England's arrest report says he was the driver during the shootings and led police to the weapon. Tulsa police spokesman Jason Willingham told the Times the gun and a truck were seized in connection with the shootings.
The shootings early Friday morning left three people dead -- a woman and two men -- and two seriously wounded. All the victims were black, and police have described both of the suspects as white, although England has identified himself as part Native American in the past.
It's not clear which man would have shot which victim. An arrest report says Watts claims he shot the ones in between the first and last.
Police have said England may have been trying to avenge his father's fatal shooting by a black man two years ago. But Willingham said that as far as he knew, the suspects did not discuss their motivation during their interviews with police.
Willingham said it appeared the two men were equal partners in crime, despite the difference in their ages.
Each admitted to his own crime where there was a fatality, Willingham said.
He said the confessions were corroborated by other evidence but he declined to discuss that evidence, including the type of gun recovered.
What they said matches what our investigation showed, he said.
Earlier Monday, both men were arraigned in court. Each is charged with three counts of first-degree murder, two counts of shooting with the intent to kill and one count of possession of a firearm in the commission of a felony. Their bond has been set at $10,160,000 each, the Associated Press reported.
A sheriff's spokesman told the Times that they were being held separately in segregation at Tulsa jail. They are due back in court next Monday.
© Copyright IBTimes 2023. All rights reserved.