Turpin Family Update: Siblings Sue Riverside County After Facing Abuse In Foster Care
Years after the 13 Turpin children were rescued from their abusive parents in Perris, California, six of the siblings are suing social services after being subjected to further abuse in the foster care system.
On Tuesday, the siblings filed two separate lawsuits against Riverside County and the private foster care agency that placed them in a home after their 2018 rescue.
The suit names Riverside County, ChildNet Youth and Family Services, Inc., Foster Family Network, and "Does 1-50" as respondents.
According to documents that were filed overnight, the six youngest Turpin siblings claimed they faced physical, sexual, and emotional abuse from a foster family.
The lawsuit accused officials of knowing the foster family had a history of abuse and failing to report the "severe abuse and neglect" once they were informed by the siblings.
"At least one of the plaintiffs had conversations with defendants' social workers in which she conveyed that information and asked for help," the lawsuit alleges.
The Turpin siblings accused the foster mother, father, and their daughter of abuse that included "hitting them in the face with sandals, pulling their hair, hitting them with a belt, and striking their heads."
The complaints claimed the foster father sexually abused several of the female siblings, and the foster family made the children sit in a circle and detail the abuse they experienced while living with their biological parents.
The siblings were also forced to eat until they threw up and then forced to eat their vomit. The Turpin siblings remained in the foster home for three years.
"As to ChildNet, it had a financial motive to continue placing a large number of children in this foster home and thereby strengthen its relationship with the County of Riverside, and it put that financial motive ahead of its responsibility to children," the documents stated.
During an interview with "Morning America on Wednesday, Elan Zektser, the attorney representing the two oldest Turpin siblings who have aged out of the system, criticized officials for not protecting the children.
"These children who were chained to their beds for a great majority of their life finally are free, and then the county places them with ChildNet and puts them in another position where they are further abused," Zektser said.
Law enforcement rescued the children from their parents' home in 2018 after Jordan Turpin, then 17, managed to escape and called 911. Police later learned that their parents abused and deprived them of health care, food, sleep, education, and hygiene.
In 2019, David and Louise Turpin were sentenced to life in prison with the possibility of parole after pleading guilty to 14 felony counts.
Four of the Turpin children are still in foster care but are together and safe in a new home.
The foster family has since been arrested and charged with multiple accounts of abuse and neglect. They have pleaded not guilty to the charges.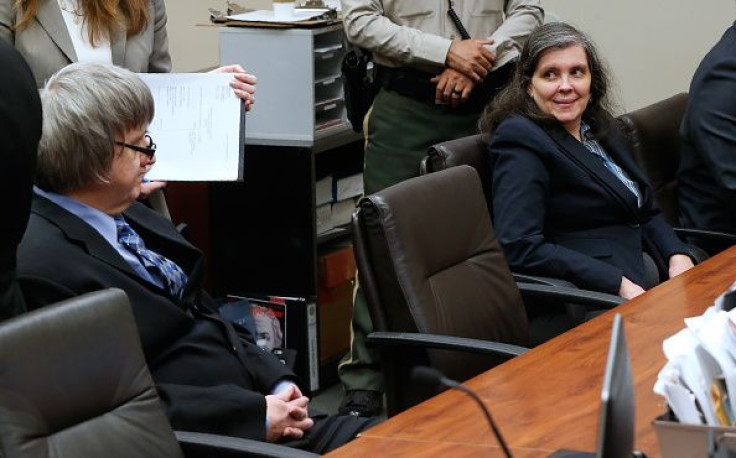 © Copyright IBTimes 2023. All rights reserved.