Two-Faced Cat Is A Miracle, See Video Of Frank And Louie, The Cat That Shattered Guinness World Records 2012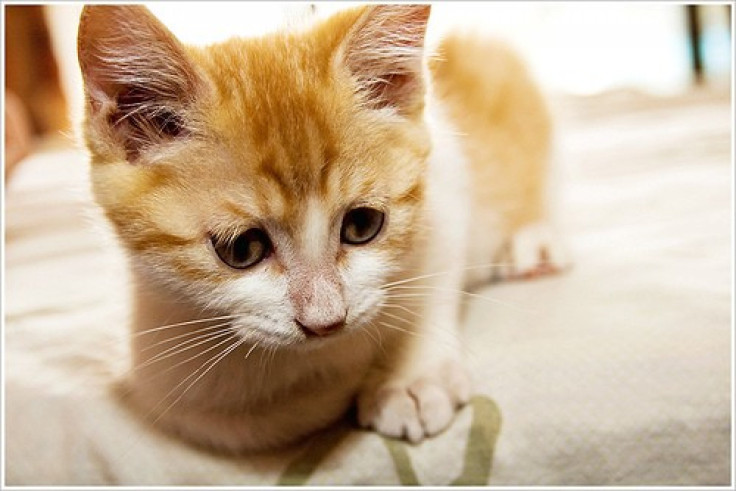 A rare two-faced cat, born with two faces, two mouths, two noses and three eyes, has lived for 12 years, according to the Associated Press. Frank and Louie the two-faced cat is the pet of Marty Stevens of Worcester, Mass., who rescued the feline from being euthanized because of his condition.
Frank and Louie have made it into the 2012 Guinness World Records as the longest surviving member of what has come to be known as Janus cats. This rare group of cats gets its name from the Roman god Janus, who has two faces.
"Every day is kind of a blessing, being 12 and normal life expectancy when they have this condition is one to four days," Stevens said to the Associated Press. "So, he's ahead of the game; every day I just thank God I still have him."
Frank and Louie's breeder had taken the two-faced cat to the Cummings School of Veterinary Medicine at Tufts University, where Stevens had been working, to euthanize the creature when only a day old. It was at this time that Stevens took the cat home, although she was warned that the two-faced cat may not last that long.
Janus cats typically never survive, the AP reported, and many of these animals have congenital defects such as a cleft palate that makes it difficult for them to nurse. This also causes them to slowly starve or get milk in their lungs, resulting in death by pneumonia. The rare condition is sparked by a genetic defect that causes excessive production of a certain type of protein.
Scientists point to a protein that has earned the nickname "Sonic Hedgehog homolog," SHH, as a cause for the rare two-faced condition. In development, the SHH protein determines the width of a creature's facial features, according to Petside.com's Janus section. Excessive amounts of this SHH protein can have "multiple and profound effects on the entire spectrum of craniofacial development."
Humans can also suffer from diprosopus conditions, and both cats and humans alike are only expected to survive for up to four days after birth.
In February 2012, a Janus kitten was born in South Florida, named Harvey Dent after the famed Batman comic book villain who becomes known as "Two Face." The kitten had died overnight after being born, 10 News reported.
However, Frank and Louie did not endure the medical problems common to Janus cats. Stevens used feeding tubes to nourish the two-faced cat for three months, attempting to prevent Frank and Louie from choking on food going down two mouths.
"The condition itself is very rare, and I think that the fact that this cat became an adult, a healthy adult, is remarkable," Dr. Armelle deLaforcade, an associate professor at Cummings , said to the AP.
Frank and Louie's two-faced condition has surprised some cat-lovers when out in public, Stevens said.
"It's funny because people walk up to him thinking it's a nice, fluffy white cat and they're walking up with a big smile on their face to pat him, like, 'Oh, what a beautiful cat!' and I see a look of horror come over their faces when they see his actual face," Stevens said to the AP.
Another two-faced cat has also been garnering massive Internet attention lately, but this feline isn't a victim of the rare Janus condition. Venus, the cat with black fur on one side and orange on the other, has become a viral YouTube celebrity leaving users wondering if the animal is real or created with Photoshop.
Check out the video below to see Frank and Louie for yourself, and head over to the Associated Press for photos of the two-faced cat.
© Copyright IBTimes 2023. All rights reserved.