Unabomber Letters Released: Read Serial Killer Ted Kaczynski's Thoughts On 9/11, Hillary Clinton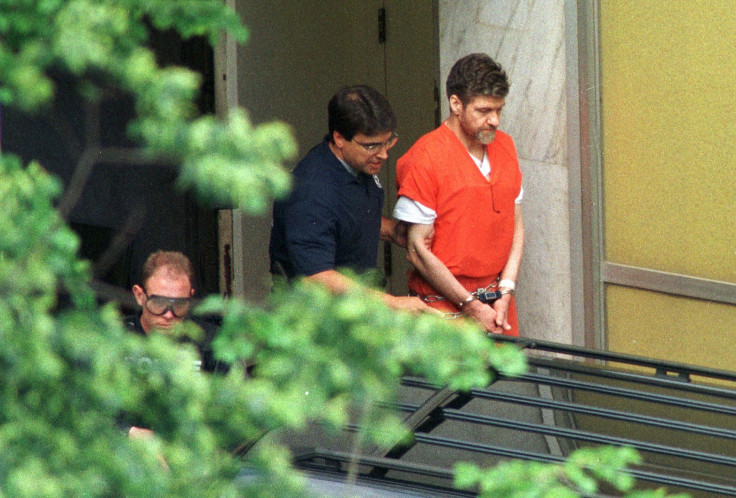 Ted Kaczynski, the American academic turned serial killer, has been locked in prison for nearly 20 years. But excerpts from letters published Monday by Yahoo News indicate he's kept up with current events. Newly released writings show Kaczynski, the infamous Unabomber, has expressed several opinions to pen pals — among them, that he'd hoped Hillary Clinton would win the 2008 Democratic primaries and that he wasn't familiar with YouTube — over the past two decades, the Associated Press reported.
Kaczynski, 73, is serving out his eight life sentences at the federal supermax prison, the Federal Correctional Complex in Florence, Colorado. Between 1978 and 1996, he killed three people and wounded 24 others with homemade letter bombs.
He has always been prolific. The FBI notes on its website that authorities were able to track down Kaczynski because of the 35,000-word manifesto against technology he sent to the Washington Post and the New York Times in 1995. When he was arrested, police found 40,000 journal pages filled with handwritten plans for bombs.
After his 1998 conviction, Kaczynski reportedly began sending copies of his prison correspondence with family, friends and fans to the University of Michigan Library in Ann Arbor. The papers, which were recently reviewed by reporter Holly Bailey, "show him as someone unique among criminals — a psychotic who killed three people and injured more than two dozen others not for gain or power or sexual gratification, but under the spell of an ideology that was fully thought out and articulated with some superficial plausibility and appeal yet unmistakably, horrifyingly crazy," according to Yahoo News. The website will publish excerpts from his communications over the next week.
In the letters released Monday, Kaczynski showed "surprise" at the 9/11 terrorist attacks in New York City and Washington, then began investigating radical Islam from his cell. Yahoo reported Kaczynski was disappointed that Osama bin Laden, the al Qaeda leader who orchestrated the massacre, wasn't taking a stand against technology.
"My guess is that his motive is less an opposition to modernity than a desire to create an Islamic 'great power' that would be able to compete on equal terms with other great powers of the world," he wrote. "If that is true, then he is just another ruthless and power-hungry politician, and I have no use for him."
Kaczynski's anti-establishment stance also came up years later, when he wrote that he wanted Clinton to win the 2008 Democratic presidential nomination over Barack Obama. "I mean, I don't think any of our politicians are worth a damn, so when I say I 'favor' a politician for office, I just mean that I think he or she is the least of the available evils," he wrote.
Kaczynski did not write back to Bailey about why he'd decided to archive his letters.
© Copyright IBTimes 2023. All rights reserved.