Veterans Demand Lake County Democrats Remove Obama's Face From American Flag: 'They Don't Realize How Sick They Are'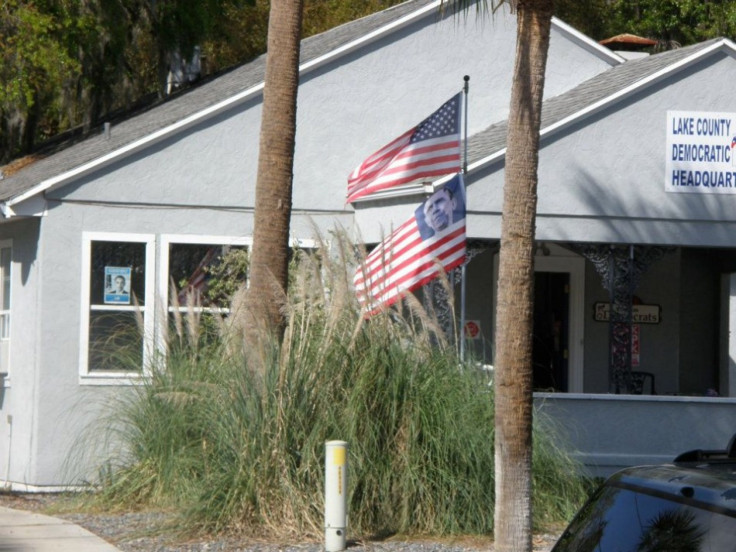 A group of veterans and the head of the Lake County, Fl. Democratic Party engaged in a standoff after the veterans complained about an altered American flag. The flag had a picture of President Obama's face located where the 50 stars would traditionally be located.
The Lake County Democratic Headquarters in Tavares were flying two flags outside their office, reported the Florida Political Press. The first was a traditional American flag and just below was the altered Obama-face flag.
A group of veterans saw the flag and asked the flag be removed.
It's a cult of personality to show his face, like Stalin or Mao, said John Masterjohn, a former Marine and retired schoolteacher, reported the Orlando Sentinel. It's despicable. They don't realize how sick they are.
Nancy Hurlbert, chairwoman of the Democratic office, said it was the first time anyone had complained about the flag, reported the Orlando Sentinel.
I was surprised, she said after taking down the flag. No one had called us. We have a phone.
While, altering the American flag is in violation of the federal flag code, it does not constitute any jail time due to U.S. Supreme Court decisions. Desecrating a flag is protected under the First Amendment.
Around 4 p.m. on Wednesday, about six veterans appeared outside the Democratic headquarters. Dan Van Beck, a member of the veterans group, said he would give Hurlbert a POW/MIA flag to fly in place of the Obama-face flag.
Hurlbert said she would research the issue, but did not take the flag down. Van Beck said he would take the flag down for her.
No, you will not, Hurlbert reportedly said. This is private property.
The group decided to take no further action, but after some time, Hulbert came out and took down the flag. She did not take the POW flag.
We're proud of our president and we didn't realize it was in violation, she said. I am the chair and I take responsibility for this.
The veterans, appeared pleased with the results.
I'm sorry it had to come to this but you do not desecrate the American flag, said Van Beck.
© Copyright IBTimes 2023. All rights reserved.