VIDEO Home Run Derby 2015: Todd Frazier Highlights A Thrilling Contest In Cincy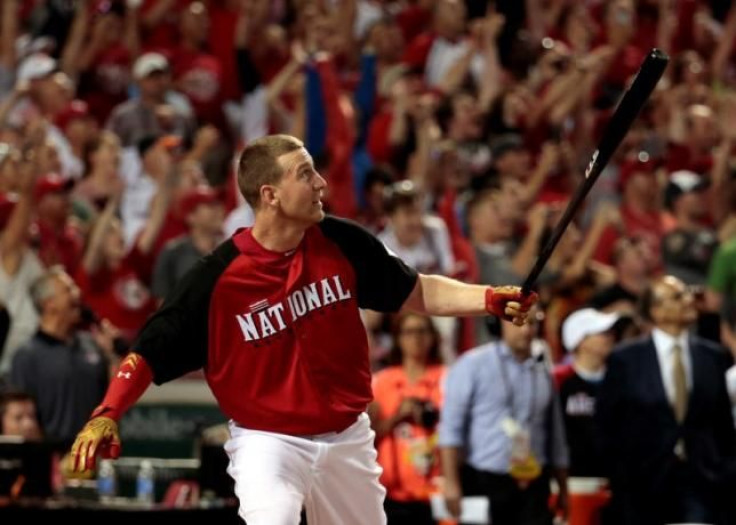 Todd Frazier put on a show in front of his home crowd on Monday night in a comeback win over Los Angeles Dodgers rookie sensation Joe Pederson in the 2015 Home Run Derby. With his brother Charlie pitching to him at Great American Ballpark in Cincinnati, Frazier outlasted Pederson, 15-14, in an epic final round.
The Reds third baseman was able to edge Texas Rangers slugger Prince Fielder and Toronto Blue Jays third baseman Josh Donaldson to clinch a spot in the finals, where he faced Pederson. The young outfielder hit first and finished with 14 homers, tying the highest total on the night. With the clock ticking down and tension building in front of his home fans, Frazier used a late surge, tying Pederson with 11 seconds left and then blasting a home run on the first pitch in the 30-second bonus time.
Frazier became the first Reds player to with the contest since Eric Davis in 1989. He also became just the second player to win the contest on his home field, after Chicago Cubs legend Ryne Sandberg became the first in 1990. The 29-year-old said that playing in front of his home fans gave him a boost.
"That pushed me a lot," Frazier said. "I wanted to get back here. I'd been working in the offseason a little bit. I'm just glad it was in Cincinnati and they could enjoy it with me."
A Frank Sinatra aficionado, Frazier swung to "Fly Me To The Moon" in his defeat of Pederson. After he clinched the title, the stadium speakers blasted "My Way." The New Jersey native didn't know that the song would be played.
"That was pretty nice," said Frazier.
It wasn't too surprising to see Frazier go deep in the derby. He is third in the National League with 25 home runs, and is coming off a 2014 season in which he finished with 29 homers. Frazier is also fifth in the league in slugging percentage (.585).
© Copyright IBTimes 2023. All rights reserved.