VIDEO MLB All Star Game 2015: American League Wins, Mike Trout's Home Run Highlights MVP Performance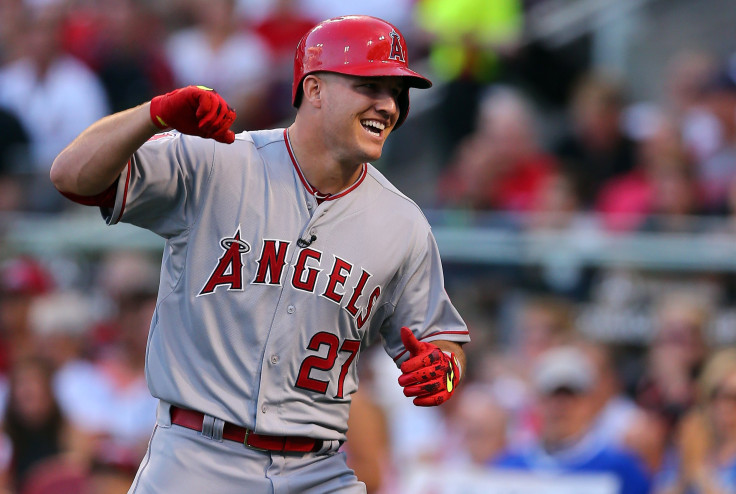 The American League beat the National League in Tuesday's 2015 MLB All-Star Game, winning 6-3 at Cincinnati's Great American Ball Park. Los Angeles Angels outfielder Mike Trout was named the game's MVP for a second straight year, giving the AL home-field advantage in the 2015 World Series.
Trout gave the AL a 1-0 lead with the game's first at-bat, hitting a line-drive home run over the right field wall just four pitches into the start of the contest. Last year's AL MVP reached base three times in four plate appearances, scoring in the fifth inning after grounding into a fielder's choice. He also walked in the seventh inning before Brock Holt pinch-ran for him.
The NL tied up the contest at 1-1 in the second inning, scoring an unearned run off of AL starting pitcher Dallas Keuchel. But just as NL starter Zack Greinke gave up a run in the first inning, another Los Angeles Dodgers pitcher allowed the AL to break the tie. Clayton Kershaw surrendered two runs in the fifth inning, giving up an RBI each to Prince Fielder and Lorenzo Cain. The AL didn't relinquish the lead for the rest of the game.
Kershaw's one inning of work earned him the loss, while Detroit Tigers pitcher David Price got the win by pitching a perfect fourth inning and striking out two batters. Glen Perkins of the Minnesota Twins closed out the game in the ninth inning, allowing one run.
New York Mets starting pitcher Jacob deGrom might have been the most impressive pitcher of the night, needing just 10 pitches to strike out the side in the sixth inning. The Cincinnati Reds' Aroldis Chapman struck out the side in the ninth inning, reaching 103 mph on the radar gun with one pitch.
Andrew McCutchen hit a home run for the NL, and Cain was the only batter to record two hits. Chris Archer, Francisco Rodriguez and Mark Melancon also gave up runs.
<iframe src='http://m.mlb.com/shared/video/embed/embed.html?content_id=260078683&topic_id=135256552&width=400&height=224&property=mlb' width='400' height='224' frameborder='0'>Your browser does not support iframes.</iframe>
© Copyright IBTimes 2022. All rights reserved.
FOLLOW MORE IBT NEWS ON THE BELOW CHANNELS