Vladimir Putin Stepping Down As United Russia Party Leader, Leaving Dmitri Medvedev To Pick Up The Pieces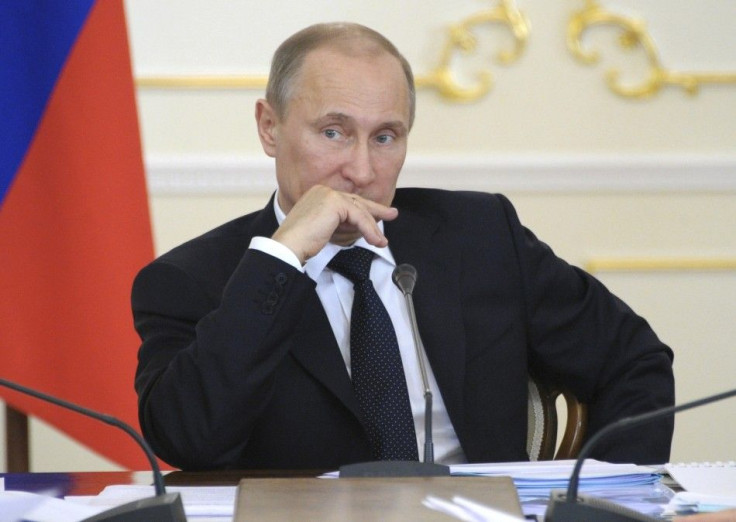 Russian Prime Minister Vladimir Putin said on Tuesday that he will step down as the leader of United Russia, the nation's dominant political party, after he assumes the presidency in May.
In line with political practice here, the president stands above parties, he explained to United Russia officials. Putin recommended that current president Dmitri Medvedev should be selected as the next chairman. Since Dmitri Anatolyevich [Medvedev] led the party in the State Duma election campaign, and since I will recommend him for the post of prime minister, I believe it is right for him to head the party as well, he said.
Passing the Buck
Medvedev did indeed lead the party during Duma elections in December, but he won more ire than admiration for his efforts.
Conservative United Russia party officials have long accused Medvedev of being too liberal, and they blamed him for a relatively poor electoral outcome last year. Although the party now holds a plurality of Duma's 450 seats, the December results marked a remarkably weak victory for them. The last time Duma held elections, in 2007, the United Russia party won 318 of the 450 available seats. This time, they won 238 seats and less than half of the popular vote.
Conservatives were unhappy about their decline in popularity under Medvedev, but liberals were also dissatisfied; many decried the election for alleged fraud. Protesters took to the streets in record numbers to blast both Putin and Medvedev, culminating in a 50,000-person rally in Moscow on December 10.
United Russia is still the nation's most powerful party, but discontent rages on both sides as public approval ratings continue to slide. Putin's decision to distance himself from the party is a tactical move in the run-up to his assumption of the presidency, and Medvedev will be left to deal with the fallout.
The Man in Charge
Putin was first elected to the Russian presidency in 2000 but reached his limit of two consecutive terms. He continued to wield power after Medvedev, his chosen successor, nominated him as prime minister four years ago.
When Putin first came to power, he brought a period of stability and growth. He has generally enjoyed popularity among Russians, but lately an increasingly vocal segment of the public has turned against him. This past year has seen an emboldened media and waves of anti-Kremlin rallies. Protesters object to Putin's reputation for tough crackdowns on dissent, and they point to several problems plaguing the country.
Federal spending has reached dangerous heights in Russia, and Putin has promised greater expenditures that may cost up to 2 percent of GDP annually. This is especially troubling now that fluctuating prices are threatening Russia's oil and gas exports, an important source of income. And since Europe is Russia's biggest market, euro zone currency woes are spilling into Putin's territory.
Still, his reelection was never really in doubt. Though public opinions about the United Front were unfavorable, Putin's approval rating hovered around 50 percent. And just to ensure victory, the Kremlin barred most viable competitors ahead of the March election. Putin also ran a successful propaganda campaign to inspire fear of change in broad segments of the electorate, particularly lower-income voters out in the provinces.
Then came the alleged rigging. An independent monitoring organization called Golos reported instances of multiple voting and forced voting. In addition, opposition groups found evidence of ballot-stuffing and illegal absentee voting.
All these efforts in place, Putin came away with the apparent support of almost two thirds of the electorate. We have gained a clean victory! said a surprisingly tearful Putin during a victory rally last month. We won! Glory to Russia! Putin will now swap jobs with Medvedev, officially regaining his presidential post on May 7.
Second Fiddling
Meanwhile Medvedev, nominally the most powerful man in all of Russia, has never broken free of Putin's shadow. The outgoing president promised liberal reforms when he was first elected in 2008, but has not been able to live up to those promises with his prime minister still calling the shots.
During December of 2011, when large-scale protests spilled onto the streets of Moscow, Medvedev again promoted liberalization in order to placate dissenters. Specific proposals included a return to the system of direct election of governors, an initiative to simplify electoral processes, and an increase in local control over budgetary policy.
But at that point, Medvedev had little more than four months left as president; many were skeptical of such grand promises so late in the game. Some of Medvedev's proposals are currently making their way through Duma, but the major initiatives are likely to be watered down. On Tuesday, for instance, the lower chamber of Duma approved Medvedev's gubernatorial direct election rule, but not before adding a clause that allows the president to disapprove candidates.
Now that he's slated to become head of the United Russia party as well as prime minister, Medvedev may attempt to enact some of the bold changes he has promised. But given the weakened status of United Russia, party leadership may prove more of a burden than a boon as Medvedev struggles to build a legacy beyond his reputation as Putin's puppet.
© Copyright IBTimes 2023. All rights reserved.