Wade Michael Page Named As Alleged Gunman In Wisconsin Sikh Temple Shooting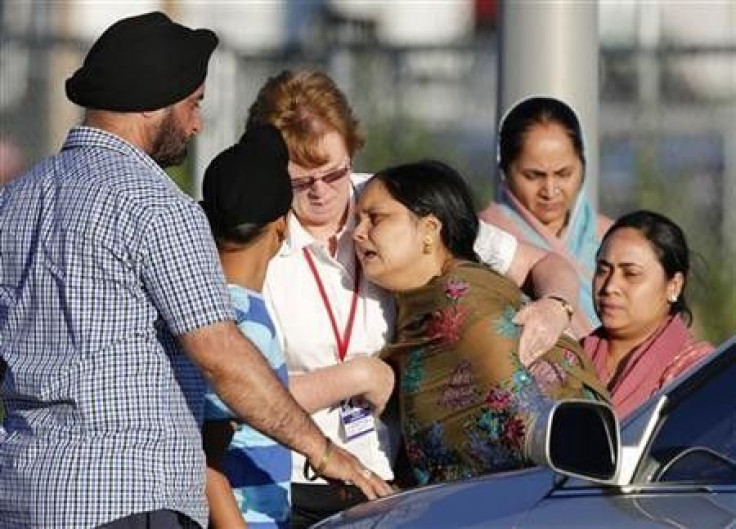 Wade Michael Page is the man being named as the alleged gunman who opened fire in a Sikh temple in Oak Creek, Wis., and killed six people on Sunday.
Page, a 40-year-old Army veteran who served from April 1992 through October 1998, allegedly opened fire outside the temple before entering around 10:30 a.m. Sunday morning and taking the lives of six innocent people.
The Army veteran, who was shot and killed in an exchange of gunfire with a police officer who sustained "eight or nine" gunshot wounds, served as a sergeant, and later as a specialist at Fort Bliss, Texas, in the psychological operations unit in 1994. He was last stationed at Fort Bragg, North Carolina, attached to the psychological operations unit. Page was dishonorably discharged in 1998, the details of which were not immediately clear, according to CBS News.
While police have yet to release details revealing a motive, Bureau of Alcohol, Tobacco, Firearms Special Agent Thomas Ahern told ABC News that Page had tattoos that suggested he had ties to white supremacists.
"It is being investigated. And what his tattoos signified is being investigated. They are all pieces of a possible puzzle to learn what was his motive in carrying out such a horrific act," Ahern said.
According to multiple reports, a witness to the shooting told law enforcement the shooter was a white male, bald, with a heavy build.
On Sunday the FBI and a bomb squad arrived at a home in Cudahy, Wis., near Oak Creek, and ABC News Milwaukee affiliate WISN reported the action appeared to be related to the temple shootings earlier in the day.
Officials at Froedtert & The Medical College of Wisconsin told ABC News that three people -- two adult male civilians and a male police officer -- were in critical condition and were being treated as a result of the shooting.
Four victims were found dead inside the Sikh temple and two others were found dead outside the building, Oak Creek Police Chief John Edwards told reporters.
Edwards also said that authorities were treating the event as a domestic terrorism incident and the FBI would be conducting a full investigation.
"The FBI is working closely with the Oak Creek Police Department and other local and federal agencies to investigate today's shooting incident," FBI Milwaukee Special Agent in Charge Teresa Carlson said in a written statement. "This remains an active investigation in its early stages. While the FBI is investigating whether this matter might be an act of domestic terrorism, no motive has been determined at this time. We know our community has been deeply impacted by this incident, and our thoughts are with those affected and particularly with the officer who was wounded in the line of duty to protect others."
Several news outlets are reporting that individuals attending Sunday services at the Sikh Temple of Wisconsin scrambled when they saw a gunman enter the building and open fire.
Edwards said 911 calls began pouring into the police department around 10:25 a.m.
The first police officer to respond to the scene, a 20-year veteran on the police force, exchanged gunfire with the suspect and sustained multiple gunshot wounds. He underwent surgery at Froedtert Hospital, the main trauma center in the Milwaukee region, along with two other injured victims.
© Copyright IBTimes 2023. All rights reserved.