'We Continue to Receive Grisly Reports from Syria': U.N. Secretary General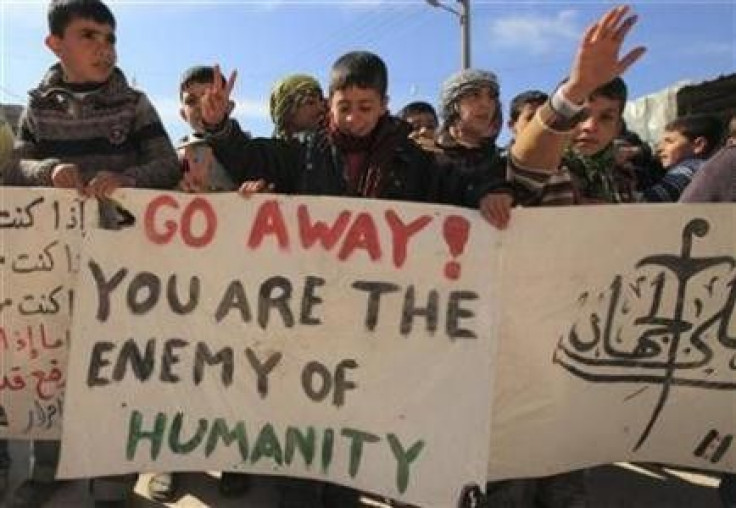 U.N. Secretary-General Ban Ki-moon said he had received grisly reports that Syrian government forces were arbitrarily executing, imprisoning and torturing people in the battle-scarred city of Homs after rebel fighters had fled.
Syria
Ban's comments came as a wounded British photographer, who escaped Homs earlier this week, said he had witnessed Syrian troops carrying out a massacre in the city's Baba Amro district, which had become a symbol of a year-long uprising against President Bashar al-Assad.
Opposition activists told Reuters Syrian troops, who had bombarded the district for weeks, had started hunting down and killing insurgents who had stayed to cover a rebel retreat on Thursday.
The rebel withdrawal was seen as a major setback for the armed revolt that began with largely peaceful protests inspired by the Arab Spring, but escalated after a bloody government crackdown.
A major assault on Homs took place yesterday, Ban told the U.N. General Assembly in New York on Friday. Civilian losses have clearly been heavy. We continue to receive grisly reports of summary executions, arbitrary detentions and torture.
In some of his toughest criticism of Damascus to date, Ban added that this atrocious assault is all the more appalling for having been waged by the government itself, systematically attacking its own people.
Syria's U.N. Ambassador, Bashar Ja'afari, said Ban's remarks included extremely virulent rhetoric which confines itself to slandering a government based on reports, opinions or hearsay.
The secretary-general is not duly informed, he said, reiterating that the Syrian opposition consisted of armed terrorist groups.
The International Committee of the Red Cross said an aid convoy had reached Baba Amro, but was not allowed to enter.
It is unacceptable that people who have been in need of emergency assistance for weeks have still not received any help, ICRC President Jakob Kellenberger said in a statement.
We are staying in Homs tonight in the hope of entering Baba Amro in the very near future.
One activist in Homs told Reuters: The Syrian army was holding the convoy up because they want to clean up after what they have done in Baba Amro. As with other activist reports from Homs, this could not be independently confirmed.
All men who remained in the neighbourhood aged between 14 and 50 were arrested. We fear they will be massacred. Where is the world? said one activist.
The massacres are continuing. They are torturing them and killing (detainees) one by one. They are executing them in batches, another activist, who left Baba Amro on Friday, told Reuters via Skype.
Many fighters out of the 2,000 who were based in Baba Amro were killed and wounded in the onslaught, they said, adding that a final toll was impossible to give because of the heavy shelling and siege. Hundreds were reported to have fled.
IT'S A MASSACRE
British photographer Paul Conroy, who escaped Homs earlier this week after suffering leg injuries in the shelling, said on Friday there had been a daily, indiscriminate barrage of the city.
I've worked in many war zones - I've never seen or been in shelling like this, the Sunday Times photographer told Sky News from a hospital bed in central London.
I'm an ex-artillery gunner so I can kind of follow the patterns - they are systematically moving through neighbourhoods with munitions that are used for battlefields.
It's not a war, it's a massacre, an indiscriminate massacre of men, woman and children.
Conroy said thousands of people were still in Homs, without power or water, and with hardly any food.
In years to come we're going to sit and we're going to go 'How did we let this happen under our nose'. There are rooms full of people waiting to die.
The Syrian government said on Friday it would like to express its sadness and sorrow at the death of Conroy's Sunday Times colleague, U.S. journalist Marie Colvin, who was killed in the Homs shelling.
The Paris prosecutor's office said on Friday it had opened a preliminary investigation for murder and attempted murder into the bombing that also killed French photographer Remi Ochlik and seriously wounded journalist Edith Bouvier.
Defiant protesters took to the streets after Friday prayers in towns and cities across Syria - including Homs, Hama, Deir al-Zor, Deraa, Douma and several districts in Damascus, television footage showed.
The London-based Syrian Observatory for Human Rights said at least 13 people were killed when troops fired a mortar bomb at a protest in the town of Rastan. Independent verification of such reports is hard as foreign media are mostly barred from Syria.
In Geneva, the United Nations human rights body had earlier said Assad had obligations under international law.
We are alarmed at reports starting to come out of the Baba Amro district of Homs after it was taken over by government forces yesterday, spokesman Rupert Colville said.
Conditions in the heavily bombarded district are hellish. TV footage showed heavy snow and freezing weather, with residents lacking electricity or fuel for heating.
Barely a building has escaped damage from artillery shelling and many are pock-marked with bullet holes.
The United Nations says Syrian security forces have killed more than 7,500 civilians since the revolt began last March. Syria's government said in December that armed terrorists had killed more than 2,000 soldiers and police during the unrest.
© Copyright Thomson Reuters 2023. All rights reserved.
FOLLOW MORE IBT NEWS ON THE BELOW CHANNELS