What Chris Paul's Future Looks Like Amidst Conflicting Reports About Being Waived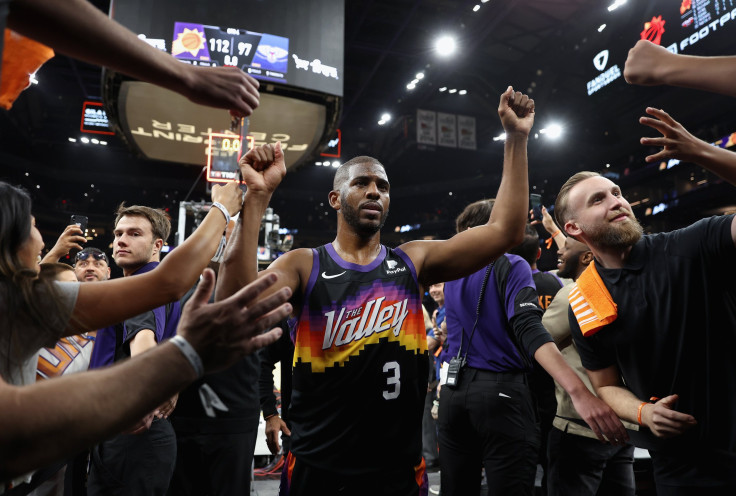 KEY POINTS
Phoenix Suns sources refuted reports of Chris Paul being waived
Paul's contract is partially guaranteed at $15.8 million until June 28
Suns fans are convinced that the "Golden Handshake" option is coming to play
The Phoenix Suns portion' of Chris Paul's future is currently up in the air if the latest rumblings are to be believed.
NBA insider Chris Haynes said the following about Paul's current situation in Phoenix.
"Phoenix Suns have notified star Chris Paul that he will be waived, making the future Hall of Famer one of the top free agents this offseason," he wrote on Twitter.
However, John Gambadoro of Arizona Sports 98.7 FM Phoenix flat-out called Haynes' report false and that they have "not made a decision at this time" regarding Paul's future.
Additionally, a follow-up report from Arizona Sports editor Kellan Olson pointed out that the Suns have privately confirmed to him that "CP3" has not been waived–instead explaining that the franchise is "exploring multiple avenues" regarding his future.
The Suns failed to make a big splash in the 2023 NBA playoffs after being ousted by eventual Western Conference Champions Denver Nuggets in six games, despite trading for Kevin Durant midseason.
In Paul's case, he was having a decent run in the postseason before a groin strain took him out of Game 2 in the conference semifinals, which led to more uncertainty about what the Suns' plan to do with their starting point guard position.
There are a couple of situations staring directly at the Suns front office regarding Paul and according to Olson, those options are being a stretch and waive scenario or waive-and-trade.
Paul re-signed with the Suns on a four-year, $120 million deal ahead of the 2021-22 season, and based on data provided by Spotrac, Paul's $30.8 million that he is owed this season is only partially guaranteed up to $15.8 million–with the full amount hitting the books by June 28.
The first option implies that the Suns will be letting him walk for no return while spreading out the salary cap hit of his partially guaranteed $15.8 million over the next few seasons.
As for the waive-and-trade scenario, waiving Paul before his salary becomes fully guaranteed makes his contract a bit easier to stomach for a team in dire need of the 38-year-old point guard's services.
However, the Suns have an extra option that Phoenix fans have long referred to as the "Golden Handshake" option.
The idea of the "Golden Handshake" is that both sides have the option to bring back Paul on a lesser deal after letting him clear waivers to free up cap space, thereby providing them with cap space relief to use on bringing in other players while still paying "The Point God" a substantial contract.
As an aside, the Suns' front office, led by James Jones, is likely to bring back Paul due to the lack of suitable replacements that can emulate Paul's pass-first style on the free agent market outside of Fred VanVleet.
There are a lot of options on the table right now for the Suns as their championship window has been slightly closed after putting up disappointing elimination game performances in two postseasons in a row.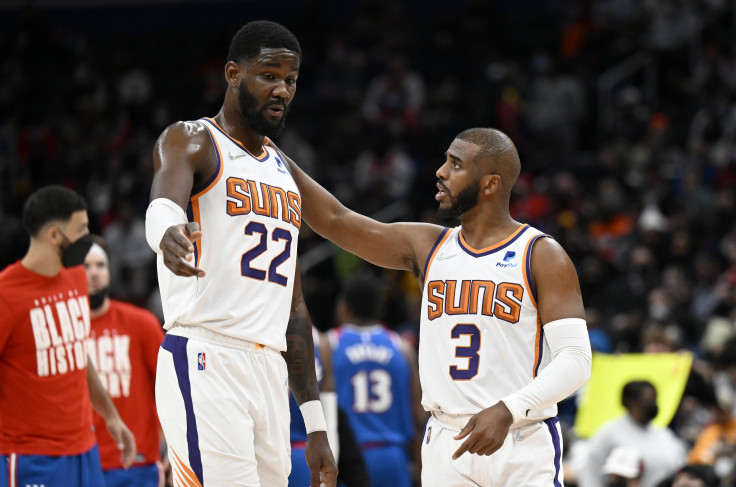 © Copyright IBTimes 2023. All rights reserved.