Who Is Heather Nauert? Trump's Top Pick To Replace Nikki Haley
President Donald Trump said Thursday he was seriously considering Heather Nauert, the U.S. State Department spokeswoman, as a candidate to succeed Nikki Haley as United States ambassador to the United Nations, and added he would be making the decision soon.
"She is under very serious consideration," Trump told reporters at the White House. He was announcing planned changes to U.S. immigration policy when he talked about the appointment. "She's excellent. She's been with us for a very long time. She's been a supporter for a long time... We'll probably make a decision next week."
Reports said, quoting two sources familiar with the situation, Trump told advisors Nauert was his leading choice for the post and he could offer the post as soon as this week. Nauert met with Trump on Monday and has since kept a low profile, while her deputy conducted two of her daily briefings. Fox News reporters posted on Twitter that Nauert was offered the post by Trump, and her confirmation was pending.
Sources close to the president told CNN his pick was not final until it was formally announced. White House has not yet responded to the matter. However, Vox reported Trump had interviewed Nauert for the post.
Nikki Haley announced early October she was stepping down from her post at the end of the year. Several people were considered to replace Haley including Ric Grennell, the U.S. ambassador to Germany; Jamie McCourt, the U.S. envoy in Paris; and Kelly Craft, the ambassador in Canada. Former deputy national security adviser Dina Powell was initially considered a leading contender for the post, but she withdrew herself from the race early on. Trump has repeatedly specified to his aides he wanted a woman to take up the roll.
Nauert, 48, was born in Rockford, Illinois. She has three brothers and her father was an executive in the insurance industry. She has a history in journalism and acting. According to IMDB, she received her Master's in Journalism from Columbia University and graduated from Mt. Vernon College in Washington, D.C. with a Bachelor of Arts in Communications. Prior to that, she attended Pine Manor College in Chestnut Hill, Massachusetts, then Arizona State University. Nauert left Fox News in 2017 to join Trump's administration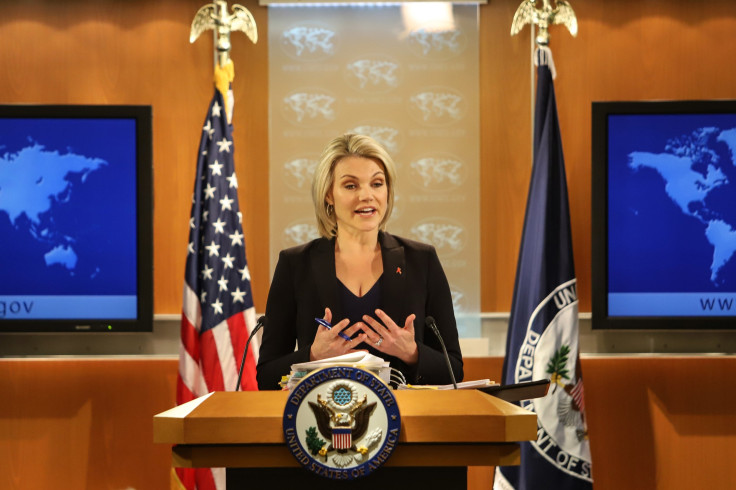 After joining the government, she served as State Department spokesman for both Rex Tillerson and Mike Pompeo. As CNN pointed out, her elevation to a top diplomatic role emphasized the importance Trump placed on having his top aides also serve as television surrogates. Nauert had a long career in television news starting from 1996, and has worked with multiple networks, including Fox and ABC.
However, as a diplomat, she lacks the experience required to become the U.S. ambassador to UN as most previous holders of the post came to the role with years of foreign policy experience like current national security adviser John Bolton.
Even her tenure as spokesperson started off rocky. In an early press conference, she relied on a huge binder to answer questions and she even made the mistake of assuming North Korea did not have nuclear capabilities in a tweet from October 2017, Vox noted. She has since then held press conferences that were far less confrontational than other White House press meets.
Her status in the White House was elevated March when Trump replaced Tillerson with then-CIA Director Mike Pompeo. Reports said Pompeo included her as a key member of his team as he trusted her. Nauert also served as the No. 4 official at the State Department for a while until mid-October after she took over as acting Under Secretary for Public Diplomacy and Public Affairs in March.
© Copyright IBTimes 2023. All rights reserved.