Will Donald Trump Be Impeached Or Resign? Betting Odds And What Experts Say About President-Elect's Upcoming 4-Year Term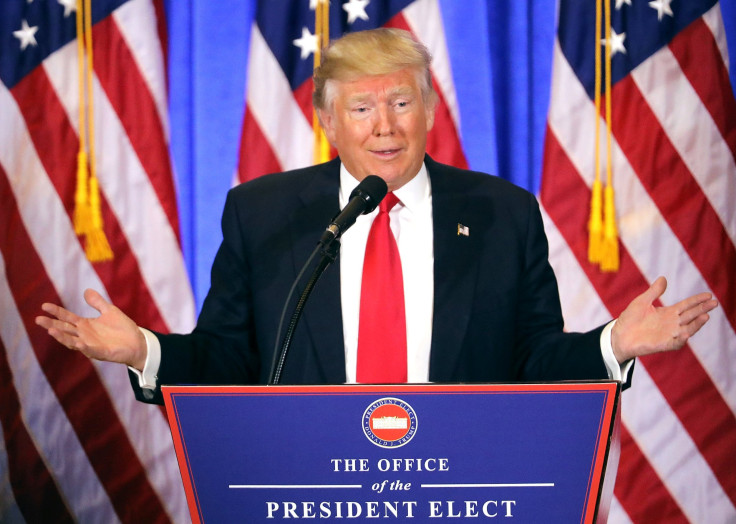 Donald J. Trump is just eight days away from being sworn into office as the 45th President of the United States. Yet even as Inauguration Day draws closer, the billionaire businessman continues to be a lightning rod for controversy as he skirts conventional presidential protocol in a manner that confounds ally and foe alike.
His behavior before and after the November election has led some to joke, or actually believe, that Trump doesn't want to be president, and that he would prefer a return to running his business and promoting his brands. A Quinnipiac University poll released Tuesday showed Trump, who lost the popular vote by 2.9 million votes, with just a 37 percent favorable rating, particularly low numbers for an incoming president.
After his victory, some have predicted or suggested he will be impeached or resign. Despite a divided House and Senate that often vote strictly on party lines, Democrats and Republicans could perhaps unify against Trump if they believe he poses a legitimate threat to national security. Trump admitted to disinterest in intelligence briefings in a December interview on Fox News, claiming he "gets it when he needs it." Such comments could spark a serious and swift investigation if there is an attack on U.S. soil.
"I'm, like, a smart person," Trump told anchor Chris Wallace. "I don't have to be told the same thing in the same words every single day for the next eight years."
The most prominent expert to predict Trump may leave office early has been Allan J. Lichtman, a professor of history at American University in Washington, D.C., who accurately predicted Trump would defeat Democratic nominee Hillary Clinton despite nearly all poll-data experts calling a win for Clinton. Lichtman, author of "Predicting the Next President: The Keys to the White House 2016," has gotten every presidential election right over the past 32 years, but instead of citing historical precedent he used his intuition in forecasting Trump's demise.
"I'm going to make another prediction," Lichtman told the Washington Post in September. "This one is not based on a system; it's just my gut. [Republicans] don't want Trump as president, because they can't control him. He's unpredictable. They'd love to have Pence — an absolutely down-the-line, conservative, controllable Republican. And I'm quite certain Trump will give someone grounds for impeachment, either by doing something that endangers national security or because it helps his pocketbook."
New York Times columnist David Brooks, a conservative whose views are similar to Edmund Burke and Alexander Hamilton rather than Sean Hannity, finished his Nov. 11, 2016, column on Trump this way: "After all, the guy will probably resign or be impeached within a year."
Lichtman and Brooks are not alone. In December, Emily Jane Fox of Vanity Fair pointed out that Trump's possible ethics violations may already be paving the way for impending impeachment.
"The campaign of a major presidential candidate with pending trials for fraud and racketeering is structurally corrosive to our system of government because it pits two of the Republic's most treasured values against each other," wrote University of Utah law professor Christopher Lewis Peterson in September, citing three pending lawsuits against Trump. "On the one hand Americans have always believed in the electoral process. And yet, on the other hand Americans have also always held to the view that no one is above the law. A Trump presidency may force Congress to choose between the two."
Thoughts of a Trump impeachment go back even further than September. In April, prior to Trump clinching the Republican nomination, Politico senior policy reporter Darren Samuelsohn found conservatives pundits and law professors who saw impeachment as a possibility in a nearly 2,500-word article entitled, "Could Trump Be Impeached Shortly After He Takes Office?" Perhaps the most telling comment came from staunch conservative radio host Rush Limbaugh, who went as far as to state, "They'll be talking impeachment on day two, after the first Trump executive order."
Meanwhile, conservative Washington attorney Bruce Fein put 50-50 odds that Trump commits impeachable offenses. Fein's odds were not far off from British-based gambling company Ladbrokes Coral, which opened with 3-to-1 odds after the election but would later go down to 9-to-4 by Nov. 22, that Trump wouldn't finish his term. By Wednesday, the odds were an even 50-50.
Still, a Trump impeachment or resignation may still seem improbable, Jeet Heer of the New Republic wrote a week after the election. Heer cited Democrats' fear of Pence in the White House and "spineless" Republicans not standing up to Trump.
And history is mostly on Trump's side, since only two presidents have been impeached in 228 years. Both Andrew Johnson in 1876 and Bill Clinton in 1999 were impeached by the House but remained in office because of the Senate vote.
The only president to resign was Richard Nixon, who stepped down in 1974 after the Watergate scandal. Perhaps coincidentally, Carl Bernstein, one of the two Washington Post reporters who helped bring down Nixon, now regularly covers Trump as a CNN political commentator.
© Copyright IBTimes 2023. All rights reserved.