Donald Trump Sex Tape? Penthouse Might Have Proof Of Russian Golden Shower Gate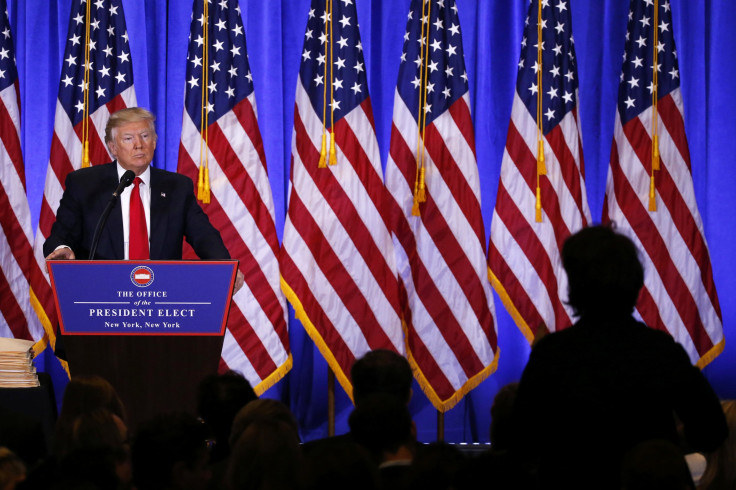 Adult magazine Penthouse has received three claims for its $1 million offer to anyone who could provide real tapes of President-elect Donald Trump's alleged and unproven sexual escapades at the Ritz-Carlton in Moscow, the publication's editor exclusively revealed to International Business Times Thursday.
Penthouse editor Raphie Aronowitz said the magazine isn't conducting a "witch hunt," but wants to prove whether the allegations against Trump are true. Aronowitz said the lucrative offer falls in line with the magazine's well-established brand, though to his knowledge Penthouse has never made such an exorbitant offer before.
"If the story is real, which we don't know if it is or not, it really kind of hits at the intersection between politics, scandal and sex, which as a brand both historically and currently is our sweet spot," Aronowitz said in a phone interview.
He also said the advent and effect of "fake news" – articles containing false or inaccurate information spread by social media sites that many have credited with helping Trump win the Oval Office, including President Barack Obama - played a role in the offer.
"For us, this was the type of story that we wanted to jump all over. But at the same time there's been so much floating around - as far as fake news stories – there have been so many people who have just been taking shots at President-elect Donald Trump because he's an easy target, and we as a brand and as an informational source, we didn't want to jump on the bandwagon," Aronowitz said. "We wanted to make sure this story could be verified, that the murmurings of their being actual video documentation that corroborates the allegations, do exist. For us, this was a very real ask, which is just 'Give us some facts, and let us share the real story with our readers and with the public.'"
Aronowitz's comments fell in line with the statement released by Penthouse Global Media CEO Kelly Holland following the offer's announcement Tuesday on Twitter. The magazine, best known for publishing pornography, offered $1 million for exclusive rights to videos proving the allegations against Trump.
Arnowitz said Penthouse, which has published controversial documents and interviews in the past, has not received physical tapes or video files but individuals have responded to the offer via email and its customer help line.
Should Penthouse receive a tape or file, Aronowitz said it will then turn it over to experts formerly affiliated with the Federal Bureau of Investigation – how they were affiliated Aronowitz would not explain – in order to authenticate it. Aronowitz said he hoped to see a video by the end of the week but that there is no set time frame or deadline.
The so-called "Golden Shower Gate" scandal stems from reports from CNN and BuzzFeed Tuesday involving the release of an unverified 35-page dossier that included, among many other accusations, details of Trump allegedly booking the upscale hotel suite where President Barack Obama and the First Lady Michelle Obama had previously stayed in Moscow and hiring prostitutes to urinate on the bed. The FSB, Russia's top internal security agency, is believed to have "control" of the entire hotel, including hidden microphones and cameras, according to the dossier. The unverified documents allege the FSB collected information against Trump in order to blackmail him.​
In his first press conference since winning the election in November, Trump completely denied the dossier's allegations Wednesday and called CNN and BuzzFeed promoters of "fake news" for publishing their stories.
"As everyone on our team including the President- elect stated yesterday, this is a fabricated story from a phony document," Hope Hicks, spokesman for Trump's presidential transition team, told IBT in an email Thursday.
CNN and BuzzFeed caused a major uproar by releasing the dossier, which had reportedly made the rounds in political and media circles for months. The contents have not been verified by U.S. intelligence officials or other credible sources. Trump and Obama were both briefed last week on the documents.
This isn't the first time a media outlet has offered up a prize for an interview or video before. In 2013, recently shuttered Gawker started a crowdsourcing effort to raise $200,000 to purchase a video of former and late Toronto mayor Rob Ford smoking crack cocaine. A video was eventually released in August of last year. In January 2014, Jezebel, previously under the Gawker umbrella, offered up $10,000 for unretouched images of comedic actress and writer Lena Dunham's photo shoot with Vogue. A day later they were published.
Penthouse, too, has a history of publishing questionable materials. In December 1988, it published an interview with former televangelist John Wesley Fletcher, during which he claimed to have slept with fellow televangelist and "The PTL Club" host Jim Bakker. The revelation came as Bakker was facing a federal investigation into his finances and had claimed in a sworn deposition never to have had any homosexual encounters.
In 1995, Penthouse publisher and magazine titan Bob Guccione went so far as to publish Ted "The Unabomber" Kaczynski's manifesto after he claimed he would stop his bombings if the 35,000-page document hit newsstands. Guccione also offered Kaczynski a regular column.
© Copyright IBTimes 2023. All rights reserved.
FOLLOW MORE IBT NEWS ON THE BELOW CHANNELS