Windows 8: Is Microsoft's Latest OS a Threat for Android Tablets and iPad?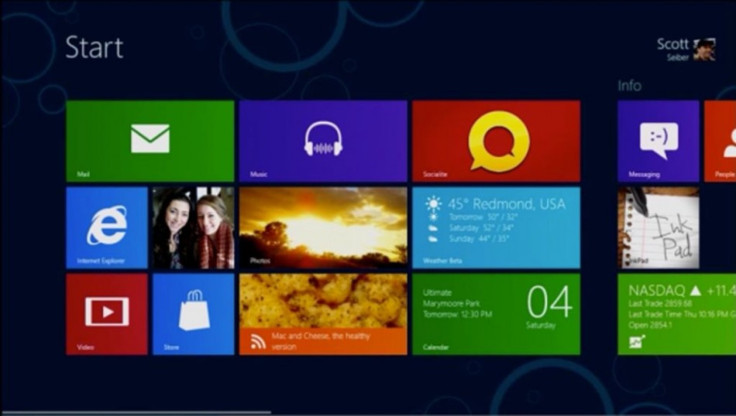 Windows 8, the latest Windows operating system, was unveiled on the sidelines of the Mobile World Congress in Barcelona Wednesday.
However, Microsoft added the term Customer Preview to the Windows 8 name to convey the message in a fancy way that the OS is still in its beta stage and users will have to wait for some more time for its primetime public consumption.
The Windows 8 Consumer Preview was made available for a free download after the unveiling. Despite being a beta version with some reported bugs, the pre-release edition generated over a million downloads in the first day of its availability. In total, the downloads tally for day one was up to over three and a half petabytes of data (about 41GB per second).
Reports said Microsoft would be pushing out tablets running on the latest operating system soon. Now the question is - once the Windows 8 tablets are out in the market, how will it affect the current leaders in the tablet space? Or, will it pose a threat any way?
According to a CNET report, while iPad seems to be well ahead in the so-called tablet war with its huge popularity, a massive app directory and a dominating market share, the Android tablets might feel the heat, leaving the doorway open for Windows 8 tablets to stake a claim for the second spot.
Appealing Apps
With the rise of Apple's iOS App Store, a wave of app store obsession has been developed across the user base. Given that, inclusion of an app store in the upcoming Windows 8 OS shouldn't be big surprise. However, it does give Windows a solid support in its rivalry against Android, which also has a huge app store, but a less-than-ideal centralized storefront and way of monetizing them, CNET reported.
The Windows 8 app store creates a kind of incentive for developers to build Metro-style apps. Users will have the availability of both Win32 apps and Metro apps for Windows 8 via Windows Store. Apps are well categorized into groups like Social, Entertainment, Photos, Music & Videos, Books and reference, News, Food, Shopping, and more.
The Mouse Still Squeaks
The keyboard-mouse compatibility with the Windows 8 operating system matters a lot for many. The iPad doesn't know how to use a mouse; and if not all, some iPad users do wish it could. Although Android tablets can use the mouse, its use is limited. This is where a Windows 8 tablet can satisfy the users who have a soft corner for the traditional PCs.
Since we've seen this before on Windows 7 tablets, what makes the difference?
According to CNET, while Windows 7 tablets outshined with the keyboard-mouse connectivity, what made them lose were poor UI, battery life and touch-based apps.
Windows 8 aims to address those problems this time around, though it remains to be seen how Intel's tablet processors will perform, said the report.
Corporate Candy
Calling iPads a candy to the corporate landscape, Scott Stein of CNET said that the Apple device was secure and stable. They're not perfectly geared to productivity, but they're close enough.
But considering a number of varieties and multiple operating system variants, Android tablets have way to go in terms of corporate adoption. Microsoft can capitalize on that if it settles on a few tablet designs from OEMs and a unified, stable OS (promising security features to boot).
Microsoft is reportedly courting developers in a concerted approach to line up all the pieces, including hardware OEMs and app developers.
Security
Considering high security threats on Windows OS, Microsoft this time aims to provide rich security features in Windows 8.
The new OS comes with better security features that include an improved Windows Defender built into it called Secure Boot. The program loads early while booting starts, averting any malware from taking control of the system.
Microsoft has already partnered with hardware manufacturers, including both sides of the chip equation with traditional x86 processors from Intel and ARM designs by NVIDIA, Qualcomm, and Texas Instruments, Daily Finance has reported.
What is evident from Microsoft's move is that its mobile strategy is embodied within Windows 8, and the company is striving to make a massive push into the tablet arena.
© Copyright IBTimes 2023. All rights reserved.
FOLLOW MORE IBT NEWS ON THE BELOW CHANNELS