Woody Allen Wins Oscar for 'Midnight in Paris,' No-Show Once Again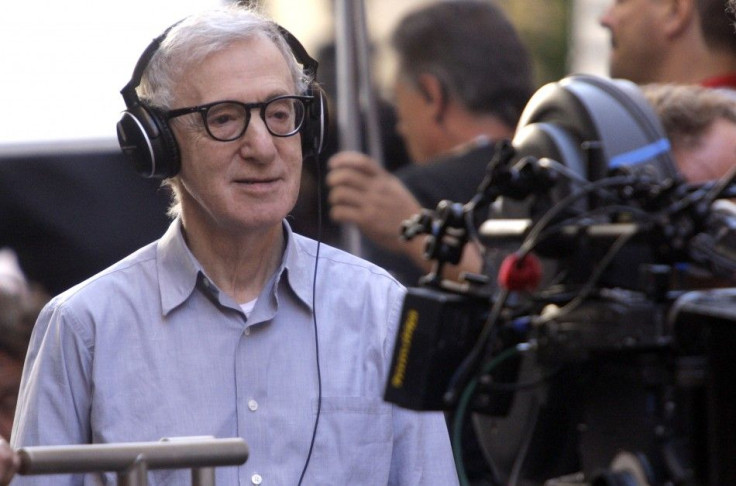 Woody Allen won the Best Original Screenplay Oscar for Midnight in Paris at the 2012 Academy Award ceremony Sunday night. While many were expecting the win, few believed Allen would show up to accept the award -- and true to form, he didn't.
Despite being nominated 22 times, Allen has only attended the Oscars once: In 2002, at the first Academy Award ceremony after the 9/11 terrorist attacks, he accepted an invitation to introduce a tribute to the films of New York City. During his speech, he described his reaction to getting the call:
I was sitting home in my apartment in New York and the phone rang and a voice on the other end said, this is the Motion Picture Academy of Arts and Sciences, he said. And I panicked immediately because I thought that they wanted their Oscars back because I've won a few Oscars over the years, and I thought they -- you know, that they were calling to get them back. And I panicked because the pawn shop has been out of business for ages, you know. And I have no way of retrieving anything.
When Allen first took to the stage ten years ago, he received a standing ovation. Thank you very much, he said in his opening remarks. That makes up for the strip search. At one point he explained why he had broken his unspoken Academy Award rule that year. You know, for New York City, you know, I'll do anything. I got my tux. I came out here, he said, before urging filmmakers to continue to shoot in New York.
While Allen appeared relaxed and content while on the Oscar stage in 2002, he indicated in a later interview that he was initially reluctant to attend. The Academy put a lot of pressure on me to take part, Allen told Total Film. They were going to do a tribute to New York with or without me, but they wanted me there because I'm associated with the city. That's why I went. It's the only reason.
In a recent NPR segment about Allen's chronic Oscar absenteeism, Conversations with Woody Allen author Eric Lax weighed in on a theory that Allen is a regular no-show because of a standing Sunday night gig playing the clarinet at a NYC jazz club.
It was a polite excuse, Lax said. I think that, if he has a gig that night, he can say, well, I had a gig that night. I needed to be there. You know, that goes all the way back to 'Annie Hall.'
But as recently as 2004, Allen has stuck to his story. Speaking to Total Film about the 1977 Oscars, Allen said: I was playing clarinet at Michael's Pub. I finished early, went home, went to bed, got up, had a shower, got dressed and went downstairs to make my breakfast. Then I picked up the New York Times and saw that Annie Hall had won four Oscars.
According to Lax, Allen rejects the Hollywood accolades not because he feels he is above them, but because he worries it will affect his approach to filmmaking.
It's really almost impossible, as he puts it, to judge art, that it's so subjective, you can't really say, well, this performance is better than that or that writing is better than this and that, if you get caught in that trap of relying on other people, however great they are, to tell you whether you're any good, you're either going to consciously or subconsciously start playing to that group.
Allen doesn't want any part of the judging process, having long refused to join the Academy of Arts and Sciences -- and was so committed to remaining a non-member that he donated to the Academy's capital fund on the condition that they stop inviting him.
Hollywood at the moment is dismal, Allen said in 2004. Films are made for commerce, not art. I know that sounds pretentious, but it's true. I mean, more money is spent on advertising one of these films than Ingmar Bergman spent on making all his films in his entire career. It's ludicrous.
There are great filmmakers -- Martin Scorsese is as good as there's ever been -- but even they have to work within the system, he continued. Marty is given $100 million to make a picture and then has to argue his vision with Miramax. He should have sole creative say.
Allen is so distrustful of the system that he doesn't give potential actors scripts to keep: For small roles, he will send only the pages with the character's lines; for lead actors, he will lend them a full script on the condition they return it after about two hours.
Then I'd like it back because, you know, they can Xerox it and give it to some producer and next thing you know I'm getting input! he told Total Film in 2005.
While Allen rejects the fanfare of the Academy Awards, he has accepted the physical statues. He told Total Film that he gave his Oscars to his parents after receiving them in the mail, and reclaimed them after they died. I wouldn't sell my Oscars or give them away because that's not the agreement with the Academy, Allen said. Equally, I'd never put them on the mantelpiece because I don't have any kind of memorabilia. They're in a package somewhere. Someday they'll probably wind up back at the Academy.
Midnight in Paris was also nominated in the Best Picture and Best Director categories -- which both went to The Artist. According to the Oscar Senti-meter, an analysis tool developed by the USC Annenberg Innovation Lab, IBM, and the Los Angeles Times to measure public sentiment about the Oscar nominees through Twitter messages, Midnight in Paris had a slight edge over the favorites going into the Oscar ceremony. (The Senti-meter does not yet include writing or directing categories).
Professor Jonathan Taplin, Director of the Annenberg Innovation Lab, acknowledged in an interview with IBTimes that popular opinion should not necessarily be counted on to predict Academy voting patterns.
We understand the Academy is a very specific group of 4,000 people, Taplin said. We're just saying ['Midnight in Paris'] is what the public thinks should be the Best Picture...Often those don't jive.
Taplin -- who is a member of the Academy himself -- suggested that Allen's chronic absenteeism could potentially work against him in the Best Picture category, which closes the show.
If Woody Allen was the kind of person who would actually show up at the Oscars, there might be a better chance for him, Taplin joked on Friday.
The last time he won the Best Picture [Oscar] he didn't even bother to show up...and I doubt that he'll show up this time, he continued. Of course the Academy knows that.
The Los Angeles Times caught up with Sony Pictures Classics co-chief Tom Bernard shortly after Allen's Oscar win was announced, and asked about Allen's conspicuous -- but not unexpected -- absence.
I tried for a little bit to get him to come, but he thinks it's all... Bernard said.He thinks the best movie of the year is 'A Separation and all this awards stuff is..., he added, trailing off.
So was Allen watching when his name was announced?
He wouldn't tell me, Bernard said. I think he probably has some people who keep him updated.
FOR FREE to continue reading
✔️ Unlock the full content of International Business Times UK for free
offer available for a limited time only
✔️ Easily manage your Newsletters subscriptions and save your favourite articles
✔️ No payment method required
Already have an account?
Log in
© Copyright IBTimes 2023. All rights reserved.