Yankees Rumors: Possible Trades, Free-Agent Signing Before 2023 Opening Day
The New York Yankees might have a few more moves to make before the 2023 MLB season begins. After signing two of the best players who hit the open market, the defending AL East champions are expected to consider trade and free-agent possibilities.
The Yankees have been linked to several left fielders in rumors throughout the winter. With starting pitcher Frankie Montas set to miss at least the first month of the regular season with an injury, New York might want to improve its rotation depth.
Here's a look at three moves that the Yankees could make prior to Opening Day.
Trade Gleyber Torres
There were rumors early in the offseason that the Yankees might trade Torres, particularly for a starting pitcher. The second baseman's future with the team remains uncertain with spring training just around the corner. MLB Network's Jon Morosi speculated Tuesday that Torres could be traded before Opening Day. According to The Athletic's Ken Rosenthal, the Yankees might try to move Torres, Isiah Kiner-Falefa or Josh Donaldson because the team has so many infielders that will be vying for playing time.
Of the three players, Torres would easily bring back the most value in a trade. Torres avoided arbitration and agreed to a $9.95 million salary for the 2023 season. The 26-year-old is due to hit free agency after the 2024 season. With the likes of Aaron Judge, Giancarlo Stanton, Gerrit Cole and Carlos Rodon signed to long-term contracts, the Yankees might be unable to meet Torres' asking price.
Trade for Max Kepler
Most Yankees fans might want the team to trade for Bryan Reynolds, but a deal for Kepler is a more realistic possibility. The Pittsburgh Pirates have reportedly asked for three of New York's top prospects in Reynolds trade talks. The Minnesota Twins won't need nearly that kind of package in order to part with Kepler.
The Yankees and Twins have reportedly spoken about a possible Kepler trade but been unable to come close to an agreement. Maybe the Yankees will eventually up their offer in hopes that Kepler can have a repeat of his 2019 season. Kepler hit 36 home runs and finished 20th in the AL MVP voting. Kepler's OPS has declined in each of the last three years, falling all the way down to .666 for the 2022 campaign. The left-hander did produce a 2.1 WAR last season. Yankees left fielder Aaron Hicks hasn't posted a WAR better than 1.6 in four straight years.
Sign David Peralta
Peralta's WAR has also topped out at 1.6 over the last four seasons, but the Yankees could acquire him without giving up any assets. According to The New York Post's Jon Heyman, New York has talked to Peralta, who remains a free agent. If the Yankees sign Peralta, he could compete with Hicks and Oswaldo Cabrera for playing time in left field.
Peralta hit .251/.316/.415 with 12 home runs in 134 games between the Arizona Diamondbacks and Tampa Bay Rays last season. Peralta led the league with eight triples two seasons ago. He hit .275 and won a Gold Glove in 2019. A left-handed hitter, Peralta's power numbers could improve by taking advantage of the short porch in right field at Yankee Stadium.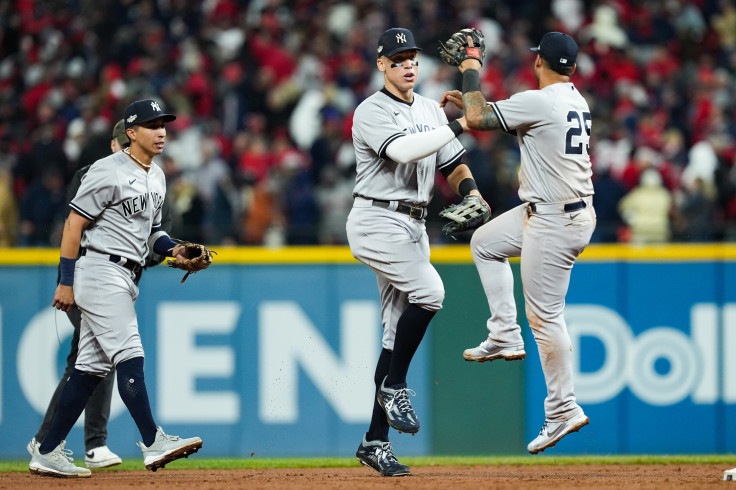 © Copyright IBTimes 2023. All rights reserved.