3 States Declare Emergency After Eastern US Storms Leave 9 Dead, 4 Million Without Power And Heat Wave Continues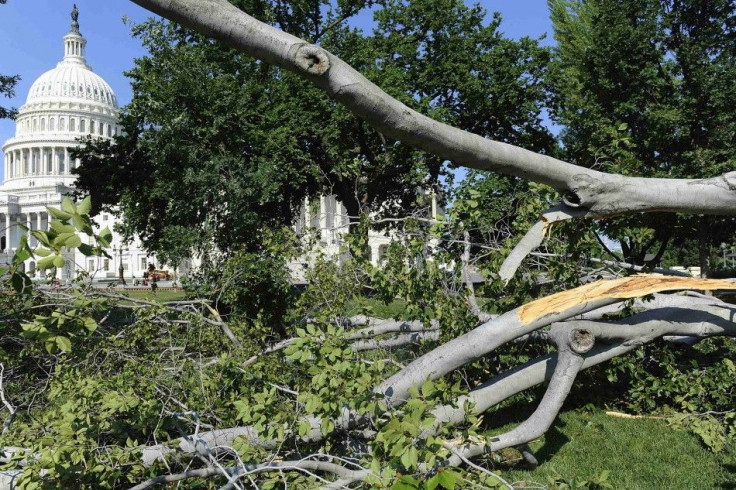 A fierce line of thunderstorms and high winds that swept across the eastern U.S. have caused nine fatalities and have left millions without power -- and without air conditioning -- Saturday to deal with thermostat-popping temperatures. Three governors declared a state of emergency.
Under the statewide emergency declaration, Virginia, West Virginia and Ohio can devote all government resources immediately to helping those in need and restoring power as soon as possible.
Ohio Gov. John Kasich cited widespread power losses, utility damages and excessive heat, all of which could create crisis conditions for many in his state. State emergency officials approximately 800,000 to 1 million people still had power outages Saturday morning, NBC4i reported.
In a statement, Kasich said, I'm very concerned with the problems created by the combination of power outages and severe heat, and so I've declared an emergency for all of Ohio so that state resources and personnel can help local governments meet the needs and challenges that they face.
Virginia Gov. Bob McDonnell said in a press briefing at the state's Emergency Operations Center that it was the largest non-hurricane power outage in Virginia history, and that the next few days in Virginia are going to be very, very difficult. About 2.5 million people are without power.
West Virginia Gov. Earl Ray Tomblin declared a state of emergency after more than 500,000 customers in 27 counties were left without electricity. Tomblin said that with temperatures expected to be near 100 degrees this weekend, it's urgent that electricity be restored to customers quickly, adding that he's committed to using 100% of our state's resources for as long as we need to get this cleaned up. Current estimates have 688,000 people without power in the state, according to FoxNews.com.
The violent storm system across the eastern part of the U.S. has already caused nine fatalities.
In New Jersey, two boys -- ages 7 and 2 -- were killed early Saturday morning when a tree fell on their tent at a park, FoxNews.com reported.
The Virginia Department of Emergency Management is reporting six deaths across the state as a result of Friday night's violent storms.
Two fatalities in Albemarle County, two in Bedford County and two in Fairfax County have been reported, said Bob Spieldenner, a spokesman for the department.
One of those killed was a 90-year-old Springfield woman asleep in bed when a tree slammed into her home, a police spokeswoman said Saturday. Another man was killed by a falling tree while watching the storm from his deck, and a woman died after she was hit by a falling tree as she got out of her car to observe a downed tree, according to FoxNews.com.
Another was killed by a falling tree in Maryland. Police in Anne Arundel County, Md., said in a news release Saturday that 25-year-old Kevin Obrien was killed when a tree fell onto his car late Friday. Two other people in the car suffered minor injuries.
According to CNN, nearly 4 million homes across a wider swath of states -- ranging from Indiana to West Virginia -- are affected by power outages.
Temperatures are predicted to remain high this weekend, according to the National Weather Service. High temperatures Saturday afternoon will exceed 100 degrees across the mid/ lower Mississippi River Valley eastward through the Mid-Atlantic and Southeast. Some locations are expected to break record high temperatures for late June.
Meanwhile, another round of severe weather will develop across the Ohio Valley and track into the northern Mid-Atlantic states, where damaging winds will be the primary threat.
At this time, it appears the greatest risk will stretch from southern Ohio into Maryland and northern Virginia, the NWS said.
© Copyright IBTimes 2023. All rights reserved.
FOLLOW MORE IBT NEWS ON THE BELOW CHANNELS