Apple iPhone 5 Release: Ciccarese Unveils Beautiful New Teardrop Design [PHOTOS]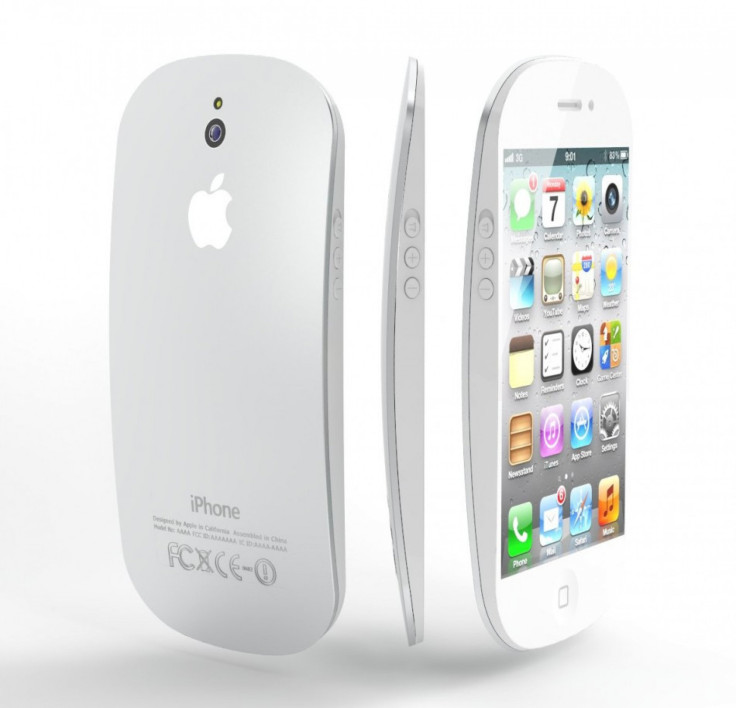 Although Apple is not expected to unveil the iPhone 5 anytime soon, that doesn't mean fans can't dream about what the next-generation iPhone could possibly look like.
Fanning the flame that is iPhone hype, the imaginative minds at Ciccarese Design, led by Federico Ciccarese, have released a new mock-up of a teardrop-shaped iPhone 5, which is really quite beautiful.
Ciccarese Design comes to realize what does not exist, the company says on its website. Our goal is to match the present and future.
Ciccarese's iPhone 5 mock-up features a white face plate, a metallic backplate, and three buttons on the left for volume and ring/silent. The designers moved the sleep button from the top of the iPhone to the right side in order to achieve a true teardrop shape, where the phone's form is thicker in the middle and thin around the edges.
The back of the iPhone prototype is gorgeous and smooth-looking. The rendering shows how the rear-side camera has migrated to the middle of the phone, while the Apple logo beneath the camera mount eternally glows white.
In case it's not clear enough, Ciccarese's design is in no way what Apple is designing for its next-generation iPhone. Ciccarese loves to make concept designs for Apple devices that don't exist yet, such as the iTV, the 8-inch iPad Mini, and even an uber-thin iPhone mock-up called the iPhone Air. But hey, if Apple does settle on a teardrop design for the iPhone 5, expect Ciccarese to ask Apple for some credit.
On Feb. 20, Japanese blog Macotakara reported that Apple may release the iPhone 5 in September or October, abandoning mid-year iPhone launches for a 11-month upgrade cycle starting in the fall. The company's last iPhone, the iPhone 4S, was the first Apple smartphone released outside the summer months, while the original iPhone, as well as the iPhone 3G, 3GS and 4, were all released in either June or July.
There is no clear reason why the 4S was the only iPhone released in the fall, but analysts believe Apple attempted to implement LTE into the phone, and failed. Apple has reportedly solved these problems, as the Cupertino, Calif.-based company plans to feature its next iPad -- the iPad 3 -- over the high-speed long-term evolution network. That report has been confirmed by The Wall Street Journal.
LTE features significantly higher download and upload speeds compared to 3G technologies, but the current implementations of LTE in phones appear to cause very short battery life, which is a major complaint by users. If Apple wanted LTE in the iPhone 4S, it would have been forced to increase the phone's thickness to accommodate a larger circuit board and a bigger battery. Apple CEO Tim Cook, in a company earnings conference call in April 2011, said first-generation LTE chipsets force a lot of design compromises.
The iPhone 4 PCB [printed circuit board] is already incredibly small, not leaving any room for an extra chip to enable LTE without shrinking the size of the battery, said Anand Shimpi, a chip expert and CEO of Anandtech.
Fortunately, Qualcomm recently unveiled the fifth iteration of its new chip, which supports TD-SCDMA, TD-LTE, HSPA+, EV-DO, embedded GPS, and LTE on TDD and FDD networks worldwide. The chip works with Android and Windows 8 devices, but by targeting so many different carriers, there's a high degree of likelihood that this will be the same chip inside the iPhone 5.
Apple was reportedly gearing up to begin production on the iPhone 5 in January. A source from within China's Foxconn manufacturing plant told 9 to 5 Mac that various sample iPhone 5 prototypes were floating around the factory floor, but there were a number of common features among the phones, including a display that measured at least 4 inches, and a longer and wider form factor that did not match that of the iPhone 4 or 4S. The Foxconn sources believed the iPhone 5 would retain the rectangular shape of its predecessors, but Ciccarese is holding out hope for the thinner teardrop design.
Previous reports said the iPhone 5 will also feature an improved version of Siri, the voice-activated AI system that was only released as a beta in the iPhone 4S, as well as a bigger screen. In November, Hitachi and Sony reportedly began shipping 4-inch LCD panels for final production of new iOS devices believed to be the next-generation iPhone. Upgrading the iPhone's 3.5-inch screen to a 4-inch display would require a rebuilt Retina Display, but a bigger screen would help Apple compete against phone makers that make bigger screens, such as Samsung, while also providing a more immersive iPhone experience.
Before Apple unveiled the iPhone 4S on Oct. 4, the Internet was flooded with photos of a thin, large-screen iPhone 4. The photos were widely believed to be doctored until one Chinese site discovered mold engineerings of an iPhone 4 with a noticeably larger screen. The renderings depicted an edge-to-edge design for the iPhone's screen, which looked to measure about 3.7 inches. Component industry trackers believed that the images represented Apple's wish to compete with rival devices with bigger screens.
Apple wants its next generation of mobile devices to look beautiful, and the company is reportedly working on giving its devices greater pixel density. Bigger screens with more pixels in the Retina Display mean higher resolution for watching movies and viewing detailed images, from PDFs to X-rays to MRIs to 3D architectural renderings. Even text will appear rich and razor-sharp. While the iPad 3 will double the pixel density of the iPad 2, it's likely that Apple would reconfigure the Retina Display not only feature more pixels, but also to match a slightly bigger screen. Apple fans and users would benefit from a bigger and more beautiful Retina Display, but this switch could force app developers to learn an entirely new way to write their iOS software.
Apple's next iPhone may also include a number of the company's recently granted patents, including NFC functionality to complete sales transactions and share work across multiple devices, as well as its crack-resistant glass solution. A shock mount between the glass and the body of the device will instantly inflate if the device senses it's falling, which is determined by the device's internal accelerometer. An actuator within the device sucks in the cover glass as it accelerates to the ground, protecting it from damage.
If Apple intends to release the iPhone 5 in the fall, it may unveil its next-gen smartphone alongside a smaller, 8-inch iPad, which is also expected to debut in October. The original report from Apple's Taiwanese supply chain was later confirmed by The Wall Street Journal, which said Apple is working on an 8-inch iPad.
On Jan. 24, Cook released Apple's record-breaking Q1 2012 earnings, announcing $46.33 billion in overall earnings, $13.1 billion in profit and $17.5 billion in cash for the quarter that ended Dec. 31, 2011. In the last 14 weeks of the year, Apple sold 37 million iPhones, 15.4 million iPads and 5.2 million Macs.
We're thrilled with our outstanding results and record-breaking sales of iPhones, iPads and Macs, Cook said. Apple's momentum is incredibly strong, and we have some amazing new products in the pipeline.
© Copyright IBTimes 2023. All rights reserved.
FOLLOW MORE IBT NEWS ON THE BELOW CHANNELS