Best Buy Closings: Will Shut Down 50 Stores, Cut 400 Corporate Jobs; What Next?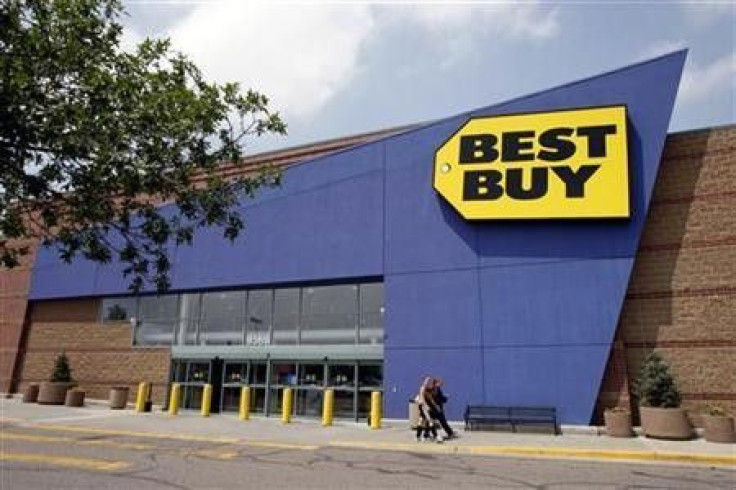 Best Buy Co Inc announced Thursday that due to a mulish slither in sales at its US stores, the company decided to close 50 big box stores and cut as much as 400 jobs at its corporate headquarters in Richfield, Minnesota.
The company officials didn't reveal any detail about the stores that are on the brink of closure. Though it also didn't disclose the number of store employees who will lose their jobs, it is expected to be in thousands as nearly 100 workers are employed in each store, The Christian Science Monitor reported.
According to many reports, Best Buy, once recognized as the discount king of consumer electronics, is caught between high-end brand stores like Apple Stores and low-cost Internet retailers like Amazon. Customers have been increasingly migrating online where they often find better deals, forcing Best Buy to figure out a reason why shoppers would need to visit an actual store, The Christian Science Monitor report said.
In a bid stay alive in the competition with rivals like Amazon and Wal-Mart, Best Buy last year heavily discounted products, and consequently lost $1.2 billion. And now, with the steepest closings yet in its history, Best Buy hopes it will save $800 million over the next three years, including some $250 million in the next fiscal year.
We intend to invest some of these cost savings into offering new and improved customer experiences and competitive prices - which will help drive revenue, CEO Brian Dunn said in a statement. And, over time, we expect some of the savings will fall to the bottom line.
However, it seems that Dunn himself is not sure about the company's efforts to remake itself.
I'm not satisfied, Dunn told the Star Tribune in Minneapolis. We have a long (history) of transforming ourselves to be where the customers need to be. However, I need more information.
According to Forbes, the troubled online retailer will shift towards mobile sales and smaller stores in an effort to increase drooping revenue. The company will experiment with the new store models in San Antonio, Texas and St. Paul, Minnesota.
The renovation would reduce store square footage by 20%, and should be finished by next Christmas. These new so-called 'Connected Stores' will focus on selling cell phones, tablet computers and e-readers, as well as service plans not offered by Amazon and Wal-Mart. Best Buy employees in these new stores are expected to show customers how to connect electronics in the home, said the Forbes report.
Best Buy will also reportedly open 100 smaller mobile-only stores in fiscal 2013. The retailer expects to operate 600 to 800 mobile-only stores by 2016, which will more than double the current number of 305.
Though it remains unclear whether they are sufficient enough to curtail and reverse recent market share losses or whether the company needs to evaluate even more aggressive cost-cutting measures to stay competitive, Morningstar analyst R.J. Hottovy told Forbes.
In the past year, Best Buy shares dropped 14.8 percent, wiping out about $4 billion in market cap. In that time, the S&P 500 index was up 6.4 percent.
Best Buy stock fell nearly 7 percent, or $1.85, to close Thursday at $24.77.
Must Read Articles:
FOLLOW MORE IBT NEWS ON THE BELOW CHANNELS