Brittney Griner 'Like A Guy'? Lady Bear NCAA Champion Unfazed: Watch Interview [VIDEO]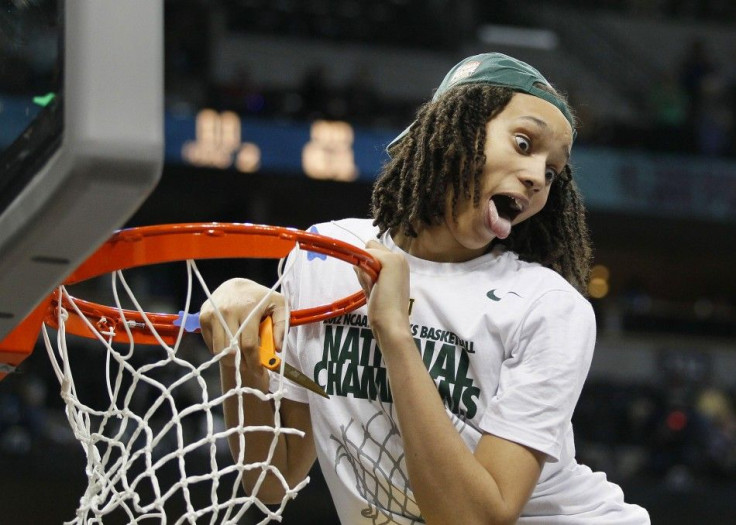 Brittney Griner, junior center for the Baylor University Lady Bears, and her teammates pulled off an 80-61 win over Notre Dame on Tuesday night, making Baylor the very first NCAA team -- male or female -- to play an undefeated season wire to wire.
Griner led the team with 26 points, 13 rebounds and five blocks.
But that's not the only reason Griner is getting so much attention. After the final game on Tuesday, Notre Dame Coach Muffet McGraw spoke kindly of Griner's performance on the court. She had some interesting praise for the 6-foot-8-inch player ... or was it a dig?
She's like a guy playing with women, said McGraw.
Her comment was ill-timed; Brittney Griner has lately suffered a barrage of insults on social media. Many are questioning Griner's gender due to her height and deep voice. The androgynous athlete may be a superstar, but online antagonists are still mercilessly ripping her apart.
Baylor Coach Kim Mulkey has something to say about it. This is a human being. She didn't wake up and say make me look like this, make me 6-foot-8 and have the ability to dunk. This child is as precious as they come. ... The stuff she's had to read about, the stuff she's had to hear, the stuff people say about her, the stuff people write about her, it's got to stop. That stuff's got to stop, said Mulkey to AP.
The morning after Griner's championship win, comments were divided.
Brittany [sic] griner is a dude, said one Twitter user. Brittney Griner's voice has more bass than 15 inch subwoofers, said another.
Others tweeted in defense of the superstar athlete. Hey Brittney Griner... go on, brush your shoulders off... idiots may clown you, but you're something they're not--->an undefeated champion.
Griner seems to handle the online bullies well.
My teammates get really mad at some stuff,'' she said to AP. ''I'm the calm one, I know it's not true. I really don't care, they try to get in my head because they're trying to stop me. When I go to a game and hear yelling, they're trying to get in my head. It's not going to work really. You'll see me smiling.
Griner has always said that she would stay at Baylor for all four years, so don't think she'll be ditching her teammates anytime soon for the WNBA. I'm staying. I made a commitment. I'm going to stay here until my time's up, so all the speculations of me leaving early are false, she said to AP.
The below video interview was shot back in 2009, when Griner was a freshman; she was already getting plenty of attention for her unbelievable skills on the court. But she promised then, as now, that finishing college was a top priority.
© Copyright IBTimes 2023. All rights reserved.