Can European Regulators Take Google Down?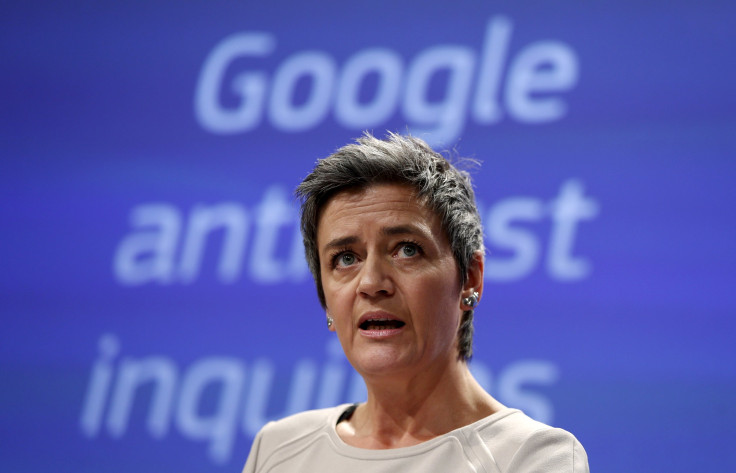 Two years ago, Google narrowly escaped what could have been a corporate catastrophe: Regulators at the Federal Trade Commission had launched a wide-scale antitrust investigation into the company that had the potential to disrupt Google's $38 billion business. After a tense standoff, Google caught a lucky break -- just after New Year's Day 2013, the FTC abandoned its investigation and walked away. Google emerged the victor.
The question now, it seems, is whether Google can continue undefeated. On Wednesday, Europe's top antitrust official, Margrethe Vestager, formally charged Google with similar antitrust allegations. Specifically, she says Google violates European fair competition laws by corralling users of its Web search to its own Google shopping platform -- at the expense of competitors.
The EU is also launching a separate investigation into Google's Android platform. That probe alleges that Google unfairly bundles its own apps (like Maps, Chrome and YouTube), making it impossible for other vendors with similar products to compete.
Google denies the charges.
Antitrust experts and law professors say this is going to be a massive case -- one that has the potential to go on for years, with implications that could reach far beyond the confines of Europe.
"In the end," says Harry First, an NYU law professor who focuses on antitrust issues, "Europe has become a more active enforcer of antitrust issues."
He adds, "it's hard to imagine how [any settlement] could be localized. This may affect their business worldwide."
Europe Picking Up Where The U.S. Left Off
Considering European commissioners have been investigating Google for the last five years, it's worth asking: Why now? Robert Cooper, an antitrust lawyer in the Washington, D.C., office of Boies, Schiller & Flexner, says the answer is relatively straightforward.
Vestager, the EU commissioner, recently assumed the position, and she's looking to make her mark. "The principal thing that happened is the change of leadership at the antitrust enforcement authorities," he says. "It's not unlike any other agency or government. When new leaders come in they see what's on the plate and decide what they want to pursue."
That decision to move forward with the suit may create some awkwardness between the EU and the FTC. "This [suit] puts Europe at the center of Internet antitrust enforcement," says Mark Patterson, a Fordham law professor. "The FTC declined. This will create tension."
What Could Happen?
Despite the investigation taking place overseas, the impact might hit close to home. If, theoretically, the company was forced to change some of its practices, experts believe that the company might be forced into changing its practices worldwide.
And what might those changes be?
Right now, any settlement options are the subject of speculation, but James Grimmelmann, a law professor at the University of Maryland, lays out a few potential results from the trial. First, he says, companies might be allowed what he calls "detailed granular opt-out" options.
Companies like Yelp have long-claimed that Google illegally rips off their customers' reviews for their own benefit. So by offering an option to opt out, regulators in the EU could effectively stop Google from aggregating those results for their own benefit.
Another implication of the suit could be a change to the types of search results that come up when you're looking to buy an item or book a flight. "How you'd enforce it would be hard," Grimmelmann admits. "Google might be forced to justify any changes that they make" to an independent regulator.
Will Google Settle?
Considering the FTC ultimately decided to drop its investigation, it's natural to wonder if the EU really does have a case -- or if the commission is just masquerading here. Most likely, experts say, this case is the real deal.
"I think given the dynamic with it being a U.S. company, they wouldn't have brought the suit if they didn't have compelling evidence," says Patterson, the Fordham law professor. "I would think it's pretty strong."
Robert Cooper, who has represented companies like American Express, Cogent, Delta Airlines, the NFL and DuPont in antitrust cases, agrees. He expects the case to go to trial before Google and the EU commission can reach a settlement.
"If successful -- something which is by no means certain -- it has the ability not only to impose significant monetary penalties on Google, but also to make EU competition authorities overseers of Google's business practices."
He adds, "the commencement of formal proceedings is a watershed moment in EU antitrust enforcement."
© Copyright IBTimes 2022. All rights reserved.
FOLLOW MORE IBT NEWS ON THE BELOW CHANNELS