Conrad Murray May Lose License After Guilty Verdict in Michael Jackson's Death Trial (PHOTOS)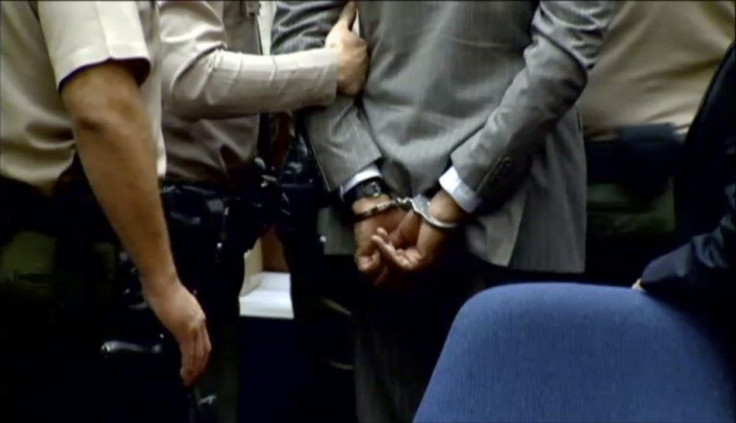 Michael Jackson's doctor Conrad Murray was found guilty by a jury of 12 on Monday, concluding the 23-day involuntary manslaughter trial.
Murray looked impassive as the verdict was read. However, in the gallery a short scream burst out.
The doctor will be sentenced on Nov. 29. He faces up to 4-year prison term. And his medical also could be canceled.
Michael Pastor, Los Angeles County Superior Court Judge, ordered Murray to be held without bail until that date. And then he was escorted in handcuffs from the courtroom.
The unanimous verdict came out after nine hours of jury deliberations.
Outside the court, Jackson's fans gathered and cheered at the verdict, posting the many banners including We miss Michael, guilty, etc., chanting Rest in peace. The passing cars also honked their horns.
In comparison, Murray's supporters seemed somber.
On June 25, 2009, Jackson died of acute propofol intoxication in combination with two sedatives, according to Los Angeles County coroner.
Two months before the pop icon's death, Murray served as the singer's person doctor, when the star was preparing for his comeback concerts in London.
Jackson suffered insomnia at that time and the doctor gave Jackson anesthetic propofol to help him sleep almost every night for about two months.
In the closing arguments, prosecutors argued Murray was guilty of gross negligence for his reckless use of propofol to treat the singer's insomnia in his home without proper equipment. And the doctor also delayed to call emergency services, and failed to tell medical personnel he gave the singer propofol.
But the defense lawyers claimed that Jackson might have administered himself an overdose of the powerful anesthetic and could have swallowed a handful of sedatives to death, when Murray was absent.
The jury, including seven man and five woman, had heard 49 witnesses over 23 days such as medical experts of both sides, the star's former employees, Murray's girlfriends and patients etc. before reaching the verdict.
Start the slideshow to find out the details.
© Copyright IBTimes 2023. All rights reserved.