Danielle Bregoli Returns To 'Dr. Phil': 'Cash Me Outside Girl' Asks For The 'Hoes' On TV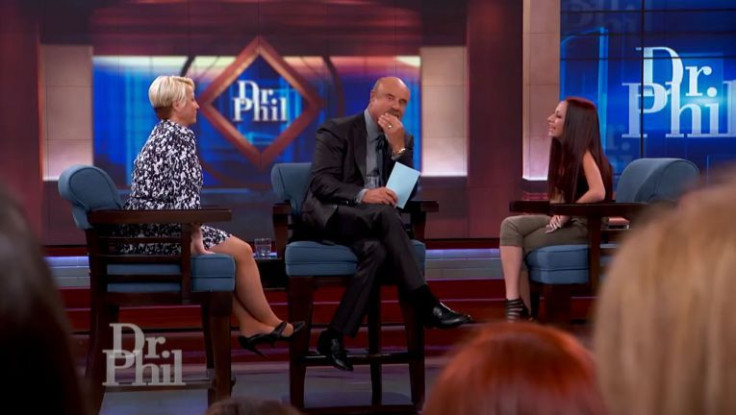 Six months, hundreds of millions of video views and a whole merchandise line later, Danielle Bregoli, the viral "Cash Me Outside How Bout Dat" sensation, made her return to where 2017's biggest "meme" craze all began Friday: "Dr. Phil."
The 13-year-old Bregoli did not disappoint as it appeared her questionable behavior in the past hadn't changed and that fame had likely gone to her and her mother's heads. However, show host Dr. Phil McGraw said at the episode's conclusion that she did make improvements.
After the first appearance, Friday's episode showed, Bregoli was sent to a school and treatment program in Utah that helps teenagers. Bregoli's mother, Barbara Ann, said her daughter had gotten better after staying at the Turn-About Ranch for four-and-a-half months.
"I just feel OK with who I am now. I don't have to put on a front to impress anyone," Danielle said during a montage of her time at the ranch.
But once she came back home in New Jersey, her old behavior eventually returned. McGraw said the ranch had asked Barbara Ann to be a stronger parent, something he claimed she did not embrace.
Her mother also explained that she didn't discipline Bregoli by taking her phone away. While she admitted Bregoli was not enrolled in school, she also insisted she didn't want others to make money off her daughter's image. The family has hired a lawyer and agent for Bregoli.
McGraw also addressed Barbara Ann's demands surrounding her appearance on the show, something he claimed no other guest had done. Barbara Ann said she wouldn't come on the show unless she was put up in a nice hotel and wouldn't discuss her daughter hiring an agent or lawyer.
In a clip shown before Bregoli walked on stage, an interview with the show's producers revealed Bregoli said she would tell McGraw to "suck her ****."
When Bregoli finally appeared on set, however, she came out and asked the studio audience, "Where's the hoes?"
From there, Bregoli said she was bullied on Instagram and wanted to be a nurse, before reverting to the same attitude she previously displayed — she stated she wasn't grateful for McGraw's show sending her to the ranch for help.
Eventually, Bregoli thanked McGraw.
Before her return, Bregoli was the star of rapper Kodak Black's new music video "Everything 1K," which was released Thursday and has already garnered more than 2.8 million views on YouTube.
Prior to the appearance, the show put out a teaser trailer that showed Bregoli walking into a near empty studio and telling McGraw that "he was nothing" before she was first on camera. As of late last month, "Dr. Phil" was earning a 3.7 rating, the highest of any talk show, and beat out "The Ellen DeGeneres Show" and its 2.4 rating, according to TV By The Numbers.
Bregoli's behavior on TV Friday likely did not surprise people watching. She, her mother and a third passenger were each kicked off a Spirit Airlines flight at Los Angeles International Airport Monday for fighting. All three were banned for life by the airline.
The teenager shot to fame after coining her notorious, threatening phrase during her first appearance on the show in September. But she didn't truly reach star status until earlier this year. Bregoli and her family have been capitalizing on the viral success with t-shirts, blankets, commemorative plates and especially video content with New Jersey-based start-up Vydia.
© Copyright IBTimes 2023. All rights reserved.