Dejounte Murray On Taking Tony Parker's Starting Role With Spurs: 'He Ain't Like It'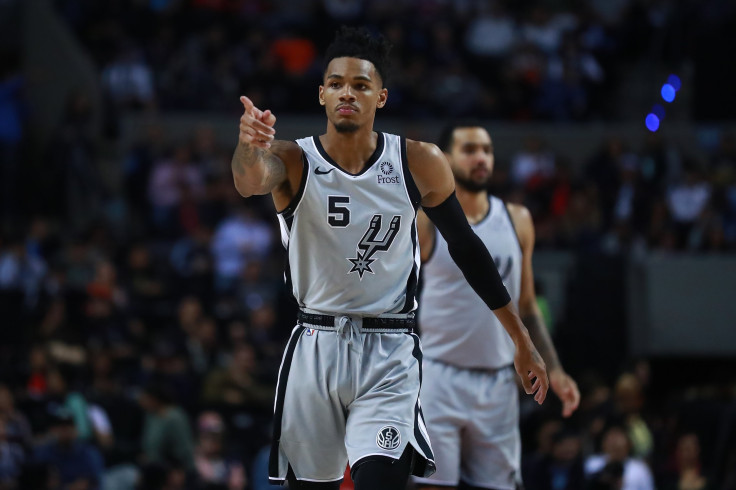 KEY POINTS
Dejounte Murray has damning comments about his time with the San Antonio Spurs
Murray reveals that Tony Parker was aloof about him becoming a starter
Spurs veteran Stephen Jackson alleges Parker has always been that way
The San Antonio Spurs are one of the most tightly run franchises throughout the NBA, but it does not mean that they did things the right way–at least in the eyes of Dejounte Murray.
The former emergent Spurs guard went on the "All The Smoke" podcast hosted by Stephen Jackson and Matt Barnes, revealing how the seemingly perfect relationship between him and the franchise eventually broke down, particularly with Tony Parker.
"I started growing, first year go by, thrown in the fire in the playoffs versus the Rockets. Then my second year, they see I come back... and then that was the year that I took the [starting] job from Tony [Parker]," Murray explained.
"[Head coach Greg Poppovich] brought us in the office, he told Tony. Tony ain't like it. I know he ain't like it... I know he didn't like it. Cause if he liked it, he would've mentored me the way he should have. He wouldn't have gone to Charlotte."
Murray was showing signs of becoming the next great San Antonio guard in only his sophomore year during the 2017-18 season, but a torn ACL in the preseason the following year kept him out from getting some much-needed playing time alongside his veteran in Parker.
If his side is to be believed, Parker's decision to bolt to the Charlotte Hornets is due to him taking his spot as the starting point guard.
However, his own stint in San Antonio would come to an end this past offseason with a trade to the Atlanta Hawks that featured Danilo Gallinari, three first-round picks, and a first-round pick swap.
While it is not at all unusual to hear stories of a veteran starter being completely evasiv with someone's development, Parker allegedly not being in Murray's corner during his rise to stardom is surprising.
The Spurs have long been beacons of a team-first mentality, and for him to reveal that he did not have the support of Parker early on in his career is very uncharacteristic.
Jackson, a former Parker teammate during their 2003 NBA championship run, agreed with Murray about the alleged selfish nature of one of the best point guards in league history.
"I know the type of person Tony is... He's been selfish, we would've had more championships and more successful if it wasn't for him being so selfish...He's one of the most selfish players I've ever played with," he mentioned.
Whatever the case may be, Murray has found new life as Trae Young's co-star in Atlanta.
While they are currently struggling to find their footing as a whole with a 23-22 record, there is a bright future for them ahead.
© Copyright IBTimes 2023. All rights reserved.