Democratic Party Financier Got Big Illinois Pension Deal After PAC Contributions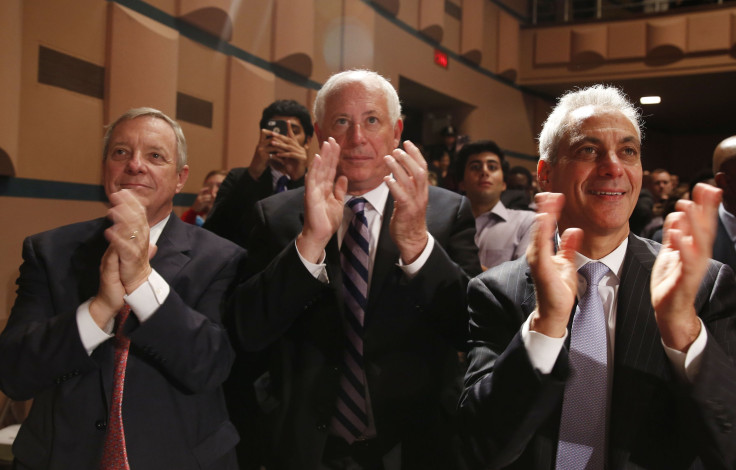 When officers of the Illinois teachers pension system opted to put more than $1 billion under the control of a single financial firm, Grosvenor Capital Management, they touted the arrangement as a step toward greater efficiency: Grosvenor would be entrusted to manage a larger slice of the state's hedge fund investments, a part of the portfolio that had previously been managed by a competing firm.
But the deal, blessed by Illinois pension officials in late 2013, was distinguished by more than the simple consolidation of two managers into one. Grosvenor is run by Democratic Party financier Michael Sacks, a major campaign contributor to Chicago Mayor Rahm Emanuel and a prodigious fundraiser for President Barack Obama.
The decision to retain Grosvenor and transfer more state pension funds to the firm was ratified by a board composed of officials appointed by then-Illinois Gov. Pat Quinn, a Democrat who had been the beneficiary of substantial campaign contributions from a political action committee, or PAC, that was partially run and financed by Sacks' wife, Cari Sacks. Though Michael and Cari Sacks had since 1990 contributed to the Personal PAC, which finances candidates who favor abortion rights, the couple's contributions more than quadrupled during Quinn's tenure in office compared to the previous decade.
Grosvenor Capital Management Holdings, Lllp | FindTheCompany
In short, as the Sackses escalated their giving to a PAC that supported Quinn, his appointees signed off on shifting hundreds of millions of dollars to a financial management company run by none other than Michael Sacks. That decision was made even as Grosvenor was underperforming less expensive stock index funds. The pension system paid Grosvenor at least $3.2 million in fees in the year after the deal, state records indicate.
This all unfolded despite federal rules designed to prevent campaign contributions from influencing how governments manage their money. The so-called pay-to-play rules explicitly bar financial executives who manage pension money from making campaign contributions to public officials who have authority over pension investments.
Unlike Illinois' own anti-corruption statute, the federal rules include so-called anti-circumvention provisions that seek to prevent end-runs around the law: Executives who are considered "covered associates" under the rule cannot funnel campaign contributions through family members. Third-party groups such as PACs also cannot be used as conduits.
International Business Times described the outlines of the deal to Greg Nowak, an attorney at Pepper Hamilton, a Philadelphia law firm that counsels corporations on compliance with financial regulations. "It raises the perception that the covered associate is attempting to circumvent the SEC's pay-to-play rule," he said, referring to the federal Securities and Exchange Commission. He added: "I would advise against campaign contributions of this type."
'Wholly Unrelated'
Michael and Cari Sacks did not respond to questions from IBTimes about the propriety of their personal campaign contributions in connection with the Grosvenor pension management contract. But in an email, a spokesman for Michael Sacks and Grosvenor, Ben LaBolt -- a former national press secretary for the Obama re-election campaign -- rejected as "both preposterous on its face and incorrect" any suggestion that the contributions from the Sackses to the Personal PAC in question had been motivated by anything other than their interest in elevating political candidates who support abortion rights.
"Cari Sacks has been committed to the women's reproductive health care organization Personal PAC for the last 25 years," LaBolt wrote in an email to IBTimes. "Her engaged and active support of this cause is wholly unrelated to her husband's business and it's factually inaccurate and an insult to her and spouses of other successful business leaders to suggest otherwise. Grosvenor has a strong culture of compliance."
A spokesman for the Illinois Teachers Retirement System, David Urbanek, told IBTimes that campaign contributions play no role in how the institution invests its money. Quinn did not return a request for comment.
Terry Cosgrove, executive director of Personal PAC, told IBTimes that Cari Sacks has been involved with the committee for a quarter-century, out of sincere dedication to its cause.
"Cari Sacks has been involved in the pro-choice movement since the 1980s and made her first financial contribution to Personal PAC in 1990," Cosgrove wrote in an email. "She has been donating consistently since then on an annual basis as she supports the mission of the organization, which is solely to protect reproductive rights in Illinois."
In the nine-year period before Quinn became governor, Cari and Michael Sacks made a total of $157,200 in donations to Personal PAC. During Quinn's six-year tenure in office, they gave $833,000 to the PAC and its independent expenditure arm. That latter entity, known as a super PAC, is free of campaign spending limits. $650,000 of the Sackses' donations came in 2013 and 2014 while Quinn was running for re-election.
The Personal PAC committee gave over $70,000 in contributions to Quinn -- who is pro-choice -- as he was running for re-election. The super PAC also supported Quinn in his race against Republican Bruce Rauner, who is also pro-choice and was ultimately elected governor in November 2014.
Cosgrove, the Personal PAC executive director, said Cari Sacks' increased contributions in recent years were a direct result of the U.S. Supreme Court's decision in the Citizens United case, which lifted restrictions on donations to political campaigns.
"Nearly all of our supporters, especially those at the top tier, have increased their contributions to Personal PAC quite significantly since Citizens United and the unrelenting attacks on choice in the past decade," Cosgrove said.
He added that he has never been a party to a conversation about Michael Sacks' commercial interests.
"I don't know anything about Grosvenor or its business," Cosgrove added. "All conversation is about reproductive rights and efforts to protect access to women's healthcare."
Experts in pay-to-play laws say a donor's motive in contributing to a PAC is effectively irrelevant: What matters, they say, is the mere fact that a financial firm gained an investment contract while an executive's family made a contribution to an entity that helped elect a public official who appoints pension overseers.
'A Relationship-Based Penalty'
"The SEC could not be more clear: They don't care about intent or the actual ability to affect public activity -- it is purely a relationship-based penalty," Stefan Passantino, who runs the political law team at McKenna, Long & Aldridge LLP, previously told IBTimes.
The federal pay-to-play rules were enacted by the SEC in 2011 to prevent corruption in the awarding of public pension contracts, following corruption scandals at major pension funds, including the Illinois Teachers Retirement System. In 2014, some Chicago lawmakers cited the rules in calling on the SEC to probe Mayor Emanuel after IBTimes reported that he accepted contributions from firms that were managing Chicago pension money.
Illinois also has a state version of a pay-to-play rule. But Craig Holman of the watchdog group Public Citizen told IBTimes that it can be legally circumvented.
"Both the nature and the amount of Cari's campaign contributions suggest this action was a well-calculated evasion of the [Illinois] state pay-to-play law," Holman said.
"This reeks of pay-to-play abuse but, unfortunately, the exchange of funds through a third party may offer a legal end-run around the [state] law," he said.
As Quinn's reelection battle was heating up in late 2013, his appointees approved a deal to terminate a contract with investment firm K2 Advisors. Rather than following the conventional route of redeeming the pension's assets from K2, the fund opted to "merge the assets into Grosvenor's portfolio," state documents say. Before the deal, Grosvenor and its subsidiaries managed $769 million of the pension fund's portfolio, as compared to the more than $2 billion it now manages after the deal, pension fund documents show.
LaBolt, the Grosvenor spokesman, said the firm's revenues from the state pension fund have declined since 2011 as the system has shifted money into Grosvenor vehicles that charge smaller fees. "Grosvenor is providing substantially more services to" the state pension system "now than in 2011, but without receiving any incremental revenue," LaBolt said.
The SEC's rules are not contingent on how much money a firm makes from a pension fund.
Grosvenor was initially hired to manage state pension money in 2007 by appointees of Democratic Gov. Rod Blagojevich, who was convicted on corruption charges in 2011. The Illinois pension system's investments in Grosvenor have so far significantly underperformed the Standard & Poor's 500, a leading proxy for the stock market. The firm had also underperformed the S&P as an asset manager for the fund before 2013. Financial experts have argued that such underperformance is driven in part by the higher fees that hedge funds, private equity and other so-called "alternative investments" charge, as compared to low-fee stock index funds. With "fund of funds" those fees can be even higher because they involve multiple layers of fees. Such fees have in recent months led financial gurus such as George Soros and Warren Buffett to advise pension systems to avoid alternative investments.
Michael and Cari Sacks maintain close ties to Illinois' state and national political leaders. The Sacks couple was Emanuel's largest campaign donor, Michael Sacks is a top appointee of Emanuel, and he has been included on thousands of emails with the mayor and his staff, according to an IBTimes open-records request. Sacks has recently come under scrutiny in the wake of disclosures that Emanuel proposed shifting city pension money into the same state pension fund that his firm helps manage.
The Sackses are also one of the founding and four largest donors to the planned Obama presidential library in Chicago, giving at least $500,001. Michael Sacks is one of just 22 donors in Illinois who raised $500,000 or more for Obama's 2012 re-election campaign, and he collected at least $100,000 for Obama's first presidential campaign. In 2010, Obama appointed Cari Sacks to a national arts advisory committee.
The Illinois Campaign for Political Reform's David Melton said the mix of political influence, money and pension investments spotlights a wider problem in Illinois.
"This appears to be another unfortunate example of the corrupting influence of big money and unlimited contributions in the politics of our state," he told IBTimes. "'Pay-to-play' should not be the basis for awarding state contracts."
© Copyright IBTimes 2023. All rights reserved.
FOLLOW MORE IBT NEWS ON THE BELOW CHANNELS