Dustin Pedroia Leaves Red Sox Stranded As Wife Goes Into Labor During Game Versus Yankees [VIDEO]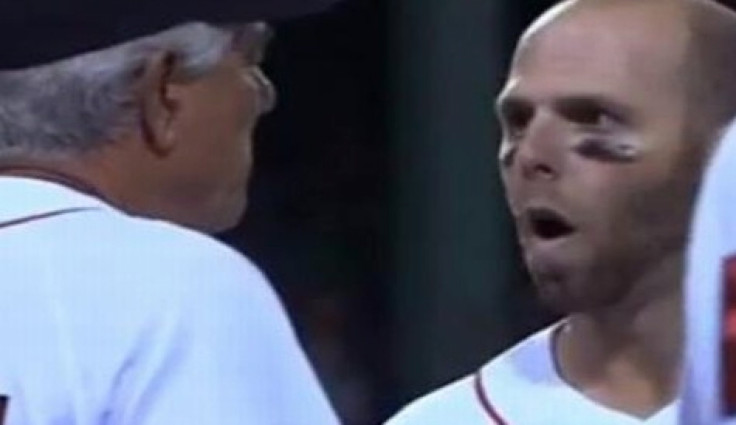 Dustin Pedroia stormed off the field at Fenway Park during Wednesday night's game against the New York Yankees after he was informed that his wife had gone into labor.
Pedroia, the starting second basemen for the Boston Red Sox, got the news from team manager Bobby Valentine as he was warming up before the seventh inning.
Visibly surprised by the news that his wife Kelli, who had been watching from the stands, had gone into labor, the 29-year-old three-time All-Star rushed off the field and into the dugout, getting high fives from teammates along the way.
At the time he exited the field, Pedroia was having a good night, with two hits, including a fourth-inning double.
While some, if not most, Yankee fans were happy to see the Pedroia leave the field, MSNBC host Willie Geist, a big New York fan, expressed his thoughts on the Yankees Twitter account.
"Dustin Pedroia's wife goes into labor! Good luck, Pedroias from Yankee fans ... and thanks for missing a critical 9th inning at-bat! -- Willie," Geist tweeted.
The Red Sox would go on to lose the game to their archrivals 5-4
The 2007 AL Rookie of the Year is not unfamiliar with this type of drama as In 2009 he skipped the All-Star Game when Kelli ran into complications with the couple's first child, a son named Dylan.
Check below to see the video of Red Sox second baseman Dustin Pedroia running off the field en route to the hospital!
© Copyright IBTimes 2023. All rights reserved.