Eric Cantor Falsely Implies He Does Not Support Cuts to Pell Grants
ANALYSIS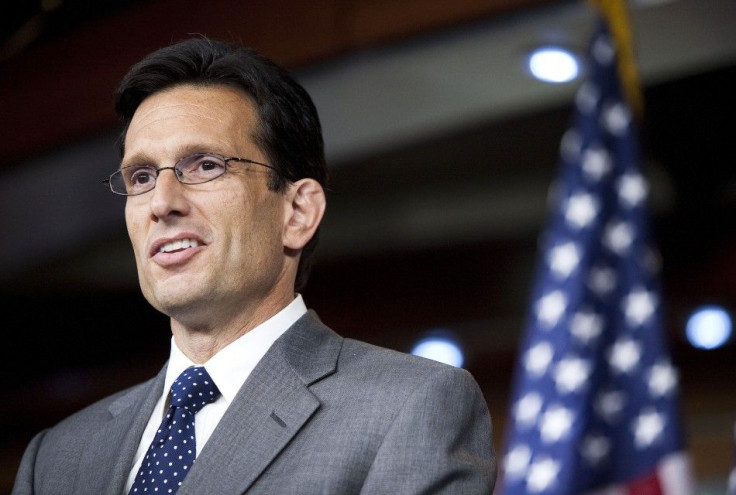 House Majority Leader Eric Cantor, R-Va., was met with more than swarms of protesters while speaking at the University of Michigan's Ford School on Monday -- he was also confronted about his support of cutting federal programs that directly aid struggling college students.
Cantor was on campus as a guest of the Gerald R. Ford School of Public Policy, where he answered questions from audience members and Twitter users using the hashtag #fordschoolcantor. However, his presence did not exactly go over smoothly.
More than 100 people gathered outside the Michigan League, the campus' catering and lodging center, to express their outrage over Cantor's presence, the Ann Arbor Journal reports, with one student even dressing up as Cantor and pretending to hold a funeral for the middle class.
Peppered With Questions
Similarly, students were not afraid to question the House of Representatives' leading Republican about the issues that matter to them, such as Pell Grants.
One student confronted Cantor about the GOP's multiple attempts to either slash or reduce funding for Pell Grants, which currently provides up to $5,500 for eligible students toward college tuition costs each year.
Why are you in support of reducing or getting rid of Pell Grants, when they help many middle class college students like myself get to college? he asked, after which he was met by a round of applause.
Cantor disputed the claim, saying your direct question, allegation, I don't know is accurate before avoiding the issue to discuss how the real issue is the soaring cost of college tuition, and not the government-funded grants.
While Cantor did not specifically say he supported the Pell Grant program, his answer was still a cop-out. That is because Cantor, along with many congressional Republicans, have supported multiple initiatives that aim to reduce the federal deficit by reducing education funding.
GOP Bill Would Restrict Pell Grants
A bill proposed by House Republicans in early October -- which finances the Department of Labor, Education and Health and Human Services -- would restrict eligibility to Pell Grants, barring them to students who attend college less than half time. The move would cut more than one million recipients from the program.
After President Obama issued an executive order last week to help college student reduce their loan debt by consolidating their loans and lowering the maximum required loan payment, Rep. John Kline, R-Minn., who is the House Education Committee Chairman, said Obama's order is a mistake and students should curtail their own education costs.
We simply can't keep providing money from the federal government in the form of subsidized or actual loans and Pell grants when we don't have the money, Kline said during an appearance on Fox and Friends.
Moreover, in April, almost every member of the House GOP -- including Cantor -- voted in favor of Budget Committee Chairman Paul Ryan's, R-Wis., budget plan, which imposes $5.8 trillion in spending cuts over the next decade while simultaneously increasing funding for the Pentagon and Department of Homeland Security. It also reduces non-security discretionary spending to 2008 levels -- including funding for education programs such as Pell Grants and Head Start.
In reaction to the GOP policy on education funding, the College and Young Democrats of Iowa are striking back against Republicans who have suggested slashing education programs, particularly U.S. Rep. Ron Paul, R-Texas.
The group, which started an initiative entitled Tell Rep. Ron Paul what your education means to you said it has particularly targeted Paul, who is a GOP contender for the 2012 presidential election, because they believe his Plan to Restore America plan -- an economic plan calling for $1 trillion in budget cuts and the elimination of five cabinet positions, including the Department of Education -- betrays many of his college-aged supporters.
We chose to focus on Rep. Paul because his position on this issue represents a betrayal of the small but vocal following he has among college students, a constituency that has been vitally important to his moderate success in the past two presidential elections, William Casey Erixon, a student at Drake University and social media coordinator for the College and Young Democrats, told the Iowa Independent.
© Copyright IBTimes 2023. All rights reserved.