Gold Plunges 2.7% on Sovereign Debt Fears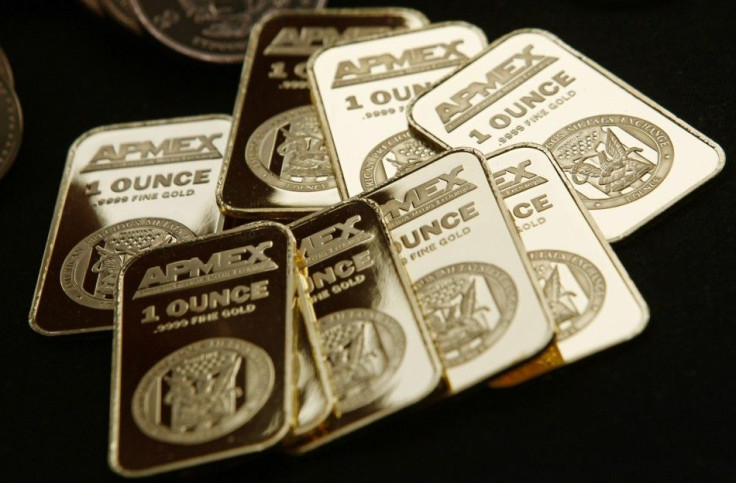 Gold hurtled toward a one-month low Monday as fear that neither the U.S. nor Europe are able to tackle their sovereign debt problems drove investors to the dollar.
The failure of the Congressional super committee to find $1.3 trillion in cuts to the rising national debt raised the specter of another credit rating cut for the U.S., as well as the national debt exceeding 100 percent of GDP.
In France, Moody's warned that France's AAA credit rating could be cut. In Spain, the election of a fiscally conservative administration failed to calm investors.
European stocks plummeted. France's CAC 40 and Germany's DAX closed down more than three percent. In the U.S. the Dow Jones Industrial Average was down 2.4 percent, the Nasdaq Composite fell 2.2 percent and the S&P 500 tumbled 2.2 percent.
The equity losses led to gold sales among investors needing to raise cash. Others sold to book profits on gold, which is up more than 20 percent this year.
The upshot was a dollar soaring to a six-week high.
I am surprised at the extent to which (the gold price) has pulled back. It seems as though all the safe-haven buying is being channeled into the dollar and Treasuries at the moment, bypassing gold, said William Adams, head of research for FastMarkets.com.
The big decline comes despite continued strong investment demand, he said.
It's interesting to see the data from the CFTC and exchange-traded funds, which are showing that the investment side of market seems to be bullish.
Besides political paralysis, the inability of bankrupt broker MF Global to find $1.2 billion in former clients' money has unnerved many traders.
This MF Global thing is hanging over the market. And people are nervous about moving money around. There are just a lot of scared people out there. We're seeing a pall over the market that we haven't seen before, said Adams, who sees technical support around $1,665.
Gold on the Comex was down $46.50 to settle at $1,678.60, while spot gold fell $38.90 to $1,678.43. The last time gold was selling in this price range was Oct. 24 when it closed at $1,653.20.
Silver on the Comex declined $1.30 to settle at $31.12, while spot silver dropped 91 cents to $31.17.
© Copyright IBTimes 2023. All rights reserved.