Hurricane Irene 2011: Batters Bahamas, New York Area in Sight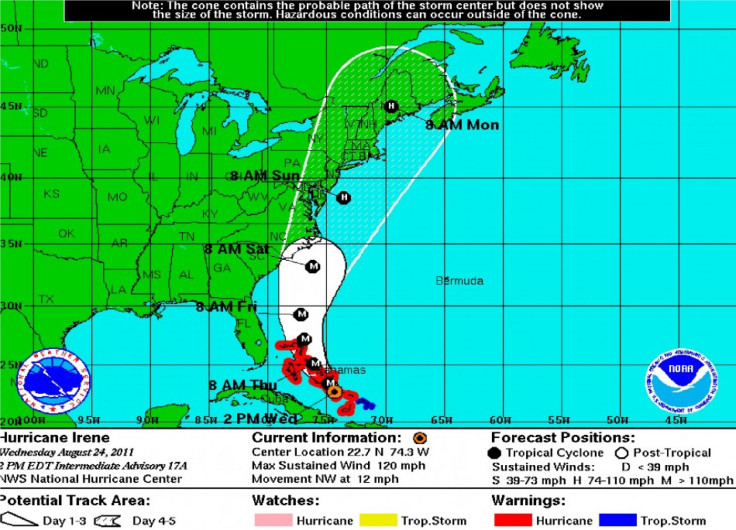 Hurricane Irene battered parts of the Bahamas on Wednesday, leaving some southeastern islands without electricity, debris-blocked roads, and damaged homes.
The Category 3 hurricane is now taking aim at the New York area and the rest of the East Coast of the United States. Irene could become a Category 4 storm by Thursday as it approaches the U.S.
Many could not find drinking water to purchase and the water depots went into overdrive with their water production to meet the demand, said Tamara McKenzie, a 34-year-old English teacher who lives in Nassau.
Nassau isn't expected to feel the full force of Irene until late Wednesday night.
Prime Minister Hubert Ingraham on Tuesday spoke to the nation live on radio and TV where he said that Irene was the third hurricane to threaten the entire archipelago of the Bahamas since 1866. He urged them to take precautions.
Persons in Nassau spent the entire day today and yesterday boarding up windows, removing debris from homes and shopping for canned goods and other hurricane supplies, which is the norm, McKenzie said. However Nassauvians are known to wait until the last minute to prepare [as they have not been hit directly or under a serious threat for a very long time] so everyone today was in a frenzy.
Adrian Wildgoose, 26, who also resides in Nassau, said he and others are taking the Prime Minister's warning seriously.
We're making the necessary preparations storing food, candles and batteries, gassing up the car and boarding up to protect the windows and also a few games for pastime and I guess even some good times, Wildgoose said. She [Irene] hasn't arrived at this island as yet we're pretty much waiting on her so it's really just cloudy right now.
Wildgoose told the IBTimes that bottled water is becoming scarce, the store lines are long, shelves are being emptied and hurricane shelters are being made available.
Mackenzie said ZNS news, the government TV station, reported that the Lynden Pindling International Airport in Nassau closed at 2 p.m on Wednesday and all flights have been suspended. The banks and many businesses closed their doors at noon.
People rushed to the ATM to get cash and also filled their cars with gas, McKenzie said. Right now I'm home just waiting to ride out the storm and I pray that there is no loss of life in the end.
Irene has so far passed through the Southeast Bahamas, which includes the islands of Inagua, Ragged Island, Crooked Island, Acklins and Mayaguana.
The Tribune, one of Nassau's daily newspapers, reported that as of 5:44 p.m. on Wednesday, Hurricane Irene was slapping the southeastern Bahamas with maximum sustained winds of 120mph, based on the latest advisory issued by the National Hurricane Center.
Irene is moving through the Bahamas on a north-northwest track at around 12 mph and not expected to leave Nassau until Friday evening. At around 5 p.m. Wednesday, the center of Hurricane Irene was located about 30 miles east-southeast of Long Island and around 215 miles southeast of Nassau.
The Tribune also reported that there have been reports of extensive damage in Acklins island, with some homes being completely destroyed. There were also confirmed power cuts in the eastern end of New Providence, according to the paper.
At least one school, Central High School on Colonel Hill in Crooked Island, had its roof torn off. Irene didn't spare the shingles and tiles from the roofs of homes and government offices either, according to the Tribune report.
Trees have been knocked down, blocking the roads in that part of the islands, and electricity has been shut off since the storm made landfall around 8 a.m., the Tribune report stated.
Michael Moss, chairman of the Bahamas Electricity Corp., or BEC, told the Tribune that no power cuts are planned for New Providence while Hurricane Irene passes through. Instead, the company plans to ride it out and continue to provide electricity across the island.
While Nassau residents wait for Irene's arrival, Wildgoose said officials at the National Emergency Management Agency, or NEMA, has responded swiftly and effectively as always with hurricanes. He praised the agency for making sure there are multiple options and adequate information available for residents as they prepare for Irene's arrival on that island.
I think that we probably will [experience some damage], some islands more than others but for sure, Wildgoose said, adding that his island's infrastructure can survive the hurricane because we've already endured a lot of other strong hurricanes and we still stand firm so it would be a matter of following procedures and giving the recovery time to do their thing.
© Copyright IBTimes 2023. All rights reserved.