Hurricane Isaac 2012: Tropical Storm Strengthens Into 'Robust' Form, On Path To New Orleans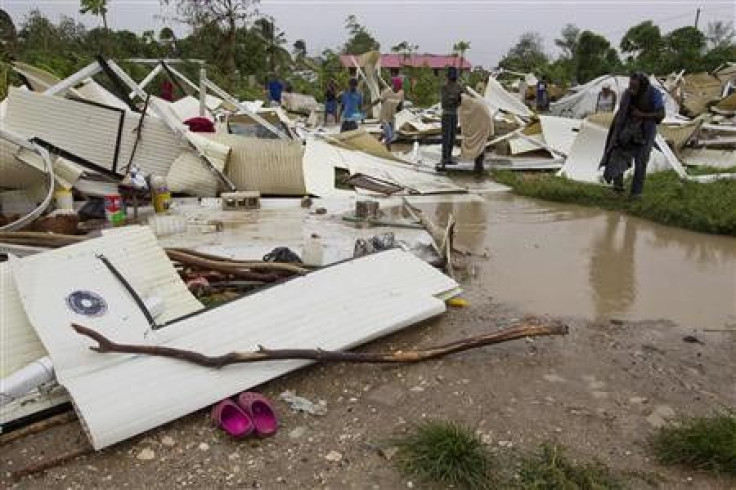 After targeting the U.S. Gulf coast Monday with ponderous rains and strong winds, tropical storm Isaac's path is now directed toward New Orleans with threats of a projected landfall Tuesday night, nearly seven years to the day since Hurricane Katrina wrecked the city.
The National Hurricane Center (NHC) reported at 8 p.m. Monday that Isaac's center was about 230 miles (370 kilometers) southeast of the mouth of the Mississippi River and had top sustained winds of 70 mph, up from about 65 mph the last evening but 4 miles less than hurricane strength.
However, the storm that forced about 78 percent of oil production in the U.S. Gulf of Mexico to shut down is moving northwest at a speed of 10 mph on a track to run right over the south of New Orleans Tuesday, and its sustained winds are projected to be up to 100 mph, making it a Category 2 hurricane.
A Category 2 hurricane can top sustained winds of 96 to 110 mph. When it hits, winds will be "enough to knock you over," said the U.S. National Hurricane Center spokesman Dennis Feltgen.
"It's a much more robust system than what it was when Katrina came ashore," said FEMA Administrator Craig Fugate in a conference call with reporters.
Being a Category 2 hurricane though, Isaac would be less powerful than Katrina which was a Category 3 hurricane. Forecasters at NHC said that "Isaac could push a substantial amount of water into low-lying areas, with a storm surge of up to 12 feet in coastal Mississippi and Louisiana," The Wall Street Journal reported.
"It is so big and moving so slowly," Jeff Masters, co-founder of Weather Underground in Ann Arbor, Mich., told Bloomberg. "This one is going to give a very long pounding to the Gulf Coast. It will be 36 hours of heavy wind and rain."
"The die has already been cast as far as Isaac's wind field size," Weather.com quoted Jon Erdman, a meteorologist with The Weather Channel as saying. "This means surge flooding will be significant even if Isaac is 'only' a Category 1 or low-end Category 2 hurricane."
Erdman added that once Isaac nears landfall, it's expected to slow down and hence, "coastal flooding, rainfall flooding, and damaging wind impacts will be more long-lasting than the typical landfall event."
According to Bloomberg, President Barack Obama has declared an emergency for Louisiana and has authorized agencies to coordinate relief efforts.
Reuters reported that the governors of Louisiana, Mississippi and Alabama have declared states of emergency. Mandatory evacuation orders went into effect for residents of several low-lying districts, including about 8,000 to 10,000 residents of Mobile, Ala., as well as nearby Dauphin Island.
In addition, the ports of Mobile and New Orleans were also closed and barge traffic was suspended along the southern portions of the Mississippi River, the report added.
New Orleans Flights Canceled
Meanwhile, airlines are reportedly canceling all New Orleans flights, anticipating hurricane winds and rain, AP reported.
According to a news release from the Louis Armstrong New Orleans International Airport, all airlines would stop flying at the end of Monday's schedule while no flights have been scheduled for Tuesday.
Here are some more updates (via Weather.com):
All flights in and out of New Orleans canceled for Tuesday.
Shelters opened Monday in Shreveport (3,900 beds), Bastrop (1,600 beds) and Alexandria, La. (2,500 beds).
Mandatory evacuations for Bernard, Plaquemines and St. Charles Parishes and Crown Point, Barataria, Grand Isle and Lafitte in Jefferson Parish.
Voluntary evacuations for New Orleans.
© Copyright IBTimes 2023. All rights reserved.
FOLLOW MORE IBT NEWS ON THE BELOW CHANNELS