Indiana State Fair Stage Collapse: Should the Concert Have Been Cancelled?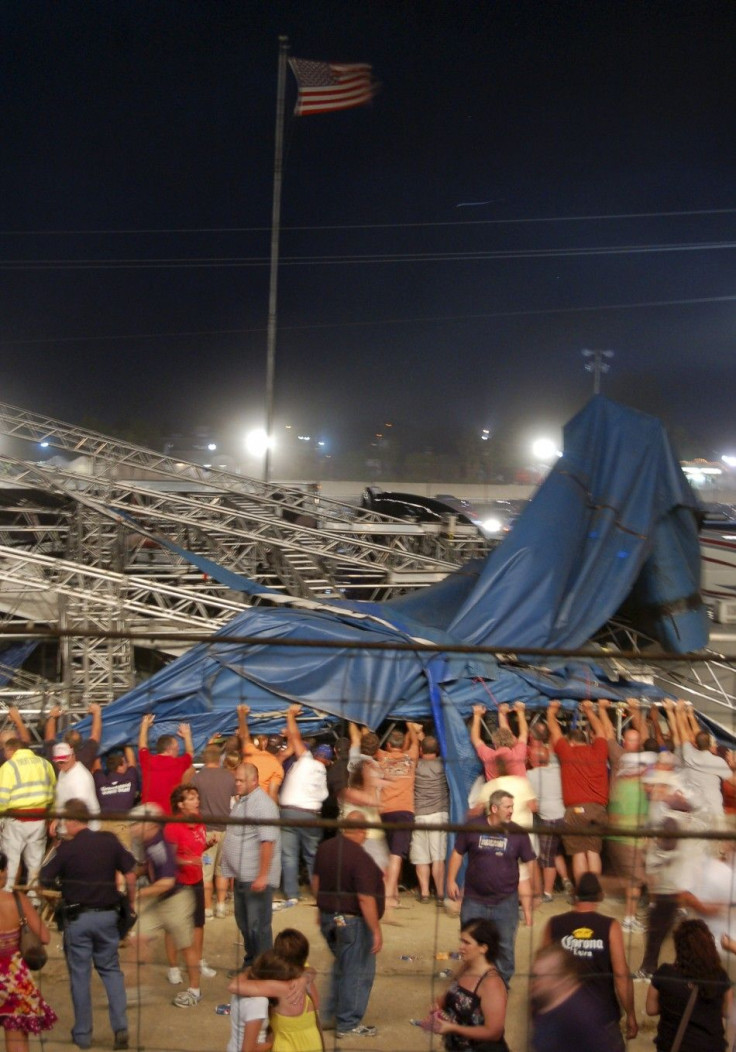 Indiana State Police released a timeline of events connected to the stage collapse at the Indiana State Fair, which killed five people and injured -- in some cases, very seriously -- 45 more.
The chronology of events is being reconstructed as part of an exhaustive investigation of the catastrophe, which took place prior to a scheduled concert by the country band Sugarland. Participating in the investgiation are the Indiana Attorney General's Office, the Marion County Coroner's Office, the Indiana State Fire Marshal's Office and the Indiana Occupational Health and Safety Administration, according to a report by Channel 6 News in Indianapolis.
The timeline, which begins at 5:30 p.m Saturday evening, outlines communication between fair officials and the National Weather Service. It demonstrates that while fair officials were conscientious in preparing for severe weather, the storm which contributed to the stage collapse was no surprise. Still, the stage collapse is believed to have been largely a result of a dramatic gust of wind that was a relative anomaly.
"It really wasn't the issue of the weather as it was with the high gust of wind," Indiana State Police 1st Sgt. Dave Bursten said in a local news conference Sunday morning. "What's remarkable about this is virtually throughout the rest of the fairgrounds, the midway particularly, there was no damage to structures, which is leading us to believe that this was an isolated, significant wind gust."
According to the timeline, the NSW told fair officials at 7 p.m. that a thunderstorm with heavy rain, lightning, strong winds and large hail was expected to hit the fairground area between 9 p.m. and 9:30 p.m. The same or similar warning was re-issued at 8 p.m.
At 8:30, police were brought to the grandstand, ready to assist security with a possible evacuation. At 8:45, an emcee took to the stage, warning the audience of impending severe weather and instructing them "how and where to seek shelter."
The stage collapsed four minutes later, at 8:45.
The five killed include Tammy Vandam, 42, of Wanatah; Glenn Goodrich, 49, of Indianapolis; Alina Bigjohny, 23, of Fort Wayne; Christina Santiago, 29, of Chicago; and Nathan Byrd, 51, of Indianapolis. Byrd, who was a spotlight operator, died on Sunday morning, while the other four were pronounced dead shortly after the collapse.
So far, 45 others have been reported to have injuries. Burstein said that some injuries are so severe that be believes the death toll could rise.
[Source: 6News Indianapolis]
Must Read: Indiana Concertgoers Killed in 'Fluke' Accident Identified [PHOTOS]
© Copyright IBTimes 2023. All rights reserved.