India's Ola Electric To Open Country's First Gigafactory; CEO Says It Will Drastically Cut Import Costs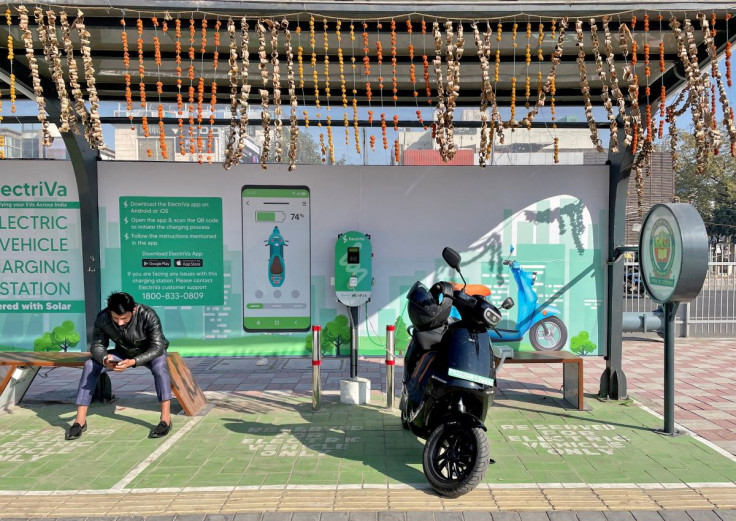 KEY POINTS
The facility will manufacture rechargeable batteries for EVs from next year
Ola Electric's CEO said the move will significantly reduce cost as they will no longer have to import batteries
It will also help the company become "self-reliant"
India's first large-scale gigafactory will be up and running next year, according to the CEO of electric vehicles (EVs) manufacturer Ola Electric.
The announcement comes as New Delhi pushes for the bolstering of domestic manufacturing capabilities and also as the demand for EVs in the country is expected to expand. The facility, which will manufacture rechargeable batteries for EVs, will come up in Krishnagiri in the southern state of Tamil Nadu.
"By early next year, we will actually make the gigafactory operational and start using our own Indian-manufactured cells and that is going to be a very important initiative to reduce cost further," Ola Electric founder and CEO Bhavish Aggarwal told Economic Times.
Aggarwal explained the facility will have an initial capacity of 5 GWh and eventually, at full scale, will have a capacity of 100 GWh, making it one of the world's largest cell factories.
Ola Electric, India's largest maker of electric scooters, has been importing batteries from abroad. The costs will dramatically reduce when the batteries are produced within the country itself, Aggarwal noted.
"We import it from Korea. It makes up for almost one-third or sometimes even 40% of the EV manufacturing cost," the Ola Electric founder said. "Not just cost, we will make sure we are self-reliant on our energy requirements."
The Indian government has been aggressively pushing the idea of self-reliance and has taken a number of initiatives to accelerate its manufacturing capabilities in various sectoring, including the EV industry.
Moreover, India's automobile market is the third largest in the world and is also a major contributor to the country's economy, accounting for 7.1% of its GDP. The demand for EVs is expected to increase as carmakers and policymakers encourage drivers to choose greener alternatives.
Ola Electric is one of the frontrunners in India's electric motorbikes segment. It plans to launch an electric sports car by 2024, which will put the company in competition with global giants like Tesla and Hyundai, and also homegrown titans like Tata and Mahindra & Mahindra (M&M).
Aggarwal also said the company aims to doublie the sale of its existing fleet in the next three years.
"We want every Indian to have our product as well international market," Aggarwal told the outlet.
© Copyright IBTimes 2023. All rights reserved.