iPad Mini Release Event: Why Apple Won't Live Stream Launch Coverage Of Today's iOS, Mac Announcement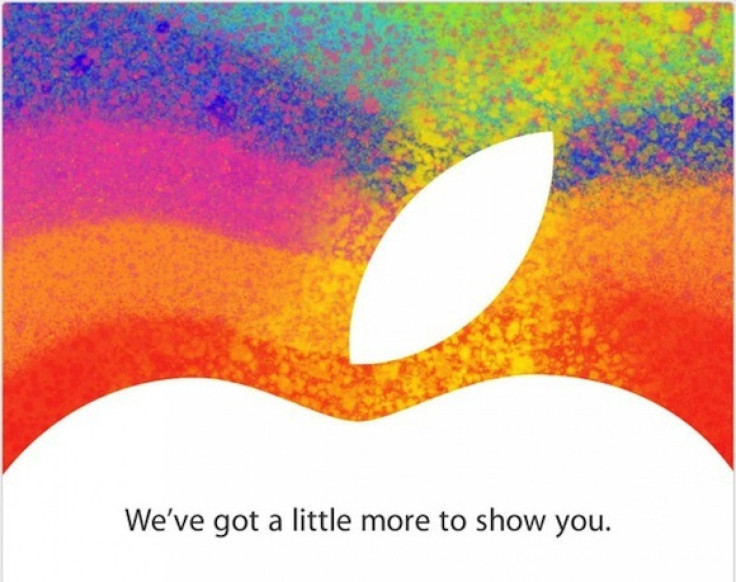 Update (9:47 a.m.): Of course, as soon as this article is published, Apple decides to do something its never done and host a live stream of its event directly on the company's website. All Mac and iOS devices, including computers, laptops, iPhones, iPads and Apple TVs, will be able to live stream the event -- Mac computers require Safari 4 on Mac OS X 10.6 or later, and iOS devices need to be running Safari 4.2 on iOS 4.2 or later. It's a risky move for Apple, but Tim Cook must believe this unprecedented media access will pay off.
Today is the big day for Apple fans, and for all of those hoping the Cupertino, Calif.-based computer company would have more in store for consumers this holiday season, even after the company's successful iPhone 5 launch event last month, which also introduced a new family of iPods.
Instead of talking phones and music, today's event is reported to be more centered around books, as well as the devices that transport and illuminate them. All eyes are on San Jose's luxurious California Theatre this morning, as Apple is expected to announce a slew of new iOS and Mac products, including a newly updated iPad "3," a 13-inch MacBook Pro with Retina Display, a completely redesigned iMac, a newly-updated Mac Mini, and finally, an all-new 7.85-inch iPad Mini, aimed directly at the growing 7-inch tablet market.
The Apple media event is scheduled to begin at 10 a.m. PST -- 1 p.m. EST. The invitation's single tagline said, "We've got a little more to show you."
As we approach the starting time for the event, many technology fans and gear heads may be searching the Web for a live stream of the California Theater with hopes to watch the iPad Mini announcement live. Here's the deal: If you're looking for a live stream, stop looking. You're not going to find one. And here's why:
Even though Apple will eventually post a replay of Tuesday's event directly on its website later today -- as it always does -- Apple does not live stream its events, nor does it allow outsiders to do it for them. If fans are looking for live coverage of the event, their best option is to follow one of many live blogs of the event, as many media members will be tweeting and blogging information as they get it. Unfortunately for Apple fans, this is the closest you can get to real-time coverage of today's iPad Mini unveiling.
You may be wondering, "Why wouldn't Apple want to live stream its iPad Mini event to the masses? Wouldn't fans and customers enjoy watching the real-time reaction from the crowd as a new iPad Mini, or even a new Mac computer, debuts for the very first time in front of a full, live theater audience? Live streaming the presidential debates has worked very well for YouTube, and the company could surely support the traffic coming in to watch the event -- assuming Apple would leave matters to a Google-owned company. If Apple ever hosted the idea of a live stream, it would likely opt to host the live video stream directly on its own website. An event of this size and scope would certainly pull in millions of Web viewers, which would obviously benefit Apple's wallet in a number of ways.
Cupertino could easily live stream the event, but Apple, like Steve Jobs, is a control freak. And if there's one thing Apple cares about more than money, it's looks.
Apple's late founder Steve Jobs was obsessive about the user experience. He wanted to control every end of an Apple product, with hopes that by designing the product from its conception, to its manufacturing, and even to its delivery, marketing, and even packaging, he could ensure its top-notch quality. He was meticulous, a perfectionist, and his propensity to drum up hype for his "insanely great" devices made him the ultimate salesman.
If Apple live streamed this, or any major product event, the company would attract a great deal of eyes, but it would lose a great deal of control in return. If something ever went wrong during the presentation, from a technical standpoint or otherwise, it would look extremely unprofessional, and Apple would not have a chance to fix it later.
Apple has always been about putting on a show, but the time delay ensures that the show is quality. Steve Jobs always cared about putting on a great show, above all: This was no more evident than during Apple's product launches, where Jobs would sometimes pace around the stage in controlled excitement, his voice energized by the passion he had for his own products. Yet, despite their fun-loving attitude, the presentations were always highly controlled and planned out. That was the Apple way: Have fun, do great things, but make it great.
This is why Apple will never live stream its events, at least not in the near future. Apple works hard to keep its products a secret until their official unveiling, and by live streaming the launch event, Apple would suddenly thrust itself into the millions of offices, living rooms, basements, bars, kitchens, mobile phones and tablets around the world. If that's not intimidating enough, any problems or incidents that occur at the event would immediately be transmitted to those millions of fans, competitors, and potential consumers.
Prior launch event videos do show that Apple does a little editing, but above all, it's clear the company simply wants a chance to film the event and distribute it at its own pace -- even though that "pace" is only a few hours' turnaround. And while Apple presentations are still well thought-out, there's very little room for error, with or without a live stream in place. If people knew Apple live streamed the event, more idiots might want to break in and disrupt the event, knowing their actions would be immediately broadcast to a global audience in love with this particular brand. Apple wants attention, but it wants attention that it can control.
So, unfortunately, that is why Apple will not live stream its events. You can wait until later this afternoon to early this evening -- roughly 1 to 5 p.m. PST, when Apple posts the iPad Mini 5 launch event on its website -- always a nice gesture for die-hard fans who wished they could attend -- or you can follow one of several live blogs of the event. We've recommended several ourselves.
What To Expect From Apple's Event Today
Since early January, we've been tracking the news, rumors and patent filing surrounding each of the following Apple products rumored to be unveiled today, filtering as we go, just to give you an idea of what you can expect from today's event before it happens. Here's a brief synopsis of what we're expecting Apple to show us at 10 a.m. PST:
iPad Mini: Take the world's most popular tablet, and hit it with a shrink gun. Make it light, make it thin, thin out its side bezels and shoot down that $499 price tag, too, and that's exactly what officials, experts and analysts believe Apple will release tomorrow morning.
On July 10, a photo set of the alleged iPad Mini suggested the mini tablet would be much wider and a little taller than the Nexus 7, Google's 7-inch tablet, and it would be slightly thinner than Apple's third-generation "new" iPad. Gotta Be Mobile believes the iPad Mini will measure about 213.36mm tall and 143.67mm wide, which is "approximately two-thirds of the size of the new third-generation iPad." (The new iPad is 185.67mm wide, 241.3mm tall, and 9.39mm thick.)
Rather than try to give the iPad Mini's display a 16:9 aspect ratio like the newly released iPhone 5, Apple has reportedly decided to preserve the 4:3 aspect ratio of the iPad. Most believe Apple's iPad Mini display will stretch 7.85 inches; Apple Insider claims more precise measurements, saying the iPad Mini's display will measure 6.38 inches (162 mm) long, 4.88 inches (124 mm) wide, and nearly 8 inches across diagonally. In all likelihood, the iPad Mini will boast Apple's branded liquid crystal Retina Displays -- high-density screens where the individual pixels cannot be discerned with the naked eye -- but some say the iPad Mini may also feature an indium gallium zinc oxide (IGZO) display made by Sharp Inc. Sharp's IZGO displays can be fitted for extremely thin hardware devices and can reportedly handle 330 ppi, which would be incredible since the new iPad can only achieve 264 ppi.
We haven't seen many reports on the processor that will drive the activities on the new iPad Mini, but we presume Apple will either use the same dual-core A5X chip with quad-core graphics used to power the new iPad's display -- this is most likely -- or it will jump-start the iPad Mini with which may be unveiled in the new iPhone, too. That said, if Apple did put a quad-core A6 processor in the new iPhone, it would be unlikely to also appear in the new iPad. These chips have not yet been proven or popularized yet, and that Apple would be taking a very big chance on a relatively untested chip. Apple loves to push the limits, but only with reason. Pushing the A6 like this would be a little too crazy, even for "the crazy ones."
The iPad Mini will almost definitely feature a Retina Display-quality screen, front and rear cameras (for FaceTime and iSight, respectively), the all-new A6 chip, and the new Lightning dock connector (like the iPhone 5). Read more about the iPad Mini's rumored features here.
Refreshed New iPad "3": Apple is expected to give its new iPad, which was released earlier this year in March, a minor refresh at its scheduled event on Tuesday. Apple.Pro, a site with a fairly reliable track record,posted a photo on Oct. 20 with what appears to be a tweaked third-generation iPad -- the only noticeable difference is the connector. Gone is the 30-pin hole at the bottom of the tablet, which is replaced with the significantly smaller and thinner 8-pin Lightning dock. Whether or not Apple decided to endow its newly refreshed iPad with updated internals, like a faster A6 processor, remains to be seen.
Redesigned 21.5-Inch iMac: On a WeiPhone.com forum thread, a user who claimed to have a brother-in-law working in Foxconn building the new Mac computers said the iMac has been completely redesigned, and from side to side, you "almost cannot see the new iMac's thickness." The user, who also posted photos of the new 13-inch Retina MacBook Pro (see below), compared the iMac to a drop of water with "tetragonal" elements, even though the computer still has that trademark "chin" below its giant display.
"My uncle has seen the fully assembled iMac but recently unable to take a picture of it," the WeiPhone user wrote in a separate post. "If he did take the picture, I will update this thread."
The poster also noted that the display has been completely redesigned, which could mean the new iMac has a Retina Display. The poster said the display is a "very pretty special glass glued directly" to the computer, rather than a display manufactured separately from the machine, but the poster did not mention the words "Retina" in his post.
"The new iMac is using a special 'glue' to glue the display to the frame and is facing very strict quality control," the poster said. "Products from Foxconn is having a lot of issues. In this case, after the glue dried, there will be minor air gaps."
According to an old benchmark from Geekbench makers Primate Labs, the new iMac, described as "iMac 13,2" internally, reportedly runs on a 3.4 GHz Core i7-3770 quad-core processor with 4GB of 1600 MHz RAM, and run on OS X Mountain Lion. In August, KGI Securities analyst Ming-Chi Kuo released his own product launch schedule, pegging the release of a new iMac in mid-October.
13-inch Retina MacBook Pro: Before Apple shocked the WWDC audience with a completely redesigned 15-inch MacBook Pro with Retina Display in June, KGI Securities analyst Ming-Chi Kuo predicted Apple would unveil such a notebook, and he even correctly forecast most of the features, including a lighter and slimmer form factor than the current MacBook Pros, the lack of a disc drive, and the Retina Display.
After WWDC saw the release of the 15-inch MacBook Pro with Retina Display, Kuo followed up on his earlier report by sharing a new note with AppleInsider, in which he described how Apple would follow up the 15-inch model with a smaller, 13-inch MacBook Pro with Retina Display, to be released in early October. Kuo had actually mentioned the 13-inch model in his initial report, adding that the basic computer would sell at $1,199. Apple starts selling the 15-inch MacBook Pro with Retina Display at $2,199.
Giving credence to these rumors, the WeiPhone.com user, who also detailed information about the new iMacs (see above), posted cell phone images of alleged iMac parts coming off the line at Foxconn on one of WeiPhone.com's forum, mentioning a 13-inch Retina MacBook Pro was currently in production.
"Apple will improve on the production technique in D2 line," the poster wrote, referencing the 15-inch Retina MacBook Pro as the D2 to its younger sibling, internally dubbed D1.
"Apple will launch the 13-inch rmbp. Ghosting and thermal issues will be fixed but internals and design will be similar to 15-inch rmbp," the poster said.
The 13-inch Retina MacBook Pro is expected to have the same general design and infrastructure as the 15-inch model, but be sold at a slightly lower price point, likely below the $2,000 sweet spot for desktop computer users. 9 to 5 Mac reported on Oct. 19 that Apple will most likely price its entry-level 13-inch Retina MacBook around $1,699 – about $500 more than the non-Retina model. If Apple sells two 13-inch Retina varieties at 2.3GHz and 2.6GHz, like its 15-inch model, a high-end 13-inch Retina MacBook Pro could cost up to $2,299.
New Mac Mini: Apple's smallest Mac desktop computer will reportedly get a refresh at the company's event on Tuesday. The computer, which is shaped like the sleek Apple TV, will reportedly receive faster processors, new ports and updated components – and possibly even a lower price tag, too, according to 9 to 5 Mac.
Apple currently sells its Mac Mini in two configurations – 2.3GHz and 2.5GHz with 2GB and 4GB of memory – for $599 and $799 respectively. The computers are compatible with HDMI, USB 2.0, Gigabit Ethernet, FireWire 800 and Thunderbolt, but Apple will most likely update these ports, likely adding USB 3.0 connectivity. The Intel Core chips that power the Mac Mini will also likely get new components, or possibly be switched out with Apple's all-new A6 chip, which is small, custom-built and extremely powerful.
iTunes 11: Eddy Cue, Apple's SVP of Internet software, told a packed auditorium on Sept. 12 that a brand-new version of iTunes – iTunes 11 – would be released in late October; sounds like it's going to be released just in time for the new iPad Mini event.
Jeff Robbin, Apple's VP of consumer applications, showed off iTunes 11 at Apple's iPhone event on Sept. 12.
"We've got a beautiful new edge-to-edge design where you can really focus on your music," Robbin said. "When you click on your album, it expands in place and iTunes automatically analyzes the album cover to provide this beautiful themed experience."
The redesign makes album artwork more beautiful and navigation substantially easier and more seamless, with easier playlist manipulation, new features like "Up Next," and an all-new mini player with built-in search and playlists. In addition, like the App and iTunes Stores on the iOS platform, Apple has redesigned the iTunes Store for the Mac and PC to appear more like the popular iOS stores.
"The new iTunes will be available in late October," Cue said. "We think you're going to love it, and we can't wait for you to get your hands on it."
Apple has not specified a release date for iTunes 11, but the company will likely take this Oct. 23 event as an opportunity to launch the new music platform. In all likelihood, Apple will release the new service before the iPad Mini is released, probably by the end of the week on Friday, Oct. 26.
What's On Your Wish List?
Would you buy any of these products Apple reportedly plans to sell? Are you disappointed there isn't anything else on there, like an Apple-branded TV or all-new software? Give us your feedback in the comments section at the bottom of the page.
© Copyright IBTimes 2023. All rights reserved.