Ivanka Trump Wants POTUS To Concede And Save Face, Don Jr. Wants Him To Fight: Report
KEY POINTS
Ivanka Trump believes the legal battles are unlikely to change the outcome of the election
Don Jr. and Eric are encouraging their father to continue fighting aggressively
The first daughter asked President Trump whether the fight was worth damaging his legacy and businesses
President Donald Trump is receiving conflicting advice from his children as he continues to refuse acknowledging the apparent outcome of the 2020 election and accept defeat against President-elect Joe Biden.
First Daughter Ivanka Trump has reportedly urged the president to concede and save face. The White House adviser and her husband, Jared Kushner, who is senior adviser to the president, want Trump to accept defeat as soon as next week after the Georgia recount, CNN reported.
According to a CNN source, the couple continues to advocate for legal battles and recounts, despite believing the measures will not change the presidential race results. This is to ensure the integrity of future elections.
Ivanka also privately spoke with President Trump, asking him whether it was worth potentially damaging his legacy and businesses as he continues refusing to concede. Her approach starkly differs from those of Don Jr. and Eric, who encourage their father to continue fighting aggressively.
On Thursday, Eric sent a fundraising appeal with the subject line "FIGHT BACK."
"People know exactly what is going on in this country... It's fraud!" Eric wrote.
Don Jr. has also been very vocal on Twitter, saying the election had "so many irregularities."
Ivanka and her brothers' conflicting statements come days after it was revealed that First Lady Melania Trump privately spoke with the president and urged him to concede.
Trump's ex-wife Ivana also urged the president to accept defeat, but noted the president isn't a "good loser" and will continue to fight the outcome of the results.
"He's not a good loser. He doesn't like to lose, so he's going to fight and fight and fight," she said.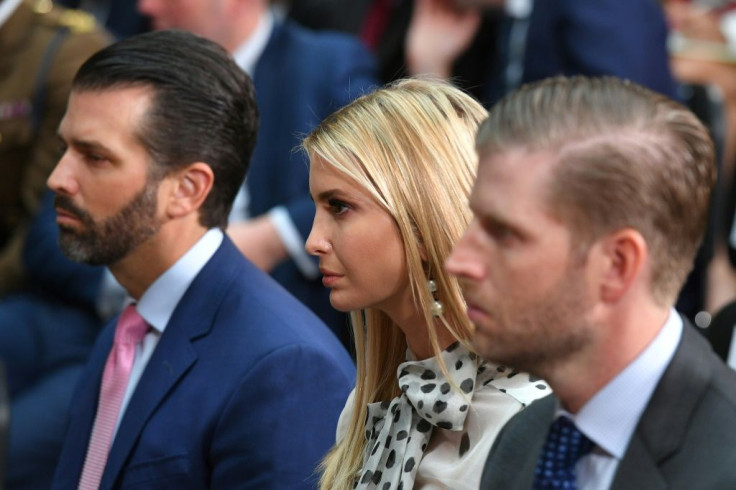 President Trump's refusal to acknowledge the election's outcome also is dividing prominent figures in his inner circle. Some encourage him to concede, while others push him to keep disputing the results.
Fox News host Laura Ingraham, known for being one of the president's staunch supporters, made an unexpected shift Friday night and urged the president to "accept defeat with grace and composure" during a live segment.
"If and when it's time to accept an unfavorable outcome in this election, and we hope it never comes, but if and when that does happen, President Trump needs to do it with the same grace and composure that he demonstrated at that town hall with Savannah Guthrie," Ingraham said.
The reference was to Trump's Oct. 15 townhall where NBC host Savannah Guthrie interrogated the president for his retweets that seem to support conspiracy theories linking to Joe Biden.
The New York Post, too, seemingly turned against Trump after releasing a full-page front that said "It's Joe Time." The Rupert Murdoch-owned publication had previously published a controversial story that alleged Biden and his son, Hunter, had been linked to influential Ukrainian officials.
In the editorial released Sunday, the Post urged Trump to concede, "secure his legacy" and stop fighting for a reelection that is "near impossible."
© Copyright IBTimes 2023. All rights reserved.
FOLLOW MORE IBT NEWS ON THE BELOW CHANNELS