Jerry Sandusky Scandal: As Many As Six Assistant Coaches Allegedly Saw Penn State Coach Commit Sex Crimes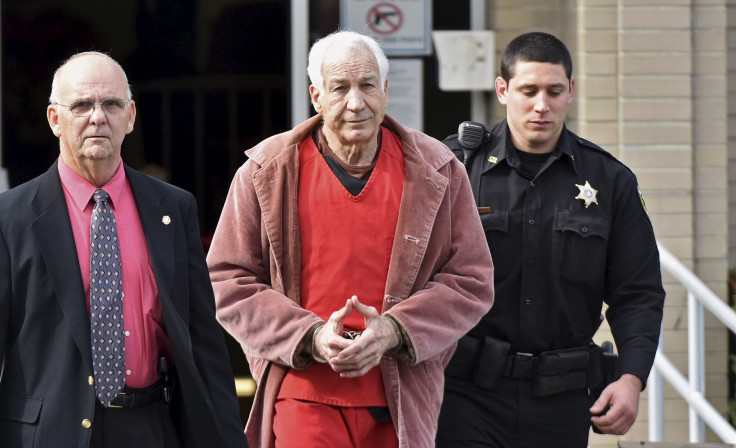 As many as six Pennsylvania State University assistant football coaches witnessed "inappropriate behavior" between Jerry Sandusky and boys long before the ex-assistant coach and convicted child sex abuser was charged in 2012, people with knowledge of a related court case say.
The new allegations that emerged this week suggest that two additional assistant coaches working with Sandusky, as well as the late Penn State head coach Joe Paterno, were aware of his behavior but either failed to do anything about it, or reported it to others who took no action.
One man claimed in a sealed court deposition he complained to Paterno about Sandusky molesting him in 1976, but the coach did nothing about it. And late Friday CNN reported it found a second alleged victim, who is now 62, claiming Sandusky raped him in 1971 in a Penn State bathroom.
Sandusky, 72, is serving at least 30 years on charges he molested 10 boys lured through his youth charity over 15 years ending in 2009. Penn State has paid out $60 million in civil claims related to the scandal and is fighting in court to recover some of the money through the insurance policies it held at the time the sex-abuse incidents occurred.
Anonymous sources close to legal proceedings about the university insurance claims told NBC News one of the assistant coaches allegedly witnessed "an incident" in the late 1970s. Three other assistant coaches allegedly saw inappropriate conduct in the '90s, including a sex act Sandusky performed on his adopted son, Matt, who says he was molested but was unaware there might have been a witness at the time.
The four assistant coaches have not been named in the press. One of them who allegedly saw misconduct in the '90s has denied the claim through his lawyer. One declined to comment. One could not be reached and the fourth alleged witness' name was not released to NBC News.
Court papers unveiled Thursday claim two additional assistant coaches witnessed Sandusky committing illegal sex acts on minors, and that Paterno, who died in 2012 shortly after being fired as a result of the Sandusky scandal, was informed of an incident in 1976. Paterno's family has lashed out against the allegation, calling it a smear.
Penn State issued the following statement about the Paterno allegation: "The university has no records from the time to help evaluate the claims. More importantly, Coach Paterno is not here to defend himself. Penn State does not intend to comment further, out of concern for privacy, and due to the strict confidentiality commitments that govern our various settlement agreements."
On Thursday, a Pennsylvania judge scheduled a hearing later this month for Sandusky, where he will be granted an opportunity to prove that prosecutors withheld evidence and leaked grand jury information in a bid to find more victims, the Associated Press reported.
This story was updated to include the CNN report on a second rape allegation.
© Copyright IBTimes 2023. All rights reserved.