Jill Biden Faces Backlash For Comparing Hispanics To 'Breakfast Tacos'
KEY POINTS
Jill Biden was speaking at the UnidosUS event in Texas
She also mispronounced "bodegas" as "bogedas" in the gaffe-filled speech
The National Association of Hispanic Journalists asked the FLOTUS to stop reducing them to stereotypes
First lady Jill Biden is facing backlash after comparing the Hispanic community to "tacos," while speaking at an event in Texas.
The FLOTUS delivered a speech in San Antonio at the annual conference of UnidosUS, previously known as the National Council of La Raza, on Monday. Biden was speaking about Raul Yzaguirre, who led the civil rights and advocacy organization for 30 years, when she mentioned the stereotype associated with Hispanics.
"Raul helped build this organization with the understanding that the diversity of this community, as distinct as the bogedas of the Bronx, as beautiful as the blossoms of Miami, and as unique as the breakfast tacos here in San Antonio, is your strength," Biden said, Reuters reported.
Biden also mispronounced New York's famed convenience stores called "bodegas" as "bogedas" in the speech, New York Post reported. These stores are mostly run by people of Dominican and Puerto Rican descent.
After Miami, San Antonio is a hot favorite U.S. destination among Latin migrants and 65% of the 1.5 million people in the city are Hispanics or Latinos, according to U.S. Census data.
Biden's comments spurred strong reactions from Twitter users.
"The First Lady Jill Biden equates Latinos to tacos. Is every member of the corrupt Biden family stupid? Know this, the democrats use people for votes. They pretend they are on your side but as you see here, to them, you are just taco," read a tweet.
"@FLOTUS 'Tacos'……Come on man! Do better!!! You can start by apologizing to the Latino community for that degrading speech. After that, fire your speech writer. That speech was racist and disgusting!" an irate user tweeted.
"Who else is surprised by #JillBiden's stupid rhetoric? Me neither," tweeted another. "@FLOTUS @potus you two make such a cute ignorant couple!" a third tweeted.
New Mexico's Congresswoman Elisa Martinez wrote, "Sorry Jill Biden but like most LATINOS, I don't identify as a 'breakfast taco.' Nor #LATINX"
The National Association of Hispanic Journalists issued a tweet urging the FLOTUS and her team to be better educated about Latino heritage.
The virtual attacks on the FLOTUS come nearly a week after President Joe Biden was ridiculed by many, including Elon Musk, for reading a stage instruction from the teleprompter.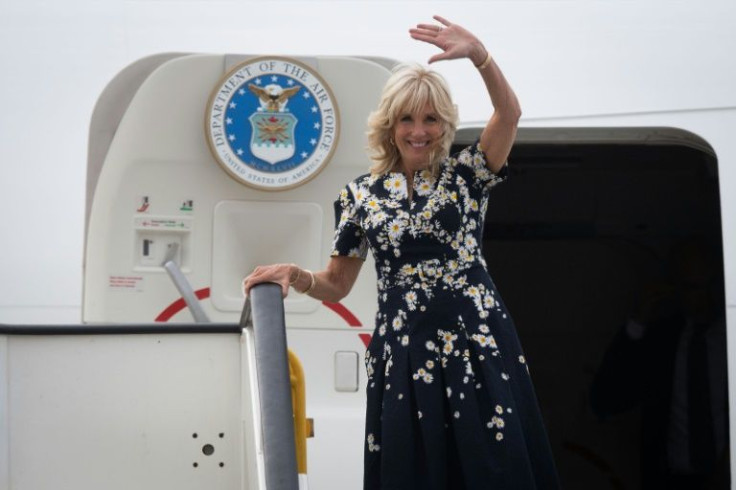 © Copyright IBTimes 2023. All rights reserved.