MacBook Pro 2012 Rumored Features: How Apple Is Planning To Make It Better Than MacBook Pro Late 2011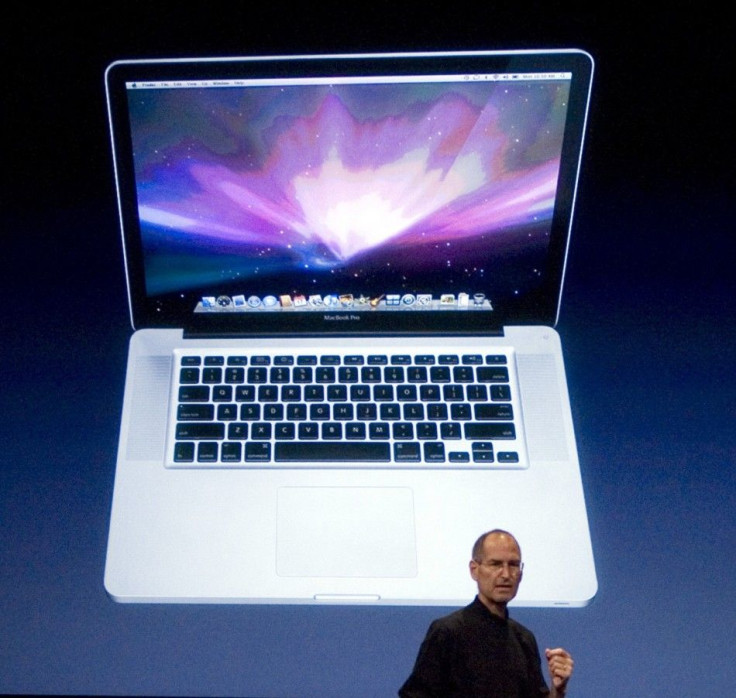 Despite being tagged as the powerhouse performer by Apple, MacBook Pro could never do justice to its 'Pro' moniker till 2011 when it received some minor updates.
While the $1199 entry-level 13-inch MacBook Pro got a better and faster 2.4GHz dual-core Core i5 chip than its earlier 2.3GHz dual-core Core i5 processor, it also received 500GB hard drive (previously was 320GB).
The $1499 13-inch MacBook Pro received a 2.8GHz dual-core Core i7 processor and a 750GB hard drive; a much faster processor than its previous 2.7GHz dual-core Core i7 and a 500GB hard drive. The 13-inch models, however, retained the same Intel HD Graphics 3000 integrated graphics as the previous MacBook Pros.
The $1799 and $2199 15-inch models were updated with 2.2GHz and 2.4GHz quad-core Core i7 processors - previously, they were 2.0GHz and 2.2GHz respectively.
While storage capacity continued to be the same in both these 15-inch models, graphics were upgraded. The $1799 model received a 512MB AMD Radeon HD 6750M and the $2199 model received a 1GB AMD Radeon HD 6770M.
The 17-inch $2499 model, however, maintained it similarities with the $2199 15-inch model in all specifications, only noticeable update was an ExpressCard/34 slot.
Now the latest buzz in the market is that Apple is launching an overhauled version of MacBook Pro, dubbed as MacBook Pro 2012. The Cupertino-based tech giant will launch a 15-inch model at first and two other variants will follow soon.
Apple is long due for a complete makeover to its Pro line laptops. It was only four years ago that the company did design touchup for the MacBook Pro.
According to the latest rumors, Apple is trying to bridge the gap between its MacBook Pros and lightweight MacBook Airs to a significant level with the new upgrade.
Rumors about incorporating Intel's Ivy Bridge processor and New Thunderbolt Connector in the latest model are flying high.
Here is a comparison between the 15-inch Pro 2012 and the late 2011 15-inch Pro model, which will mainly revolve around functionality and new features of these two models to see how Apple is working on making the new release better than the previous model.
Pro 2012 will be thinner and slimmer and will follow MacBook Air form factor
If rumors are to be believed the 15-inch Pro will be lighter than its previous models but not as light as MacBook Air, rumors suggest. But it is also expected to feature super-slim wedge profile similar to the MacBook Air. Note, MacBook Air is thin as 2.96 pounds and although exact measurement of the latest Pro 2012 has not been revealed, yet a super slim and light MacBook Pro is expected to be on your way.
The previous model of MacBook Pro, however, measures 0.95 (height) x 14.35 (width) x 9.82 (depth) inch and weighs 5.6 pounds. The laptop sports a distinctive unibody chassis made from a single piece of aluminum.
Retina Display on the Card for Pro 2012
The last 15-inch model features a 15.4-inch (diagonal) LED-backlit glossy or optional antiglare widescreen display with 1440 x 900 resolution at 16:10 aspect ratio, which results into bright, rich colors and sharp images. But all these features will fall flat if the new MacBook Pro comes with the revolutionary and of course 'resolutionary' Retina display, which contains 2048 x 1536 screen resolution with 3.1 million pixel color support.
DigiTimes reported that While the prevailing MacBook models have displays with resolutions ranging from 1680 x 1050 to 1280 x 800, the ultra-high resolution for the new MacBook Pro will further differentiate Apple's products from other brands. However, other sources have mentioned that Apple is very much into increasing the screen resolution of the Pro but Retina display may not be on cards.
However, if the company plans to include Retina Display with better anti-glare protection, it has to compromise the ultra-thin and light qualities of the device.
Processor and GPU
The 15-inch version of the Pro will get Intel's Core i5 and Core i7 Ivy Bridge chipset, while the medium version currently features only Core i7 chips, say sources. The machines could also feature 2.7GHz Intel Core i7-3820QM with Intel HD 4000 graphics boosting the graphics power and multimedia processing by about 65 percent over previous Intel chips. The devices can have Turbo Boost speeds up to 3.7GHz indicate reports.
In late 2011 MacBook Pro 15-inch has seen a complete overhaul in terms of its internal components and received a new processor and graphics card. The new 2.2GHz Intel Core i7-2675QM quad-core processor gave performance bump of a little more than 12 percent from the 2.0GHz CPU found in the previous iteration.
The new Radeon HD 6750M graphics provided in the $1799 model displays 85 percent more frames per second in Cinebench's Open GL test than last year's 15-inch model's 256MB AMD Radeon HD 6490M graphics processor.
The last Pro was definitely a significant improvement over the early 2011 models but the new Pro 2012 will be a clear winner with killer Ivy Bridge chipset. This new breed of Intel chips will be available in the market April 23 and April 29, reports CNET.
Operating System
The late 2011 15-inch model features Apple's award-winning OS X Lion operating system. The OS X Lion has been renowned for its enhanced trackpad gestures, automatic file backup and recovery, and built-in apps for immediate usability with its collection of preinstalled applications.However, after launching Mountain Lion just few weeks back, Apple lovers can now expect to see this latest operating system being featured in the latest MacBook Pro 2012.
Apple, with its latest OS, has packed in all-new innovative features. The company claims that the OS has been inspired by iPad but they're made for the Mac, and they work even better with iCloud. The latest operating system, which has been released as Developer Preview, might not have impressed the critics much, but some more exciting features and improved performance can be expected with the updated version, address critics' concerns.
Thunderbolt Port
While the last generation 15-inch Pro sports Thunderbolt port, the new one will tout the second-gen Thunderbolt controllers.
VR-Zone has recently reported that Intel has shipped its second-gen, codenamed Cactus Ridge, and Apple lovers can expect to see the new Thunderbolt to be released alongside the new MacBook Pro line-up.
According to the VR-Zone report, Intel is going to offer different controllers: the 12x12mm DSL3310 and DSL3510.
Other features that will give the latest Pro 2012 an edge over the Pro (late) 2011
Full-Surface Trackpad: Apple has won patents for full-surface trackpad, including accidental touching by the finger and the ability to distinguish between a palm and a finger. This feature is very likely to come in the MacBook Pro 2012.
Surround Sound System: Patently Apple has reported that Apple is working on a surround sound system for MacBook-like devices. The sound system, which will sport an audio transducer, will provide a near full range response frequency resulting in both low- and mid-range frequencies.
When Can You Expect Pro 2012 to release?
While Christian Post reported that the new lineup of MacBook Pro laptops could release a as early as May, The Economic Daily Times of China has reported that the new MacBook Pro is currently under production at Foxconn and Quanta Computer and will be shipped in June.
9to5Mac reported that the next generation Intel chips will launch on April 23 and the new refurbished MacBook Pro line will be unveiled soon after.
Meanwhile, several authorized resellers are reporting that the 15-inch MacBook Pro is out of stock, which indicates that the company might process the release of the Pro as fast as possible.
MacBook Pros have not seen a major external reconstruction since its update to a unibody design in 2008.
© Copyright IBTimes 2023. All rights reserved.