Michaele Salahi Runs Off With Journey Guitarist; Real Housewife and Husband Going 'Separate Ways?'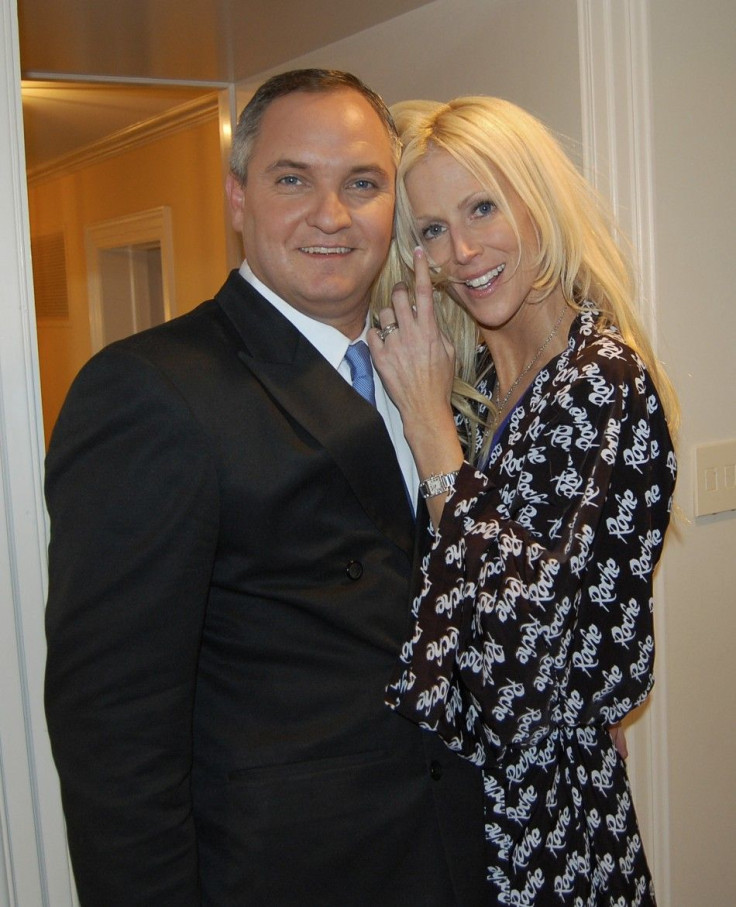 The Real Housewives of D.C. star Michaele Salahi has not been kidnapped, but is safely in the Open Arms of Journey guitarist Neal Schon, according to the Hollywood Reporter and several other news outlets.
Tareq Salahi's lawyer, David Silek, appeared on Good Morning America on Thursday to say that his client was devastated that his wife had left him but relieved that she had not been kidnapped, as he had previously feared. Silek added that it was too soon to determine whether the couple will divorce.
On Wednesday, Tareq Salahi tweeted an alert -- via his publicist -- that his wife was missing due to a suspected kidnapping, and advised D.C.-area residents to be on the lookout for the beanpole blonde.
In addition to the Twitter broadcast, Salahi gave his first of many statements to TMZ:
It is our belief as of last night, that Michaele Salahi may have been kidnapped or abducted and being held under duress and forced to tell persons, including authorities she is okay, the statement read.
The Warren County Sheriff Department issued a counter statement Wednesday afternoon saying that officers had been in touch with Michaele and that there was no indication of a kidnapping.
She seemed calm, was engaged in conversation, and assured the deputy that she had left the residence with a good friend and was where she wanted to be, authorities said in a statement reported by TMZ. The statement added, Mrs. Salahi advised that she did not want Mr. Salahi to know where she was.
On Sept. 18, items from the Salahis' Oasis Vineyards will be sold in a bankruptcy auction. The company filed for bankruptcy in 2008 and Salahi has since launched Oasis Winery -- not to be confused with its predecessor. Salahi has put some effort into controlling the press coverage of the bankruptcy: He provided an interview to The Wall Street Journal and submitted a statement of correction to the Web site Rumorfix.com, discrediting a Radar Online story:
The story is untrue by Radar Online, Salahi said. The Oasis Winery & all real estate is not up for auction... The Oasis Winery is in fact reopening on Sept. 24 and it will be a very exclusive private party for our good friends in Politics to family/friends and long time [sic] supporters of the Salahis before & after the White House dinner party.
In the Washington Post story, Michaele Salahi describes the party as the American comeback. She is scheduled to debut her new single, Bump It, at the exclusive event, which boasts a $150 ticket price and a falsified endorsement from Montel Williams.
The Salahis are in hot water with the former talk show host, after claiming that proceeds from the party would be donated to the Montel Williams MS (Multiple Sclerosis Foundation) and that Williams would be among the guests at A Hollywood Oasis -- When Hollywood Glamour Meets the Capital Region.
I have never met, never spoken with, never been involved with anything to do with these people, Williams reportedly said shortly after learning his name has been used to market the event, according to the Los Angeles Times.
It appears that the Salahis, whose bizarre behavior has been widely reported, are attempting to piggyback off of Williams' record of advocacy on behalf of MS sufferers worldwide to advance the apparent re-opening of their failed winery, Williams' rep Jonathan Franks said in an Aug. 26 statement.
Indeed, the Salahis have a history of contrived stunts and disturbing attention-seeking behavior. Before she appeared on The Real Housewives of D.C., Salahi somehow managed to land a spot on the Washington Redskins alumni cheerleading squad -- even though she had never been on the team.
And of course, there was the White House gatecrashing incident which was filmed for The Real Housewives of D.C. There, a sari-clad Michaele and her husband somehow managed to get inside the White House state dinner -- and be photographed with the President -- even though they did not have invitations to the event and were not on the guest list.
A Journey rep told TMZ that Michaele Salahi was with Schon and the rest of the band, which is on tour. Nobody kidnapped her and they are in Memphis together, the rep said.
© Copyright IBTimes 2023. All rights reserved.